How Kevin Bacon Is More Musical Than You Originally Thought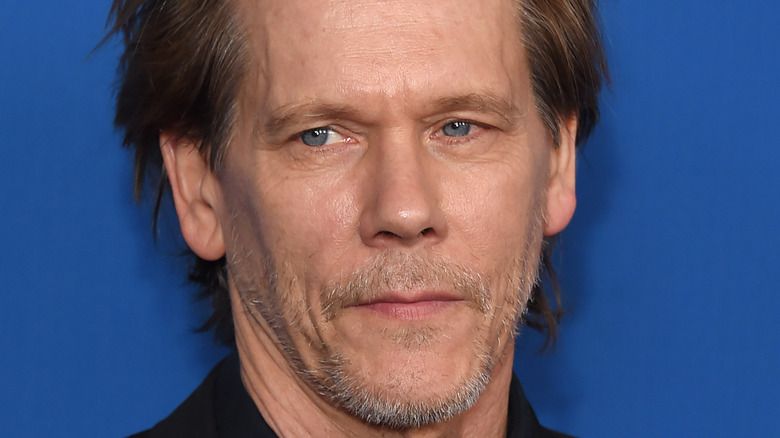 DFree/Shutterstock
Kevin Bacon has had quite a varied career as an actor, so much so that there's even a game dedicated to tracing films and other actors back to Bacon (via CNN). Out of all his movies, however, many will recognize him for "Footloose." He did most of the dancing in the film, aside from that dramatic warehouse scene to the song "Never" by Moving Pictures (via YouTube). "I had a stunt double, a dance double, and two gymnastic doubles," he told People magazine (via The Hollywood Reporter). "There were five of us ... and I felt horrible," he added, referring to the fact he wanted to do all of it by himself.
That's not to say his experience in the film was all bad. During an interview with the Today show (via YouTube), Bacon explained how was surprised he was at how popular the film still is. "It was a great gift to be part of that movie," he said. "I love that people will still come up and say that they just showed it to their kids."
Outside of "Footloose," Bacon is pretty well-known to younger audiences thanks to his presence on TikTok. He's often posting covers of songs with his daughter Sosie, who you'll recognize as Skye from "13 Reasons Why," like when they covered Olivia Rodrigo's "good 4 u" on their farm (via TikTok).
Kevin Bacon is in a band with his brother Michael Bacon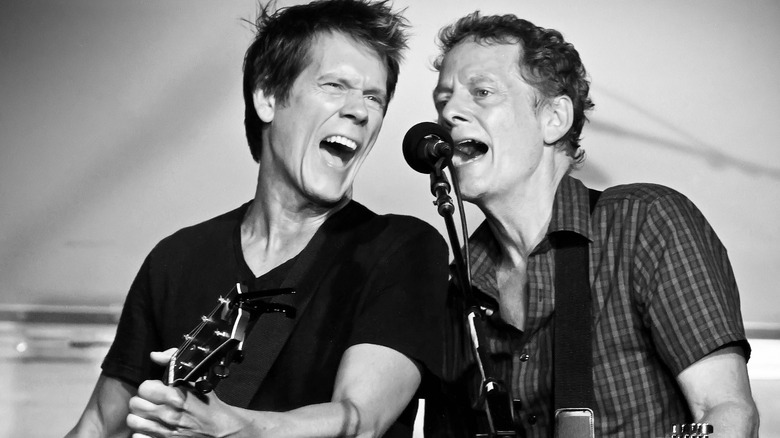 Debby Wong/Shutterstock
Aside from his short music videos on TikTok, Kevin Bacon has long been performing music with his brother, Michael Bacon, who happens to be an award-winning composer. Called The Bacon Brothers, the siblings are "bound by blood and a mutual love of American roots music," as they write on their band's website. They even came up with a name for their sound, which they dub "Forosoco," which is "a blend of folk, rock, soul, and country influences."
Having made music together for over 25 years, Michael said that over time they've "just gotten better at it." Highlighting that "music is a life's work," Michael added, "it's exciting to be doing stuff we couldn't have done 20 years ago — to know that we've come so far, yet still have so much left in the tank."
For Kevin, the band is all about songwriting. "The songs lead the way. We're not beholden to a specific sound," he explained. "We just write the songs and let them point us in the right direction. That's how we've done it from the very beginning."
The Bacon Brothers started performing in the late '90s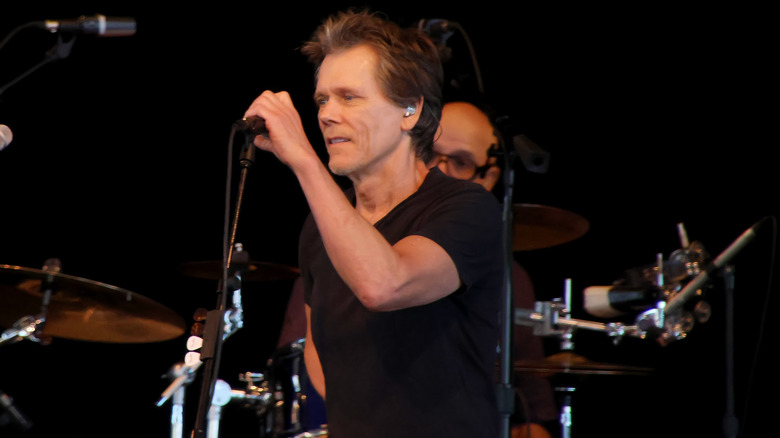 Donald Kravitz/Getty Images
The Bacon Brothers have performed worldwide, including in some of America's biggest and most influential music venues like Carnegie Hall and the Grand Ole Opry (via the band's website). Since their 1997 debut, "Forosoco," they've released eleven albums, with their latest being "Erato" released in the summer of 2022. The album is a real family affair, with Kevin's son Travis having produced the track "Karaoke Town" (via YouTube) and the song "Dark Chocolate Eyes" being a tribute to Kevin's wife, Kyra Sedgwick (via YouTube).
According to AllMusic, The Bacon Brothers began when Kevin and Michael performed together at a charity event in their hometown Philadelphia. They'd always shared a love of music, with Michael fronting the 1970s band Good News and recording solo projects. Michael is also a composer for film and television, having won an Emmy for his work on the PBS documentary "The Kennedys" (via his official site).