The Jane Lynch Gilmore Girls Cameo You May Have Forgotten About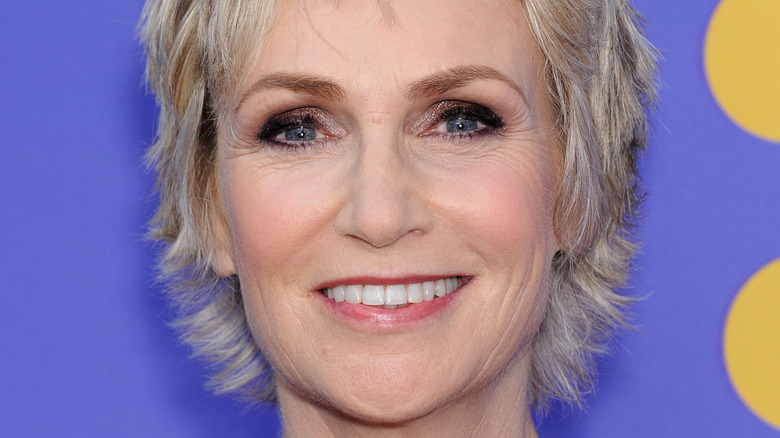 DFree/Shutterstock
There's never a bad time to re-binge "Gilmore Girls," and this time around, you may see a familiar face. Besides her brief appearance in "Gilmore Girls," Jane Lynch has enjoyed a prolific career of regular, guest-starring, and cameo roles, acting in more than 230 roles on screen and appearing as herself more than 200 times, according to IMDb.
This wouldn't be the only time Lynch worked with "Gilmore Girls" series creator Amy Sherman Palladino. The actress went on to appear as a series regular on "The Marvelous Mrs. Maisel" as well. Of course, it isn't unusual for these two projects to have plenty of crossovers — Screen Rant counted up to 11 examples. 
Lynch's single-episode appearance on Season 1 of "The Marvelous Mrs. Maisel" was memorable enough to earn the actress an Emmy nomination and win, per Deadline, and she went on to appear as a recurring character in the show's next three seasons. Altogether, Lynch has won five Emmys, including for her unforgettable role as series regular Sue Sylvester on "Glee," for Amazon's "Dropping the Soap," and two wins for hosting "Hollywood Game Night," per The Television Academy.
Still, fans may not even remember Jane Lynch's guest starring role on "Gilmore Girls," per Insider, since she was only on screen briefly. But the episode included especially heightened emotional stakes for the show's beloved central characters.
Jane Lynch appeared when Richard Gilmore's health was in question
Jane Lynch appeared on "Gilmore Girls" as a nurse in Season 1, Episode 10, "Forgiveness and Stuff," (per IMDb). The episode features Richard Gilmore's first health scare, which turns out the be angina, per Bustle. However, it wouldn't be his last during the series run; the character later experiences a heart attack during Season 7.
Though Jane Lynch's role on "Gilmore Girls" wouldn't go far, she was one of the first people to interact with Emily when she was scared for her husband's health. And, in going toe-to-toe, the expert comedic actresses were able to find humor in the somber circumstances.
Jane Lynch's appearance as a nurse on "Gilmore Girls" was short and anything but sweet. Her character may not have been a top-billed role, but she squared off with the show's powerful matriarch, Emily Gilmore, which definitely deserves recognition.
Her hilarious scene with Emily Gilmore lightened the mood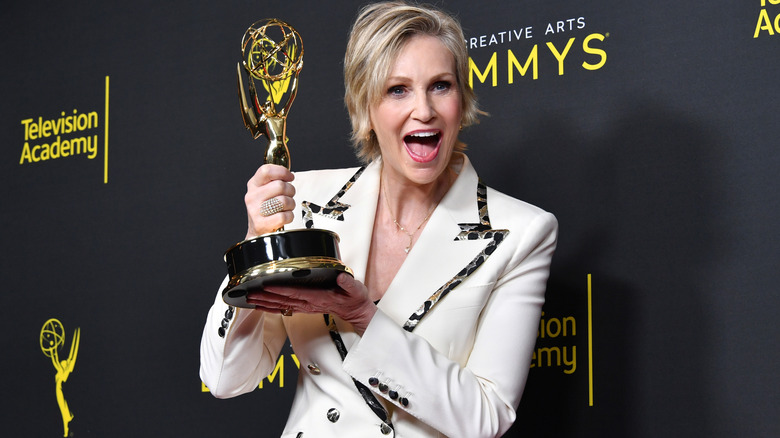 Amy Sussman/Getty Images
In classic form, Emily Gilmore insists on special treatment and extra information about her husband Richard's condition, since he was admitted to the hospital after collapsing and experiencing chest pains. Lynch as the nurse tells Emily that the doctors are running tests on Richard, while Emily demands to meet Richard's doctor and see his potential hospital room (via Netflix). Lynch repeatedly responds, "You will," which only irritates Emily more. She later tells Rory, "They run this place like the CIA." 
When Emily doesn't give Richard's insurance, Lynch tells Lorelei Gilmore, "I need to get this information." Emily quickly snaps, "You need to get sensitivity training," (via YouTube). Emily is also offended when the nurse calls her "Ms. Gilmore" instead of "Mrs. Gilmore," since it makes her even more conscious of Richard's mortality and precarious health condition.
When threatened with having to speak with Emily more, Lynch's character hilariously responds, "I'll go" in reference to finally checking on Richard. The writers completed her character's short arc perfectly, and Jane Lynch, of course, nailed the delivery.