Fans Are Comparing Princess Charlotte Of Wales To An Unexpected Royal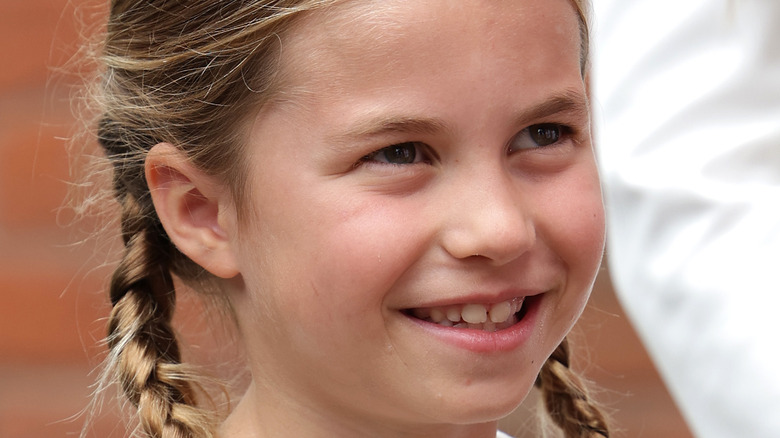 Chris Jackson/Getty Images
Some eagle-eyed royal watchers have sworn that Princess Charlotte of Wales looks just like her mother, the beautiful Kate Middleton, the new Princess of Wales (via Page Six). 
Other people have compared the adorable child to her father, Prince William, the Prince of Wales (via People). That the princess favors the future king of England was perhaps most notable when Charlotte's fifth birthday portrait was released in 2020 and placed side-by-side with an image of William as a blond-haired little boy (via Hola!). 
It is indisputable that the royal child resembles both of her parents, and yet other royal fans previously noticed that Princess Charlotte resembles the late Queen Elizabeth II as a little girl as well (via Yahoo!). Indeed, the Queen's death only prompted folks to once again point to the likeness between the great-grandmother and the princess who is third in line for the throne at this time, just as the long-serving monarch once was (via Marie Claire Australia and Royal.uk).
One thing all fans can agree upon is that the 7-year-old is precious — and very authoritative by the way, having instructed her older brother Prince George of Wales to bow during their great-grandmother's funeral procession.
But back to which royal family member the little royal looks most like, with a surprising new person to consider.
Princess Charlotte also resembles other late family members
While Princess Charlotte of Wales may look like both of her parents and her great-grandmother, there is another late relative fans are comparing her to. No, we are not referring to her paternal grandmother, Princess Diana, although that likeness has also been dissected at great length (via Cafemom). 
In photos of the former Princess of Wales when she was a school child, Princess Charlotte does appear to take after Diana to an eyebrow-raising extent (via Now to Love). The 7-year-old's facial features and expressions are eerily similar to her relative who forever changed the British royal family. Both royals have a way of drawing us in with their eyes, wouldn't you say?
But no, it is not Diana who people have most recently buzzed about little Charlotte taking after, despite the chilling resemblance. Actually, you'd have to travel further back in time for the answer, as the Queen Mother is the royal fans are saying the little princess may be taking after as well.
Those royal genes are formidable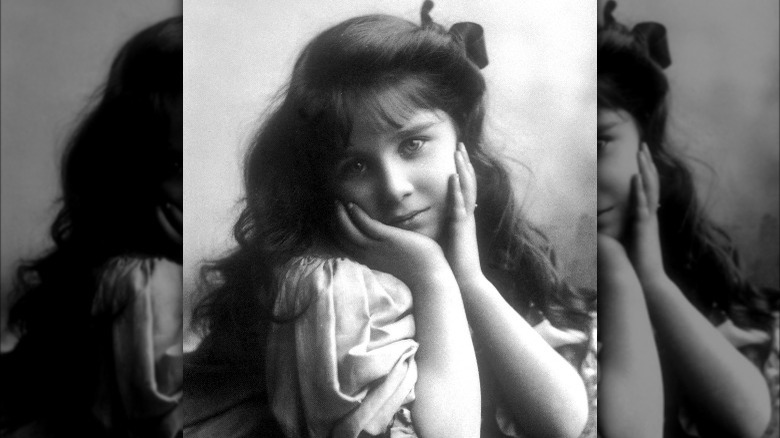 Apic/Getty Images
Let's take a quick trip up the royal family tree. The Queen Mother was Queen Elizabeth II's mother and the wife of King George VI. She passed away in 2002, 13 years before Princess Charlotte was born, at the age of 101 (via The U.S. Sun and Royal.uk).
Despite the generations that separate them, Glamis Castle in Angus, Scotland's Instagram account shared photos of the Queen Mother as a child, back when she was known as Lady Elizabeth Bowes Lyon, and Princess Charlotte of Wales, and asked fans if they saw the likeness between the royals (via Vanity Fair).
"When our castle archivist was looking at photographs of a young Lady Elizabeth below, we all agreed that there is a striking familial resemblance with her great-great-granddaughter, Princess Charlotte," the post's caption read.
Commenters agreed that the royal family "genes run strong" but many weighed in that Charlotte resembles Queen Elizabeth II more than the Queen Mother. And at least one person added that the young princess most resembles her grandmother on the other side, Carole Middleton.
No matter who you think Princess Charlotte resembles most, it's probably safe to say she is an amalgamation of all of the royals who came before her, peppered with characteristics from the Middletons.