The Truth About Loretta Lynn's Relationship With Jack White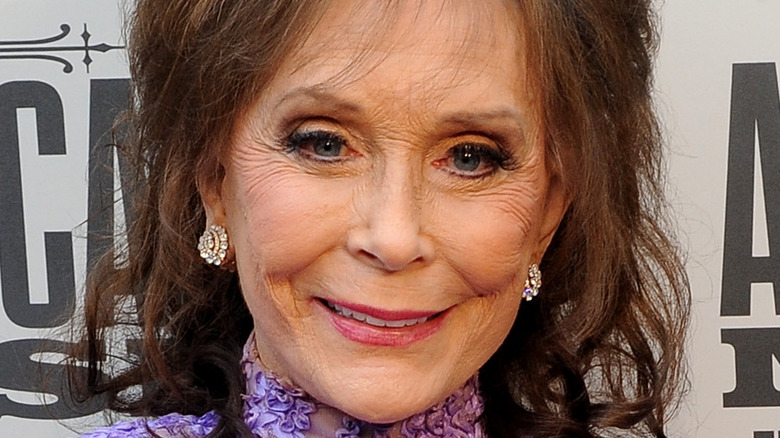 Erika Goldring/Getty Images
The heartbreaking death of Loretta Lynn has left the music world in mourning. The country legend was 90 years old, and her family confirmed the sad news in an emotional statement posted to her website. "Our precious mom, Loretta Lynn, passed away peacefully this morning, October 4th, in her sleep at home at her beloved ranch in Hurricane Mills," they shared. Lynn's loved ones understandably requested privacy as they begin the grieving process.
Lynn's 90th birthday was celebrated by everybody from Dolly Parton to Tim McGraw, as People reported at the time. She suffered a stroke in 2017 and broke her hip later that same year. In a subsequent chat with the outlet, Lynn clarified that it would take a lot more than that to dampen her spirits. "You can't just sit down and say, 'Hey, take me' ... As long as you dwell on the bad, it's taking the life away from you that you need to be living," she said.
Her loss will be keenly felt, not least by Lynn's unlikely collaborator — and rumored love interest – Jack White.
The unlikely duo played a couple in the 'Portland, Oregon' music video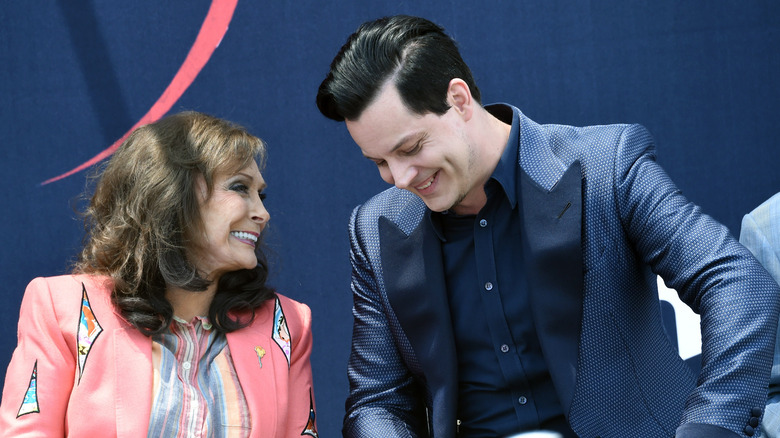 Rick Diamond/Getty Images
Despite their considerable age difference and wildly divergent musical styles, Loretta Lynn and former White Stripes singer Jack White were linked romantically after the two were seen to be openly indulging in seriously flirtatious behavior. The year was 2004, and, per MTV, they were promoting their Grammy-winning "Van Lear Rose" record at the time.
In the music video for the hit duet "Portland, Oregon," the then-70-year-old Lynn and her 29-year-old collaborator playfully kissed and cuddled after trading lovelorn looks across a bar. However, White messes it all up by making eyes at another woman while holding hands with Lynn, leading the country icon to slap him across the face. They make up by the end though, sealing their onscreen union with a kiss.
In an interview with Dan Rather, Lynn revealed that White had approached her backstage at a show in New York and expressed his love of country music, which ultimately led to them making the album together. Their age difference didn't trouble either party, with Lynn commenting, "He's a young boy with an old mind. He seems to be older in his ways and actions."
As for whether their romantic actions in the "Portland, Oregon" video were genuine, Lynn confirmed that she and White were simply good actors.
Jack White shut down rumors of a romance with his Loretta Lynn tribute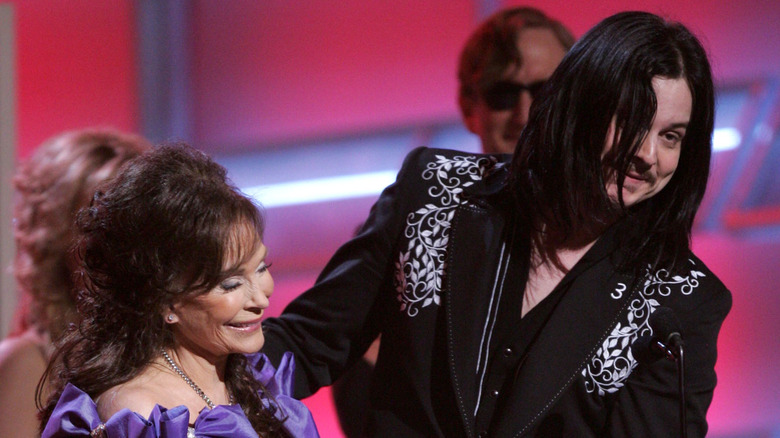 Frank Micelotta/Getty Images
Jack White was just as devastated by the loss of country legend Loretta Lynn as her fans all over the world, taking to Instagram to share a sweet tribute to his beloved collaborator. "What a sad day today is. We lost one of the greats, Loretta Lynn," White began, before describing his late friend as "the greatest female singer-songwriter of the 20th century."
The prolific musician continued, "She was such an incredible presence and such a brilliant genius in ways that I think only people who got to work with her might know about." He also pointed to Lynn's efforts pushing for better representation for women, in particular, noting that her impact will "live on" long after she's gone. As White stated emphatically, "She broke down a lot of barriers for people that came after her."
He was so enamored of Lynn that working with her on "Van Lear Rose" was often overwhelming, White said. "She was like a mother figure to me and also a very good friend at times. She told me some amazing things that I'll never tell anybody." 
Funnily enough, Lynn's manager, Nancy Russell, claimed in a piece for Variety that the White Stripes frontman had a significant impact on her, too. "Working with White introduced Loretta to a new generation and revitalized her career," she said. 
They may not have been romantically involved, but the mutual adoration was 100% real.