How Much Money Do Medical Assistants Make?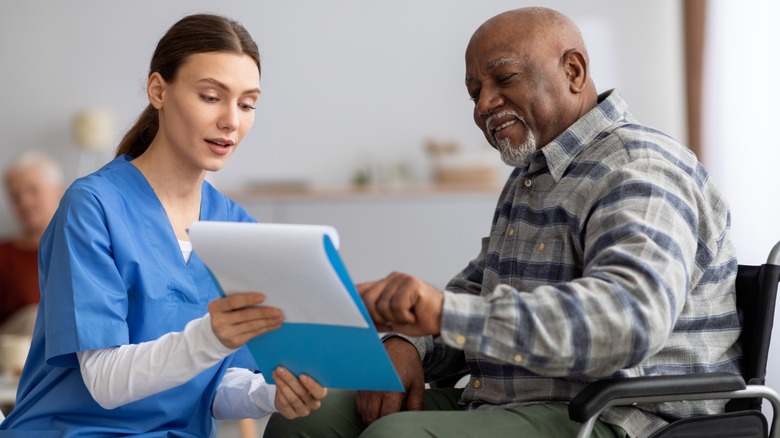 Prostock-studio/Shutterstock
A lot of moving pieces are required to make a medical clinic run smoothly, and each position is of great value. From nurses and physician assistants to laboratory technicians and medical assistants, it takes a team to heal. 
If you're just starting out in the workforce or looking to make a career change, you may consider healthcare, which is truly indispensable. Medical workers have the job security that has seemingly slipped away from other fields, and the industry continues to add more jobs every year than any other field (via Hospital Careers).
Location, education, and experience are all contributing factors to how much money you'll make in any position. But, wherever you reside and whatever credentials are on your resume, you can begin serving in healthcare as a medical assistant fairly quickly with an accurate prediction of how much money you'll make. 
How much you can expect to make as medical assistant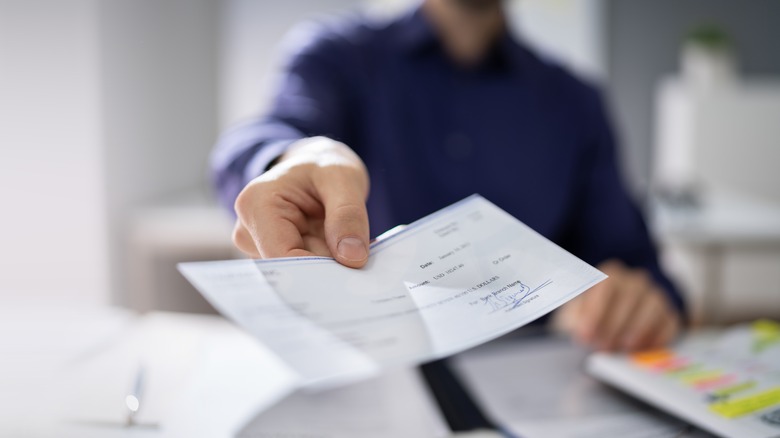 Andrey_Popov/Shutterstock
You'll recognize a medical assistant as the kind face who ushers you to the exam room when you're a patient. They're responsible for taking vitals, recording medical notes, assisting physicians with exams, and sometimes giving injections or drawing blood (via Indeed). They help the exam flow smoothly and are a key piece in your doctor's appointment.
So, how much do these healthcare professionals make? According to LiveAbout, the median annual salary for a medical assistant is $33,610. Again, location and experience affect the pay scale for medical assistants, and the annual salary can range from nearly $50,000 to around $26,000.
Medical assistants aren't required to have formal education beyond a high school diploma to work in the field, but those with training from a vocational school are more likely to be hired by employers, per LiveAbout. Here's what you'll need to consider when becoming a medical assistant.
How to become a medical assistant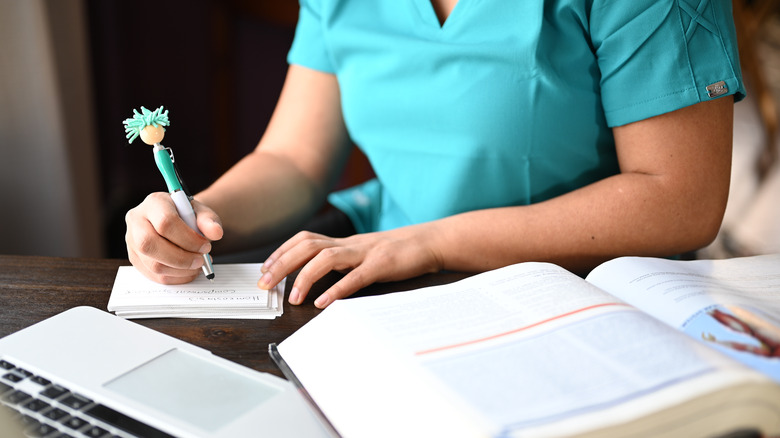 Vincent B David/Shutterstock
A degree is helpful in becoming a medical assistant, but, if you don't yet have one, you can gain valuable skills as an entry-level assistant while working to earn a medical certification (Indeed). This will help you get your foot in the door if you're interested in starting ASAP.
Many online medical assistant certification programs are flexible, so you can go at your own pace. According to Verywell Health, the top overall online certification program is the Herzing Diploma in Medical Assisting, which can be completed in about 10 months. The best accelerated program is through the U.S. Career Institute, and you can wrap it up in as little as four months. 
Whichever route you take in starting your career as a medical assistant, keep in mind that your work environment will be an office setting, and you'll be sitting at a computer screen for portions of your shift. Strong communication skills, attention to detail, and a good bedside manner are all key to success in this role. 
With job security, the ability to relocate, and the opportunity to help heal others, medical assistant may just be the role you've been seeking.