How Much Does It Really Cost To Have Live Music At Your Wedding?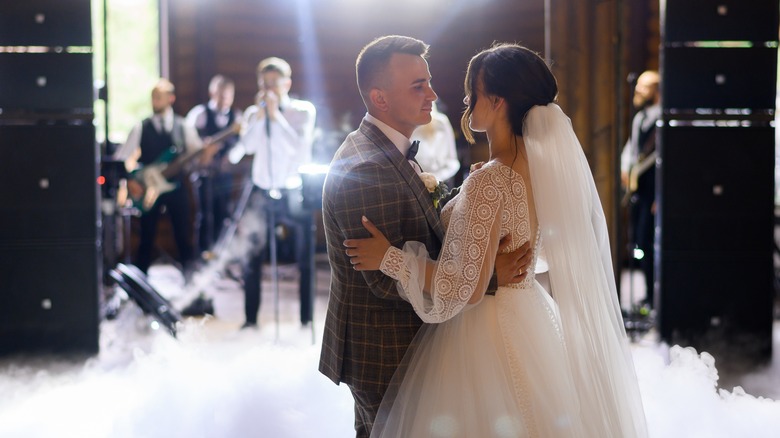 IVASHstudio/Shutterstock
While your big day can run anywhere from a few grand (if you elope and head to Vegas) or several hundreds of thousands of dollars (because you want to live the fairytale), the average cost of a wedding in 2021 was $34,000 (via The Knot). That's a lot of money to throw down for one day.
Weddings are pricey because of the grand nature of the event. For example, if you want your hair and makeup professionally done, just the fact that it's for a wedding, as opposed to a Friday night on the town, can automatically inflate the price (via Wedding Bee). A style that might normally cost $40 could suddenly be doubled to $80 simply because it's "bridal."
As if this wasn't bad enough, if you're getting married in 2022, prices have skyrocketed even further. Not only is inflation through the roof, but because so many weddings were canceled in 2020 due to COVID-19, those in the wedding industry are cashing in (via USA Today). With so many people finally making their wedding dreams come true, 2022 is going to be the busiest year for weddings since 1984, according to The Wedding Report.
Of all the costs associated with getting married, hiring a band to play live music during the reception could be one of the most costly. 
How much does it cost to have live music?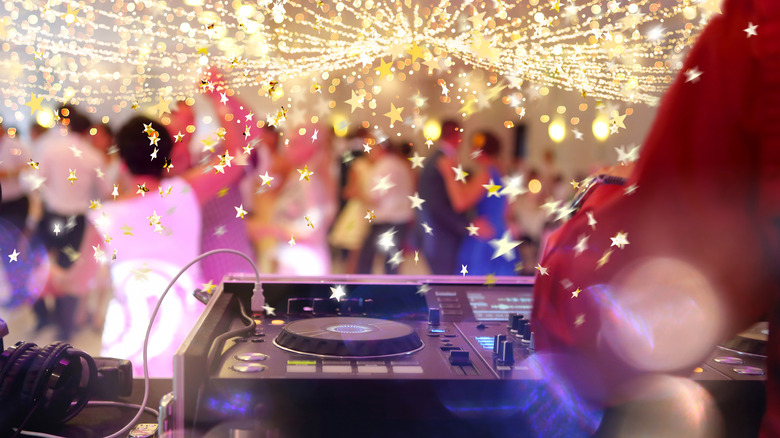 wideonet/Shutterstock
Like all things, the cost of hiring a band is going to fluctuate greatly based on location and the type of live music you want. For instance, a local band like Scrantonicity — Kevin's Police cover band from "The Office" — isn't going to set you back much. That being said, it's still expensive. On average, having live music played at your wedding by a professional band costs $4,300, up by $600 from 2019 (via The Knot).
What makes hiring a band so expensive is that you're not just hiring musicians to play through dinner and into the dance party segment of the night, which can go on for hours. In addition, the bandleader usually serves as an emcee, announcing what's next in the lineup of reception events. The band also shows up with their own equipment in addition to their instruments, including speakers, sound system, audio equipment, microphones, and whatever extras they need to put on a great performance (via Wedding Wire). There's also the fact that in many cases, they have to travel. If the band requires more than one van or automobile, then fuel costs can begin to add up quickly.
But, because wedding bands are so pricey, there are ways to score yourself a bargain if you're willing to make compromises.
How to find affordable wedding bands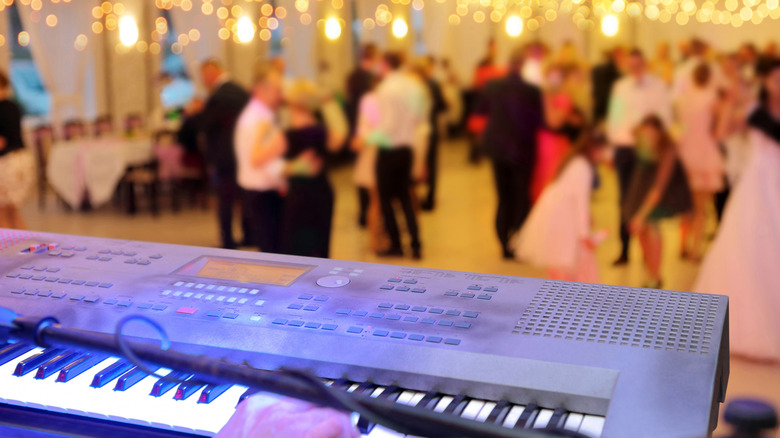 wideonet/Shutterstock
Not every band out there is going to charge you an arm and a leg. Some bands love to play weddings for fun or are just looking for exposure.
A good place to start when it comes to finding a wedding band is to check out your local music scene. The cool band at your favorite local pub probably isn't going to charge you a fortune to play at your reception. Also, asking around for recommendations or inquiring if any of the guests have friends or family members in a band that is wedding-appropriate is a good idea. Plus, thanks to social media, you can post what you're looking for or check out hashtags for bands too (via Bands for Hire).
If your wedding budget is starting to get out of control and it doesn't look like you can afford a band for the whole night, you can always have a band during dinner, then a DJ for the dancing part of the evening, or vice versa. On average, a DJ costs $1,400, up from $1,200 last year (via The Knot). So, that's something to consider if that falls more within your budget.
All in all, your wedding day is supposed to be fun. Just because your wedding doesn't have all the bells and whistles, that doesn't mean that your marriage will somehow be affected. If fact, a study has found that the cheaper the wedding, the better the chances of marital success. So, you might want to keep that bit of info in your back pocket as you plan your ideal wedding.