Kate Middleton Shows Support For Prince Harry's Former Patronage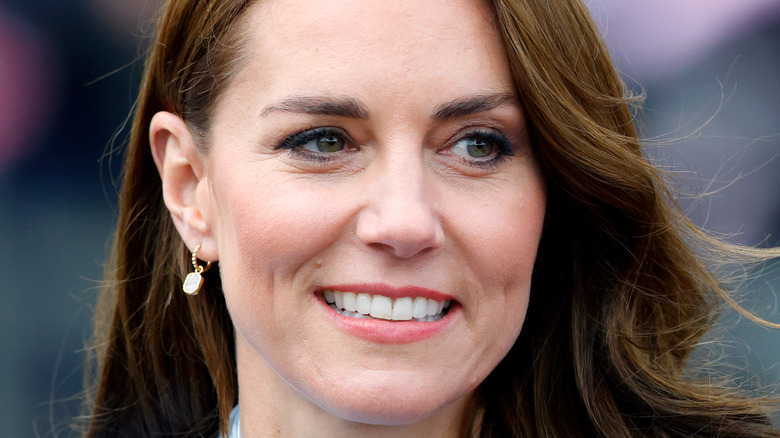 Max Mumby/indigo/Getty Images
Catherine, Princess of Wales, has had her new title for less than a month, and with it comes new responsibilities. While it may seem as though life has carried on as usual for the royal — with trips to Wales and Northern Ireland with William, Prince of Wales, in addition to visiting organizations and charities close to her heart — she is also taking on new patronages.
Kate Middleton still carries on the patronages she had under the royal title of the Duchess of Cambridge. She's involved with many organizations and charities, including several children's hospitals, the National Portrait Gallery, Natural History Museum, and the Victoria and Albert Museum (V&A). She's also patron to some of the UK's most important sporting organizations, notably The Lawn Tennis Association, which includes Katharine, Duchess of Kent, as Associate Member, Prince Edward, Duke of Kent, as Joint Associate Member, and Birgitte, Duchess of Gloucester as Honorary President (via the Royal website).
Earlier this year, the Princess of Wales took on the patronage previously held by Prince Harry, Duke of Sussex — that of the Rugby Football League and the Rugby Football Union (via Vanity Fair). As the Princess of Wales, Kate has shared an inspiring message of support for the two sporting organizations (via Instagram).
Kate Middleton wore an outfit matching the colors of England's Rugby team
Wearing a deep red blazer and a silver English rose brooch — the symbol of English Rugby — Catherine, Princess of Wales, wished the Red Roses luck (via Instagram) for the Women's Rugby World Cup in New Zealand this autumn (via The Guardian). You may recognize this blazer, as Kate Middleton wore it to the postponed England v Germany 2020 game last summer and during a visit to Copenhagen in February 2022 (via the Kate Middleton Style blog). She also wore Citrine Pearl Drop Earrings designed by Kiki McDonough, reportedly wearing them more than 40 times in public.
In the message, Kate spoke of her time at Twickenham Stadium this February during her first visit after being announced as patron (via People). "I had so much fun with you all at Twickenham earlier this year, and I cannot wait to see how you get on during the tournament," she said in the video message.
Kate congratulated the new players for joining the 2022 squad, adding, "I know this will be a particularly proud moment in your career so far, and I hope you enjoy every minute. I was also delighted to hear that some of the winning squad from 2014 are back to help bring the cup home again."
Kate's first visit as royal patron of England Rugby was very memorable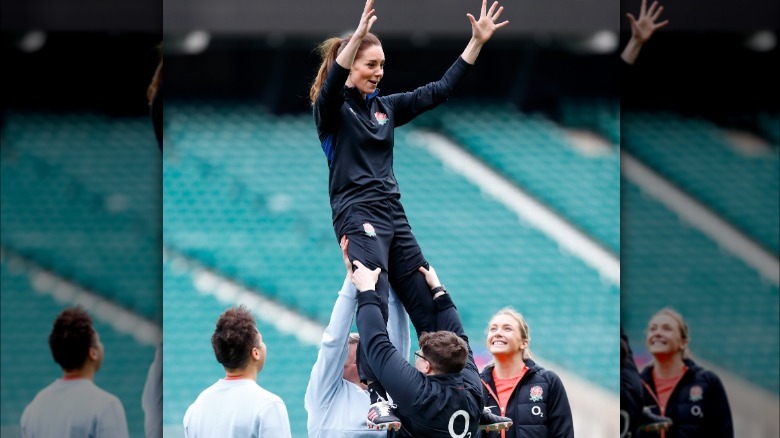 Max Mumby/indigo
Concluding the message (via Instagram), Catherine, Princess of Wales, wished the Women's Rugby Team luck for their time in New Zealand. "I'll be setting my alarm clock early to cheer you on all the way," she said. The heartfelt message of support will remind rugby fans of her visit to Twickenham in February 2022 (via People), where she took part in a training session and was lifted by some of the Women's Squad in a line-out play to pass the ball from a height.
Kate Middleton shared another message of support during this time as the then Duchess of Cambridge. Posted to Twitter, the royal spoke of how "thrilled" she was to take over the patronage of Prince Harry, the Duke of Sussex. "Two fantastic organizations who are committed to harnessing the power that sport can have in bringing communities together and helping individuals flourish," she said. "I look forward to working with them across all levels of the games, and cheering England on in what promises to be an exciting year for both sports!"