Everything You Need To Know Before Going On A Luxury Cruise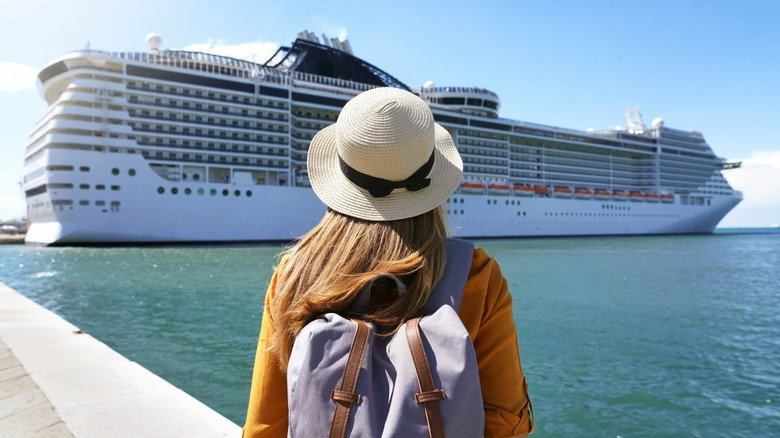 Zigres/Shutterstock
If you're planning to go on a luxury cruise, be prepared for a different experience than what you may know about going on a regular cruise. Luxury cruises are perfect for anyone looking to have a more enriching and intimate time during their cruise. With fine dining, personalized service, ease of travel, and more, luxury cruises can and will tailor to your grandest desires during your stay. However, because of their opulent service, these ships do tend to cost more than a mainstream cruise, but the worth is in what they have to offer their guests, per Cruiseline.com.
Much of what a luxury cruise can offer varies from ship to ship, so you may have more options to consider when booking. However, deciding on which cruise to book allows you to think about what you would like to get from this luxury experience — whether it is from the ship size, the amount of guests, where you want to travel, what kind of entertainment you'd like, and the kind of service you expect. At the end of the day, all luxury cruise ships aim to offer a unique, high-end experience (via Cruise Critic)
What makes a luxury cruise different?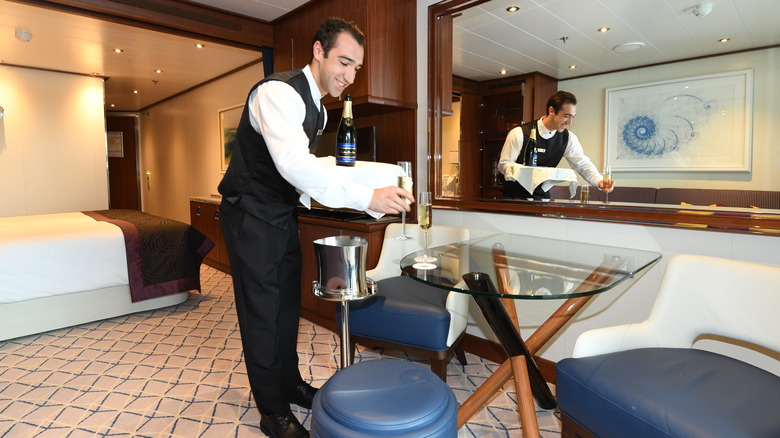 James D. Morgan/Getty Images
Some luxury cruise ships offer a variety of itineraries, having travel options that include all seven continents. Due to some having a smaller ship size, they also have better accessibility to the smaller ports which allow guest to travel off the beaten path. Additionally, these smaller ships have a limited number of guests for a more intimate experience. Luxury also tends to mean all-inclusive — aka the cost will include everything from the fine dining to the excursions during your stay (via CruiseBooking.com).
The guest experience on a luxury cruise is also more elevated than that of a mainstream cruise. These trips tend to attract guests looking for more cultural enrichment, which is why luxury cruise ships tend to plan out itineraries in which guests can explore ports beyond the ship while balancing on-ship entertainment. Because the ships and guest sizes are smaller, rooms tend to be more spacious as well. Often, they are suites with elegant, high-quality interiors and private balconies with ocean views. 
In addition, some luxury cruise ships will have higher end service, sometimes assigning one butler per room who can help do your laundry, find you places to eat off the port, help you with your suitcase, and more. A general rule of thumb for luxury cruise service is to have a two-to-one ratio for staff on hand, meaning that for every two guests there will be at least one staff member ready to assist with anything they may need (via iCruise).
Top ranking luxury cruise lines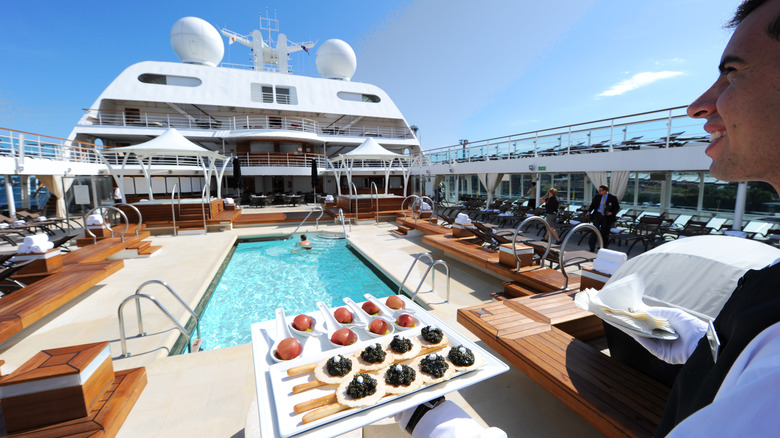 James D. Morgan/Getty Images
There are a variety of luxury cruise companies to choose from depending on what you are looking for. According to U.S. News, Viking Ocean Cruises has earned an overall number one ranking for "best luxury cruise lines," "best cruise lines for couples," and "best cruise lines in the Mediterranean." The Mediterranean should be on your travel bucket list as one of the most popular celeb vacation spots, and with only 930 passengers aboard, Viking Ocean Cruises offer smaller ships with destination-focused itineraries. Its smaller size also allows it to visit ports around the world in places like Asia, Australia, and Europe. It also includes one complimentary excursion per guest in each port you visit.
Scaling at an even smaller size for a more intimate experience is the Seabourn Cruise Line, which can have anywhere from 458 to 600 guests. This cruise also offers travel Asia and Australia as well as to Alaska and even the Artic. Seabourn also travels to the Caribbean, which should be on every Capricorn's list as the perfect vacation spot for them. Plus, Seabourn goes above and beyond with a one-to-one guest to crew ratio for a more personalized experience, along with their fine dining, excursions, and nightlife amenities. Other top ranking cruises for a luxury experience include Atlas Ocean Voyages, Azamara, Silversea Cruises, Oceania Cruises, and Regent Seven Seas (via The Points Guy).