How Serena Williams Really Met Husband Alexis Ohanian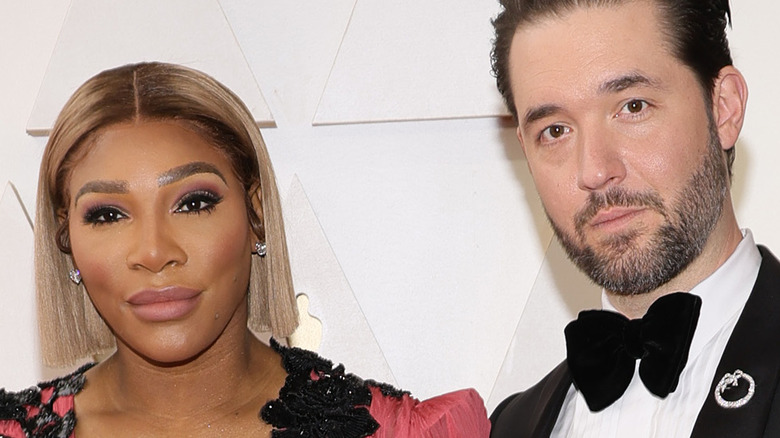 Mike Coppola/Getty Images
Serena Williams is an epic tennis player who boasts over 850 career wins and an Olympic gold medal as well as 23 Grand Slams (via ESPN and WION). Alexis Ohanian co-founded Reddit and made a ton of money as a tech entrepreneur, counting a cool $70 million as his fortune (via People and The U.S. Sun). Before meeting, she had not used the social site, while he was not a fan of the sport she has dominated for decades (via Brides).
The two big names in their own fields come from completely different worlds, and yet, Williams and Ohanian have been married since 2017 (via Us Weekly). The couple seems madly in love, with the tennis icon saying previously about her relationship, "I learned that love is an amazing feeling. And if you have an opportunity to feel it, then it's a special thing" (via Grazia).
Meanwhile, Ohanian said about his wife in 2017, "She has the biggest heart. Everyone sees her success as an athlete, but all of that is layered on the size of her heart. She gives 100% of herself to everything she does: as a friend, as a lover, and soon, as a mother."
Indeed, the famous pair welcomed their daughter Olympia the same year they wed following a proposal for the ages (via People). But before you hear the story of Williams and Ohanian's engagement, you'd have to know how they met.
Serena Williams first crossed paths with her husband before a big match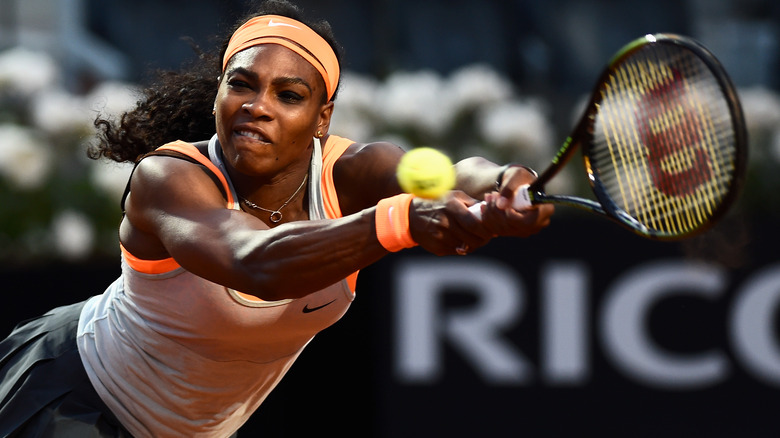 Mike Hewitt/Getty Images
It was 2015 and Serena Williams was in Europe to play in the Italian Open. Alexis Ohanian was also in Italy on business, and had just been hanging out with a new friend, actress Kristen Wiig, the previous night (via Vanity Fair and E! News).
The morning of her first match, Williams was enjoying breakfast by the pool at the Cavalieri hotel, in Rome. Guess who else was there? Ohanian, who chose to park near her table, although the seating area was peppered with empty ones. The two joked a bit about the awkwardness of the entrepreneur plopping down so close to the tennis player, even though at first, he had no idea who she was.
They ended up chatting about all sorts of things, including Reddit, which is when Williams confessed to basically having no idea what that was. Ultimately, Ohanian told Vanity Fair his first impression of the star was, "This is an interesting, charming, beautiful woman." However, he'd just broken up with his college sweetheart after a five year relationship and wasn't looking for another romance (via Business Insider).
That would soon change when Williams' agent invited him to watch her play later that day.
Serena Williams didn't remember Alexis Ohanian when they met again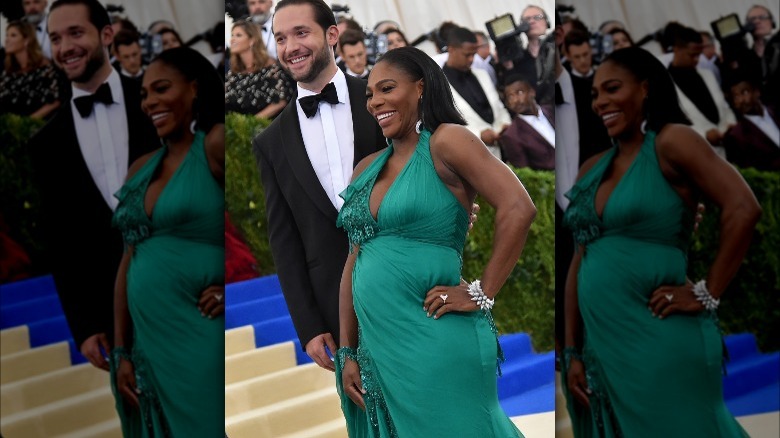 Mike Coppola/Getty Images
No, it was not love at true sight for Serena Williams and Alexis Ohanian, who met at a hotel in Rome one morning in 2015. Interestingly, even though the one-day couple chatted that day, the tennis pro didn't recognize him when she saw him after her match that evening.
As she recounted in Vanity Fair, the tech entrepreneur joined her team en route to the hotel, and she thought he was there to protect her, which she confided to her agent. "I see this super-tall guy get in our [van], and I was like, 'Oh my God, Jill. Tell me what's wrong. Do I have another stalker? Why is Rome sending personal security with me..." Williams said, continuing, "And she's like, 'No, that's Alexis.' I remembered his name because it was a unique name. I was like, 'Oh, I remember.'"
After that hilarious encounter, the two would go on to meet up again in Paris and start dating. In 2016, Ohanian proposed to Williams in Rome near where they first met at that fateful breakfast. They wed in 2017, when their daughter Olympia was just two months old (via Brides).