The Skincare Line You May Not Know Alicia Keys Started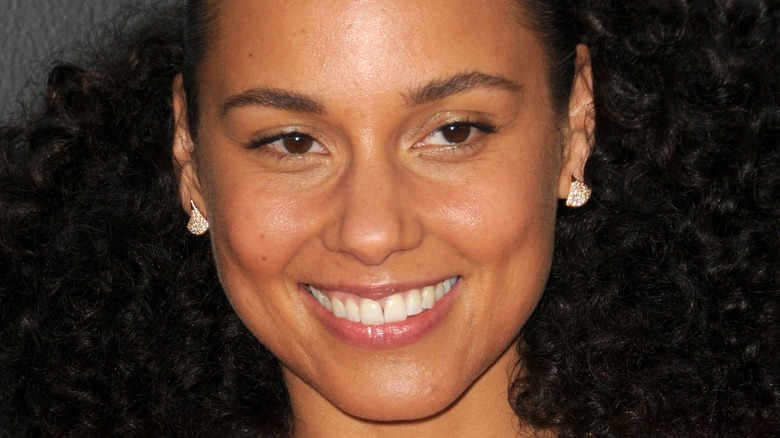 Kathy Hutchins/Shutterstock
We may receive a commission on purchases made from links.
Celebrities have been the face of beauty brands for as long as we can remember. While in the past they were mostly the face of the brand, now celebrities are starting their own companies and one example of a hugely successful beauty brand is Kylie Cosmetics started by Kylie Jenner (via Forbes). Kylie Cosmetics started with a lip kit and now it's a million-dollar empire. When celebrities serve as beauty ambassadors for skincare, haircare, or makeup brands, they convince us that using those products will make us look as beautiful as they do.
Regarding diversity and inclusivity, in 2017, Rihanna launched her beauty brand Fenty with a wide range of shade selections and made almost a whopping $600 million in sales in the first 15 months, per Vox. Fenty skin and makeup products often make an appearance in the best of beauty lists.
While some of us can't imagine life without makeup, in 2016, Alicia Keys famously decided to go makeup-free and the world was shocked. Keys told Glamour, "I don't want to cover up anymore. Not my face, not my mind, not my soul, not my thoughts, not my dreams, not my struggles, not my emotional growth. Nothing."
Keys always prioritized skincare and self-care, and the proof is the launch of her brand Keys Soulcare in 2020.
What makes Keys Soulcare different?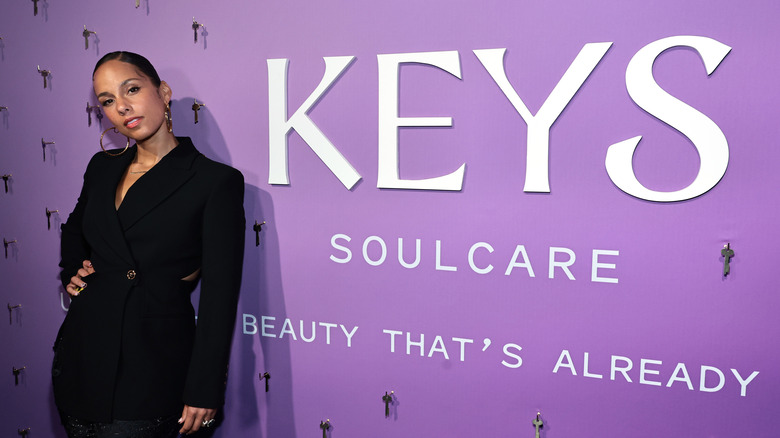 Jamie Mccarthy/Getty Images
Alicia Keys decided to go makeup free to several events to promote natural beauty — as we all know women's societal pressure to fit beauty standards (via Glamour UK). Though Keys is back to wearing makeup — she always took a strong stance on the importance of never having to change your identity to fit in. "The pressure to try to [get me to] wear more dressy things... that just wasn't who I was and it will never be who I am. And even as I grow now, and can truly feel comfortable in multiple ways and styles, I still am who I am. So, I was happy that I was pretty strong from the beginning," Keys told Glamour.
The singer's brand, Keys Soulcare, is more of a ritual than skincare products. It initially had three products: Skin Transformation Cream, Obsidian Facial Roller, and Sage + Oat Milk Candle, so one could use them all together and create a self-care routine for oneself, per Allure. "What I've realized is I need to be able to have the space for myself — I need to be able to have a few minutes," Keys added. The hydrating cream infused with hyaluronic acid, ceramides, and bakuchiol was intended to nourish the skin while also "purifying and centering the spirit."
Keys Soulcare has added more products to the collection to bridge the gap between wellness and skincare, which is what many people have been seeking post the lockdown phase that has generated important mental health discussions. 
What beauty lovers think of Keys Soulcare
While skincare became huge during the pandemic, with more people using it as a form of self-care (via Cosmetics Design), many celebrities launched their beauty brands. And even though skin experts aren't entirely convinced if celebrity-owned skincare brands are as good as they claim (via The Washington Post), one can't deny that these brands get noticed instantly.
Since its launch in 2020, Keys Soulcare has added more skincare products to its collection, and here's what beauty experts have to say about their popular products. The Sacred Body Oil with Marula Oil is a 2021 Allure Best of Beauty Award winner. Beauty editor Sara Tan is also a fan of Soulcare's Harmony Mask, which has the goodness of manuka honey. Tan wrote for Allure, "I love this product so much." She added that she loved how the instructions on the mask are to relax as you wait for it to dry. "It encouraged me to stay present and take time for myself and mental well-being," she added.
One of their initial products is the Skin Transformation Cream. Another beauty editor Mica Ricketts shared on Who What Wear, "I adore this moisturizer. ... Oh, and it managed to leave my skin looking dewy without verging into oily territory, which is no mean feat." This cream has an average of 4.5 out of 5 stars on Ulta, with over 4,000 reviews. A reviewer even said, "I was skeptical of another celebrity skin brand, but after receiving it as gratis, I ended up loving this cream! I'm on my third jar."