Donald Trump Takes Credit For Destroying Late Night TV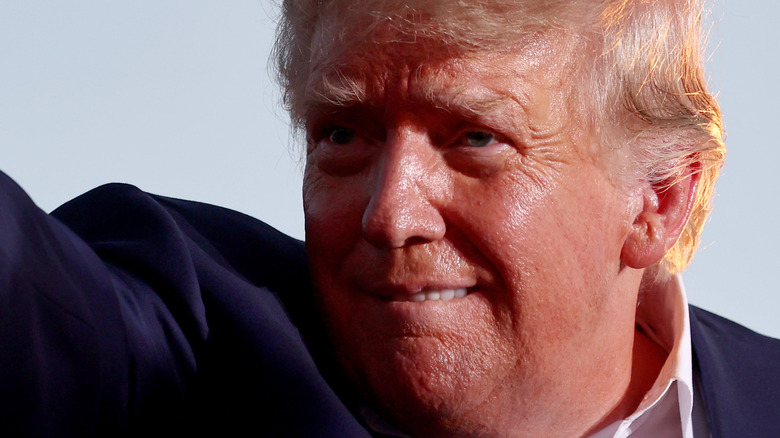 Mario Tama/Getty Images
It's no secret that late night shows are not as popular as they used to be. Industry experts are blaming the cancellations, host turnover and ratings plummet on the rise of streaming services according to The New York Times.
Indeed, although it was announced in May of 2021 that "The Tonight Show Starring Jimmy Fallon" had been renewed for five more years, Jimmy Kimmel is set to host his program until 2026 and Stephen Colbert plans to host "The Late Show" for another year, other shows haven't been so lucky (via Variety).
For months, Fox News' "Gutfeld!" with Greg Gutfeld has beat out the former top dogs in the late night game according to The Wrap. Meanwhile, some big names are saying goodbye to late night all together, with Trevor Noah announcing at the end of last month that he will no longer host "The Daily Show" (via Vulture). "Full Frontal With Samantha Bee" was canceled, and viewers will only get one more season to enjoy James Corden's run as host of "The Late Late Show" (via Good Housekeeping).
Now, Donald Trump is taking credit for the end of an era on late night television. Did he have a hand in it?
Donald Trump says he was honored to take down late night TV
Taking to his Truth Social account, the 45th POTUS shared a link to a new Fox News article sharing that "Gutfeld!" continues to dominate late night ratings. Donald Trump added, "It was my great honor to have destroyed the ratings of Late Night 'Comedy' shows."
He went on to opine that the shows aren't funny and their hosts are untalented. "When Jimmy Fallon apologized for having humanized 'Trump,' and his ratings soared, the Radical Left forced him to apologize—that was effectively the end of The Tonight Show," the controversial conservative went on to say, ending his post by congratulating Greg Gutfeld.
Trump was referencing an interview with the-then presidential candidate during which Fallon joked with the eventual winner of the election (via SF Gate). Critics said he failed to ask the Republican tough questions, but it's worth noting Trump's opponent, Hillary Clinton, also appeared on "The Tonight Show" on another lighthearted segment in 2015 (via NBC News).
Meanwhile, Fallon is considered the least political of his peers Stephen Colbert and Jimmy Kimmel.
Not everyone wants late night to be so political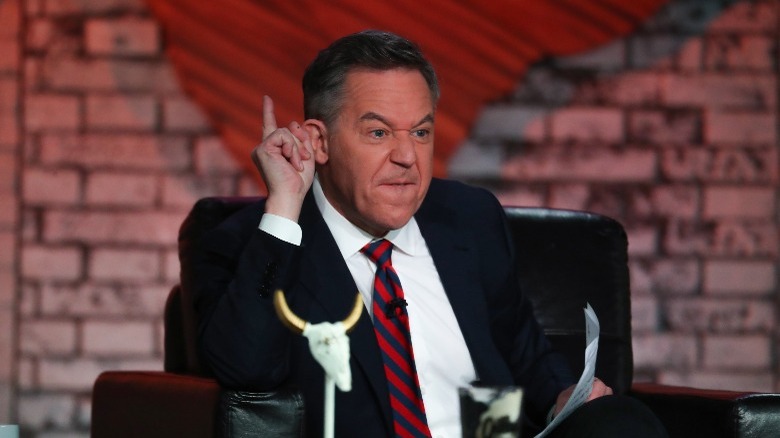 Omar Vega/Getty Images
As ratings revealed that Stephen Colbert's once top-rated late night show is slipping behind Greg Gutfeld's Fox program, a political satirist explained his take to Fox News. "His show, like many other late night shows, has just become a platform to push DNC talking points and candidates — without a challenge to them to answer any of today's difficult questions," Tim Young said, adding that in his opinion, this lack of a balanced perspective has folks turning the channel. But this is not the case for all viewers.
A very interesting 2019 poll Morning Consult conducted in conjunction with The Hollywood Reporter may help answer why politics doesn't turn everyone off to late night. The survey revealed that more than half of Democrats watch these shows versus a quarter of Republicans. Democrats also overwhelmingly said they wanted to hear political discussion on late night and enjoy seeing politicians on the shows.
Republicans didn't want to see politics discussed in late night, with 62% admitting the hosts' personal opinions turn them off. They also weren't interested in seeing politicians as guests. Why? Well, as the survey also revealed, both parties agreed the late night TV shows lean to the left.
Incidentally, a 2016 poll by The Chicago Tribune rated how political each late night host was. Tellingly, Samantha Bee and Trevor Noah, who were unabashedly anti-Trump, were considered the most political by viewers.