How Eddie Murphy Is More Musical Than You Originally Thought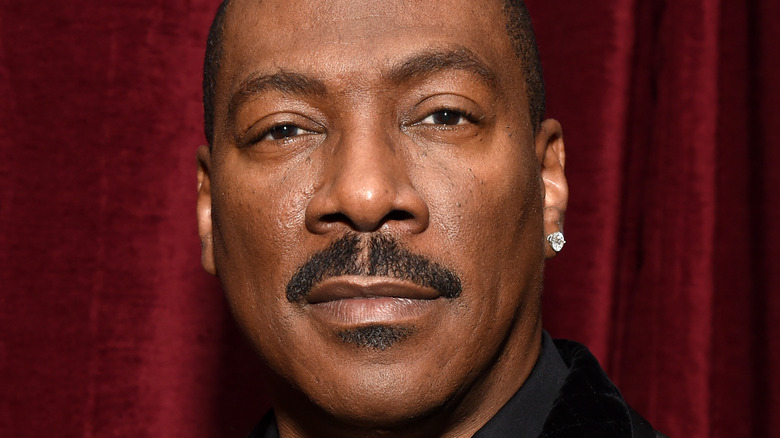 Michael Kovac/Getty Images
For Millennials and Gen Z, Eddie Murphy is recognized as a comedian and actor — particularly in his voice work, from Mushu in Disney's "Mulan" to Donkey in the "Shrek" franchise. Gen X, however, will be most familiar with Murphy for his work on "Saturday Night Live" in the early '80s and films like "Beverly Hills Cop," "Trading Places," and "Coming To America" (via IMDb).
Across his filmography, Murphy regularly shared his musical talents. Snippets of his singing voice can be found in "Shrek" during the many times Donkey bursts into song, or his impressions of Elvis Presley, Stevie Wonder, or James Brown both on "SNL" and his comedy specials (via YouTube). Aside from imitations, Murphy relied on his ability to play soul singer James 'Thunder' Early in "Dreamgirls" (via YouTube). He won a Golden Globe for Best Supporting Actor in this role and an Oscar nomination for Best Supporting Actor, per Yahoo! Entertainment. 
But what you may not know is that on top of all this, Murphy is an accomplished musician outside the movies.
One of Eddie Murphy's songs is on the GTA V soundtrack
While Eddie Murphy didn't release music for that long, he produced three studio albums over a decade. During the height of his career in the 1980s, fellow comedian Richard Pryor reportedly bet Murphy $100,000 that his talents didn't extend to singing (via Far Out Magazine). Murphy took that bet seriously, and thanks to his friendship with Rick James, the comedian recorded the track "Party All The Time" in 1985, which featured on his debut album "How Could It Be." According to Far Out, Murphy wrote in the album's liner notes: "To Richard Pryor, my idol, with whom I have a $100,000 bet. No, mother*****, I didn't forget."
"Party All The Time" very nearly reached number 1 on the Billboard Charts but was beaten by Lionel Richie's "Say You, Say Me." But for those growing up in the decade, it was constantly playing on the radio and MTV thanks to its equally iconic music video (via YouTube). But even for today's generation, it's recognizable, particularly for players of 2013's "Grand Theft Auto V" — as it featured on the in-game radio station Space 103.3 (via YouTube).
Eddie Murphy collaborated with a famous rapper in 2013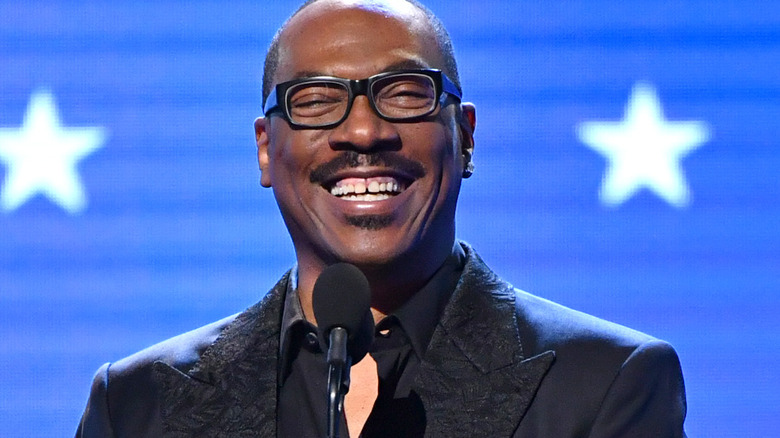 Amy Sussman/Getty Images
Eddie Murphy's following two albums didn't do quite as well as his debut, but the single "Put Your Mouth On Me" was another hit (via Indy100). Aside from collaborating with Rick James on his first single, Murphy also sang with Michael Jackson on the 1993 track "Whatzupwitu" (via YouTube), which you can find on Murphy's third record, "Love's Alright."
While Murphy hasn't released an album since "Love's Alright," he hasn't stopped singing — evidently through his renditions "I'm A Believer" and bits of "On The Road Again" and "Try A Little Tenderness" in the "Shrek" films (via Vague Visages).
Most recently, Murphy collaborated with Snoop Dogg on the song "Red Light" in 2013 (via YouTube). The reggae-influenced track is entirely different from his old sound, as are his two other songs, "Promise (You Won't Break My Heart)" and "Temporary," which you can find on SoundCloud.