The Truth About Jack Black's Mother's Historic Past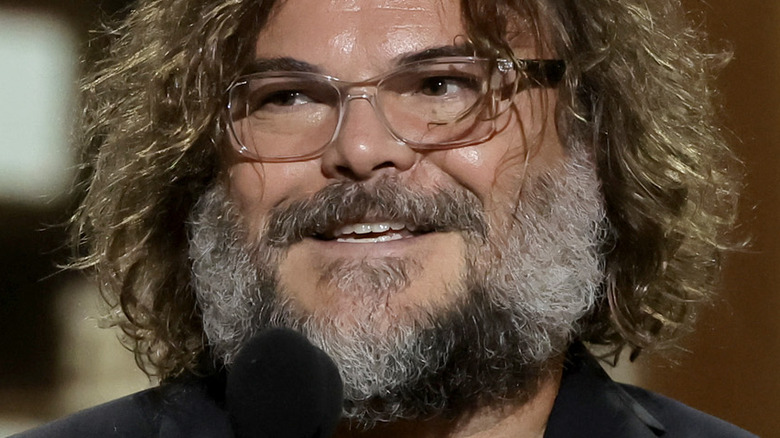 Kevin Winter/Getty Images
We may receive a commission on purchases made from links.
Most people first took notice of Jack Black in the early 2000s, when he landed over-the-top roles in crowd-pleasers such as "High Fidelity," "Nacho Libre," and "School of Rock." Over the years, the eclectic actor has also become a favorite with kids, having voiced the lead character of Po in the "Kung Fu Panda" series of animated films and appearing in the "Jumanji" franchise (including "Jumanji: Welcome to the Jungle" — a movie title Black suggested himself). Plus, he's had parts in some bad movies that even good acting couldn't save, stinkers like "Mars Attacks!" and "Shallow Hal," and gained attention as the lead vocalist of comedy-rock duo Tenacious D.
There's no doubt that Black is a fascinating entertainer with a long and varied list of credits to his name. But his late mother, aerospace engineer Judith Love Cohen, may actually be the family member with the most impressive — not to mention unusual — resume.
How was Jack Black's mother connected to Apollo 13?
In 2021, a Reddit post went viral claiming that Jack Black's mother was a NASA engineer. It stated that the actor's mother, Judith Love Cohen, helped to invent the Abort-Guidance System later used to guide Apollo 13 back to Earth during the ill-fated 1970 mission — which later became the subject of the 1995 Tom Hanks movie "Apollo 13."
And, if that weren't enough, the post also claimed Cohen was toiling away on a problem for NASA the day she went into labor with Black in 1969 — and that she solved the problem while in the hospital. It definitely sounded too good to be true, like the plot from a Hollywood movie.
However, the story is accurate. Snopes confirmed the facts in a post that was part fact-check and part tribute to a truly inspirational woman.
"I never really understood what she did as an aerospace engineer," Black said on the Periodic Talks podcast. But he praised his "legendary mom" for succeeding in such a male-dominated field in the 1950s and 1960s: "She was a trailblazer, and she was a badass."
Judith Love Cohen's career involved NASA — and more
Jack Black's half-brother, computer scientist Neil Siegel, appeared on the Periodic Talks podcast with Black. Siegel discussed how their mother initially studied math and science at college while also dancing for New York's Metropolitan Opera Ballet. She was the eighth woman ever accepted into the University of Southern California's School of Engineering.
Judith Love Cohen's obituary, penned by Siegel, also mentioned her work for NASA: "My mother usually considered her work on the Apollo program to be the highlight of her career." The heartfelt obituary confirmed what happened on the day of Black's birth: "She actually went to her office on the day that Jack was born. When it was time to go to the hospital, she took with her a computer printout of the problem she was working on. Later that day, she called her boss and told him that she had solved the problem. And ... oh, yes, the baby was born, too." Toward the end of her engineering career, Cohen worked with the Hubble Space Telescope.
To encourage girls to consider scientific careers, Cohen wrote a series of children's books, including "You Can Be a Woman Engineer," "You Can Be a Woman Architect," and "You Can Be a Woman Astronomer." She and her husband, David A. Katz, who illustrated the books, started a company to publish the series.
Aerospace engineer, ballet dancer, children's book author, mother of four — it was all in a day's work for Cohen.