Everything You Need For A Top Gun Halloween Costume This Fall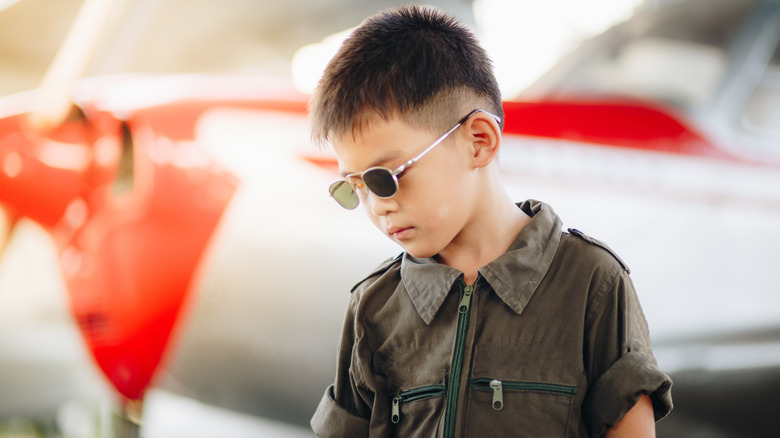 anut21ng Stock/Shutterstock
Since the May 2022 release of "Top Gun: Maverick," the sequel to the 1986 movie "Top Gun," there has been a renewed interest in the franchise. While the original film wasn't a hit with critics, per Rotten Tomatoes, it has remained a favorite with fans over the years, with the sequel seeing major box office success (via The Numbers).
Both films star Tom Cruise as U.S. Navy Lieutenant Pete Mitchell, also known as Maverick. The first installment depicts him as a newly accepted student at an elite fighter school who was determined to prove himself, while the sequel sees him leading top graduates on a high-stakes mission.
Whether motivated by '80s nostalgia or an appreciation for the sequel, you might be considering a "Top Gun" costume for Halloween this year. Luckily, they're pretty easy to find online, or you can even make one yourself. Read on to find out everything you'll need for this costume.
Go with a classic Top Gun look this Halloween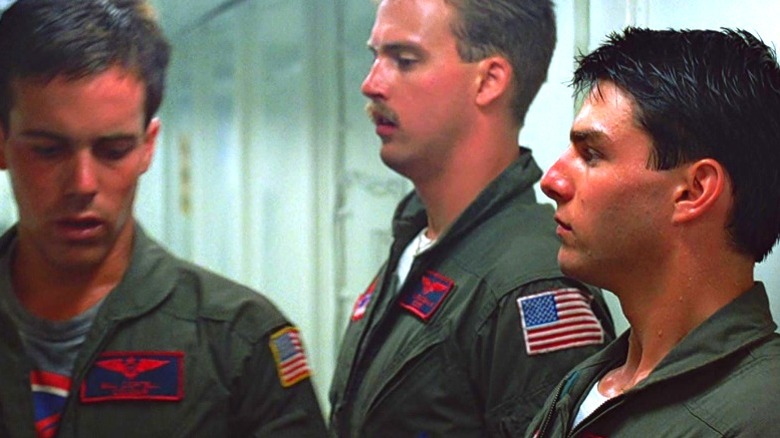 Paramount Pictures
The iconic flight suit is one of the most notable "Top Gun" costumes you can wear for Halloween. Seen on the Navy fighter pilots throughout the two films, this look is both recognizable and relatively easy to recreate (per Style Caster).
There are pre-made "Top Gun" flight suits that you can purchase online, but you can also DIY the costume for Halloween. As mentioned by Men's Health, the main component of this costume is the military-green coveralls. You can get these from Dickies, Amazon, or even eBay. Peekaboo Pages also has a step-by-step tutorial explaining how to sew a child's version of the jumpsuit.
Once you have the base element, the next thing you need is iron-on patches. Both Amazon and Etsy have character-specific and more generic patches. Aviator sunglasses and tactical boots round out the costume, but you can also add dog tags and a helmet as extra touches. Many characters wear white or black shirts underneath their flight suits, which is an easy-to-add touch.
Choose a character-specific look for your costume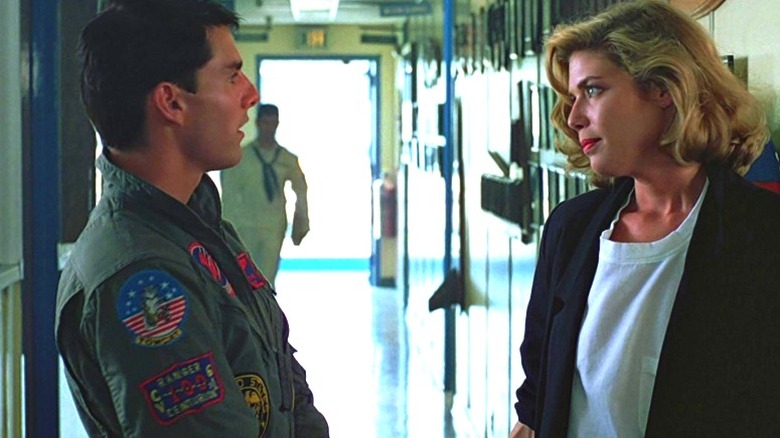 Paramount Pictures
In addition to the classic "Top Gun" flight suit, you can also draw inspiration from more specific character outfits for your Halloween look. Style Caster mentions Maverick's iconic bomber jacket look as a solid choice, recalling the original movie's bar scene where it was first spotted.
Many of the accessories for this costume are shared with the flight suit look, including the iron-on patches, aviator sunglasses, and dog tags. However, for the base of the costume, you'll need a brown bomber jacket and jeans, a pretty simple combo that you could find on Amazon or even secondhand (per Peekaboo Pages).
As mentioned by Good Housekeeping, Charlie Blackwood is another character that's perfect for costume inspiration. Plus, if you're going for a couple's costume, you and your partner can wear Charlie and Maverick's iconic leather looks.
For a Charlie costume, you'll need her black leather jacket. You can find a costume replica of this jacket online, but it's pretty expensive. You can also go DIY with a plain bomber jacket with sew-on patches. A white blouse and black pencil skirt make up the rest of the costume's core, which is completed with black stockings and a clutch.