If You Love Bridgerton, Here Is The Book You Should Read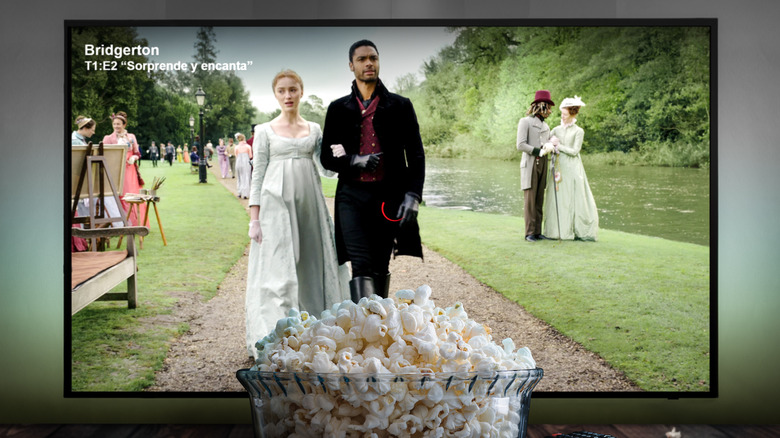 JOCA_PH/Shutterstock
We may receive a commission on purchases made from links.
There's something about period dramas that draw you in. The world is vastly different from what we know but the struggles are relatable. There's romance, wounded egos, a search for identity, and challenging family dynamics.  
Produced by the talented Shonda Rhimes with showrunner Chris Van Dusen, the Netflix show "Bridgerton" brings all this and more to the table (via Today). The TV series which premiered in 2020 has gained wide appeal among viewers, reaching No. 1 in more than 70 countries (per The Guardian). The historical romance show is based on the book series of the same name written by Julia Quinn and follows the lives of influential families in England in 1813, namely the Bridgertons and the Featheringtons. 
Fresh-faced Daphne Bridgerton, played by Phoebe Dynevor, comes from a family of eight children. Her encounter with Regé-Jean Page's Duke Simon Basset during the season — a time each year when elite families present their children to society and set them on a path to finding an acceptable mate — is just the beginning of a sequence of events that reel viewers in and keep them coming back for more, according to Today. 
There might be a few things the cameras don't show you on "Bridgerton", but if you've ever seen the show, you're sure to find the mysterious narrator Lady Whistledown — voiced by Julie Andrews — both brilliant and witty. Here's a book we think you'd love if you enjoy watching "Bridgerton."
Bringing Down the Duke by Evie Dunmore is a book you'll love if you like Bridgerton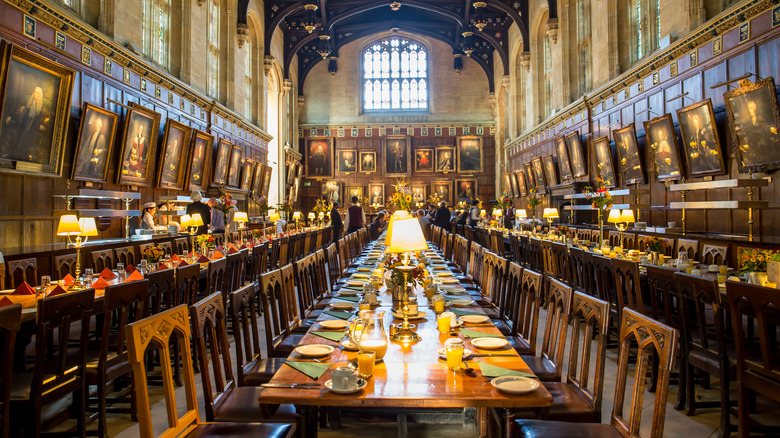 Aeypix/Shutterstock
Best-selling author Evie Dunmore's debut book "Bringing Down the Duke," like "Bridgerton," is set in 19th century England. Readers are invited into the strong-willed world of a country vicar's daughter, Annabelle Archer, who becomes involved in the women's suffrage movement after joining the first batch of female students to enter the prestigious University of Oxford (via Good Reads). Tasked with enlisting powerful men to join the movement, she sets her eye on the Duke of Montgomery Sebastian Devereux, who's at the helm of British politics. Despite her knowledge that his beliefs couldn't be more opposite to hers, Annabelle can't quash her attraction to the brooding Duke. We're also given a glimpse of Sebastian's inner workings, who in spite of his best efforts to stay the course, also develops feelings for the beautiful Annabelle. 
"Bringing Down the Duke," similarly to "Bridgerton," explores a complicated yet entertaining relationship between two very different people. Daphne Bridgerton and Duke Simon Basset join hands, despite their different values and ideas of marriage, to work towards mutually beneficial causes — for Daphne to be appealing to suitors and for Simon to be left alone by mothers wanting him to marry their daughters (per YouTube). 
The two are also battling unspoken yet undeniable romantic feelings towards one another, much like Annabelle Archer and Sebastian Devereux, who also couldn't be any more different. 
Chris Van Dusen and Evie Dunmore are fans of romance
In an interview with Awards Daily, executive producer and showrunner of the first two seasons of "Bridgerton" Chris Van Dusen shared that he loves a good romance. "I am a fan of romance . . . The stories that really fascinate me are the ones that have interesting and complicated characters that jump off a page and grab me for some reason," he shared. The historical romance TV show is one that Van Dusen has taken delight in creating and the characters' love lives and relationships are messy and troubled in a way that he feels drawn to. 
For Berlin-based author, Evie Dunmore, for whom English is actually a second language, immersing herself in the world of romance when she picks up a book is the "ultimate escape," according to Kirkus Reviews. "I'm a business consultant with long working hours, so I mostly read for escape," she explained. 
Whether it's the cast of "Bridgerton" that's got you hooked or the time in history that's caught your interest, give Dunmore's book "Bringing Down the Duke" a try.