How Kourtney Kardashian's Style Changed When She Got Together With Travis Barker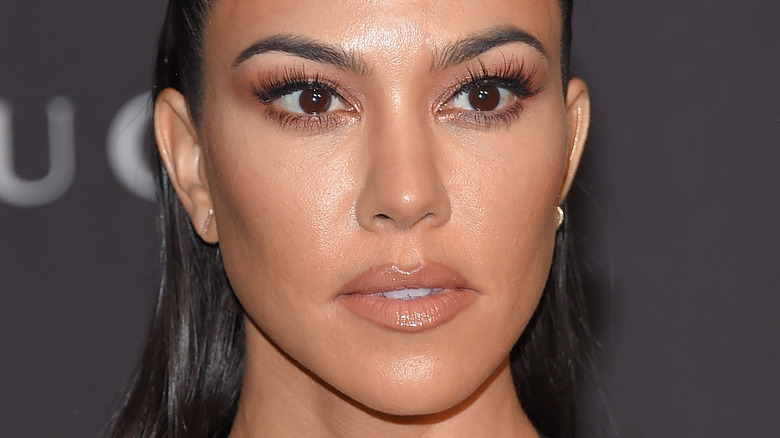 DFree/Shutterstock
From a reality star to a full-blown celebrity, with a stunning transformation in the process, Kourtney Kardashian's life has changed considerably over the past decade. For starters, the day finally came when she said goodbye to Scott Disick forever, after three children and nine on-and-off years together (via People). One thing that certainly has done a 180 since her debut on "Keeping Up with the Kardashians," in 2007, is her style — and many believe Kourtney's new hubby is responsible.
Ever since the oldest Kardashian sister rode off into the sunset with Blink-182 drummer Travis Barker in 2021, Kourtney's style has undergone a massive shift. While it's common for personal fashion choices to evolve, her sudden swing in style from pre-Travis years to now has understandably garnered attention. Whether it's just a subconscious phase or she suddenly had an epiphany and found her true sense of self, one thing is clear: The timing is a little coincidental. 
Let's take a look at how Kourtney's style changed when she got together with Barker.
The reality star noticeably went from LA chic to punk rock princess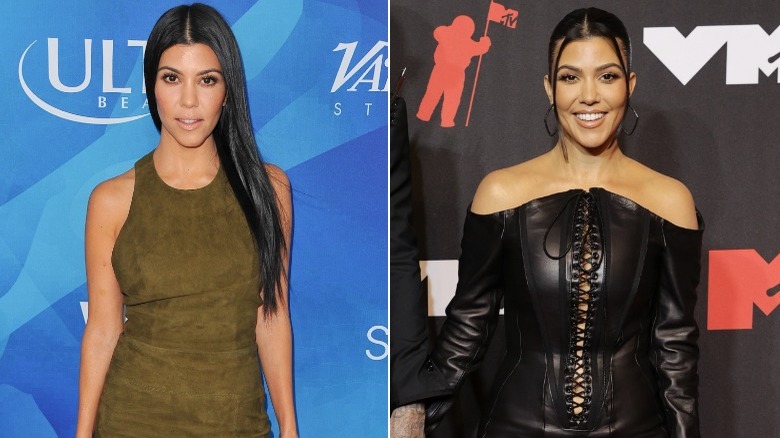 Allen Berezovsky & Noam Galai/Getty
Before dating Travis Barker, Kourtney Kardashian generally followed the classic feminine trends of LA girls, often sporting elegant pantsuits, over-the-shoulder tops, tight mini-dresses, and towering heels (via Screen Rant). She wasn't afraid to wear flashy and colorful ensembles either, often walking the red carpet in yellow, hot pink, and sequined gowns. In fact, her style could sometimes be reminiscent of little sister Kim Kardashian's, although not as flashy from head to toe.
As seen in a 2019 clip from "Keeping up with the Kardashians," posted by E! News, a fight broke out between the two when Kim alleged that Kourtney was "stealing her style." In the video, Kourtney is wearing a sparkly pink dress, which is completely different from any style choice she would make today. Holding hands with Barker while walking the streets of Italy, during their trip to Portofino to tie the knot, Kourtney donned an ultra-dark look.
The Poosh founder chose a black veil with blue lace trim and a black mini dress, complete with matching gloves and heels (via Hollywood Life). Her gothic-inspired ensemble wasn't a total shock, of course, as Kourtney had been sporting leather, chokers, black lace, fishnet tights, and rock band t-shirts in the preceding year. To top it off, she and Barker regularly hang out with Megan Fox and her similarly edgy boyfriend Machine Gun Kelly (via Us Weekly). And hey, they certainly fit with Kourtney's grungy new aesthetic.
Kourtney clapped back at a fan who pointed out the change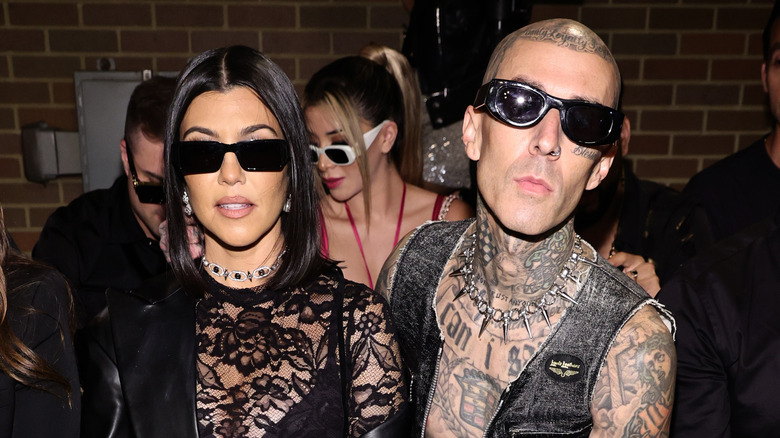 Jamie Mccarthy/Getty Images
Many fans have come forward to express their suspicions that Kourtney Kardashian's style has changed since her whirlwind romance with Travis Barker. This was seen on her Instagram, when she shared a photo of herself at a bar sporting dark lips and a lace top, prompting a commenter to write: "And her style begins to change." Kardashian quickly responded, "This picture is from 2019 but OK," with a kissy face emoji.
Fashion expert and personal stylist Samantha Harman told the Daily Mail that it's normal for a person's fashion sense to change or evolve when they meet a new partner, and it may even be a subconscious thing certain people do as a "way of putting on a united front or showing that we fit with them." Moreover, it's worth pointing out this isn't the first time Kourtney has matched her partner's style. 
In a 2015 interview with Harper's Bazaar, she admitted to corresponding her outfits with then-boyfriend Scott Disick, acknowledging they tend to match each other a lot. Regardless, Kourtney seems happier than ever with Barker, and is often photographed glowing with a radiance that shines through the black clothes, dark lipstick, and even a black netted wedding veil. So who are we to judge?