Why The Color Purple Became A Banned Book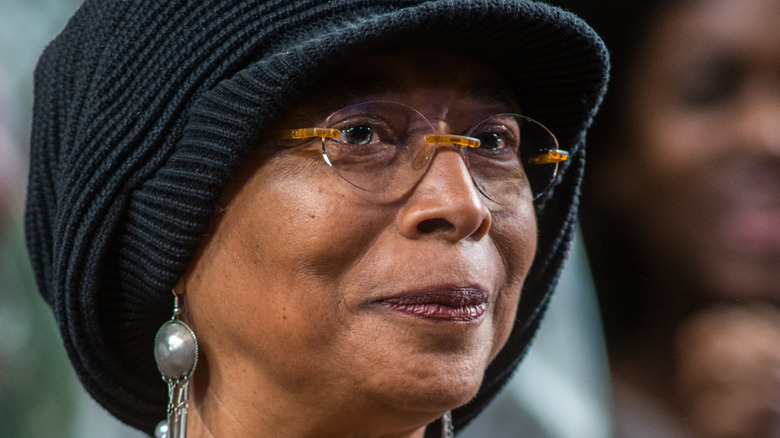 Mark Sagliocco/Getty Images
Alice Walker first published "The Color Purple" in 1982. Set during the Jim Crow era of rural Georgia, the novel is a series of letters written to God by a woman named Celie over the course of her life. She writes these letters as a way to deal with sexual and physical abuse by her father, then by her husband, whom she's forced to marry. It's a beautifully written, poignant story that examines the atrocities that happened not just to the character of Celie, but to the Black community in the South at the time. 
In 1983, Walker won both the Pulitzer Prize and the National Book Award for the novel (via National Book Foundation). In 1985, "The Color Purple" was made into a film that was directed by Steven Spielberg and starred Oprah Winfrey. It was eventually made into a musical that premiered on Broadway in 2005 (via Playbill).
Despite its critical acclaim, "The Color Purple" was first outlawed just two years after it was first published and has continued to be banned in school districts across the United States (via Politics and Prose). While the book could be used to shed light on the Black experience in the American South in the early 1900s, it has been banned from numerous schools for myriad reasons.
If you or anyone you know has been a victim of sexual assault, help is available. Visit the Rape, Abuse & Incest National Network website or contact RAINN's National Helpline at 1-800-656-HOPE (4673).
It's smut and X-rated, critics claim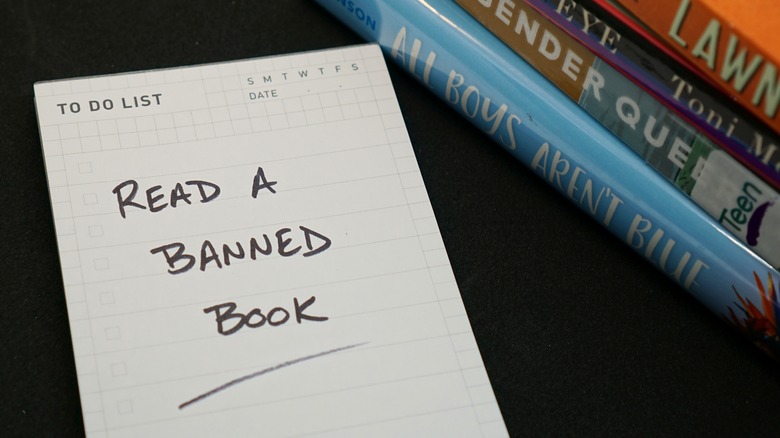 On The Run Photo/Shutterstock
According to some parents and school districts, "The Color Purple" is nothing more than "smut" and an "X-rated" book (via American Library Association). While the novel does explore human sexuality, as Celie develops feelings for another woman, the lesbian relationship that happens between Celie and Shug Avery is a brighter spot for the protagonist in a book riddled with rape and incest. The love between the women in the book is a very small part of the story and not a central focus. More than anything, Walker is writing about a time when women — especially Black women in the South — had zero autonomy. Her relationship with Shug is what gives Celie a sense of hope in a novel that would otherwise be very dark. 
Not only have critics taken issue with the sexual content, but they've also had issues with some of the language used in the book. Walker previously accused critics of attempting to blur out an infamously dark part of American history by censoring the novel's content and language. "There were also those who felt the language, or way of speaking, of their parents and grandparents, would best be forgotten since it was not 'correct' standard English speech," the author told Guernica. 
If you or anyone you know has been a victim of sexual assault, help is available. Visit the Rape, Abuse & Incest National Network website or contact RAINN's National Helpline at 1-800-656-HOPE (4673).
Race relations and blasphemy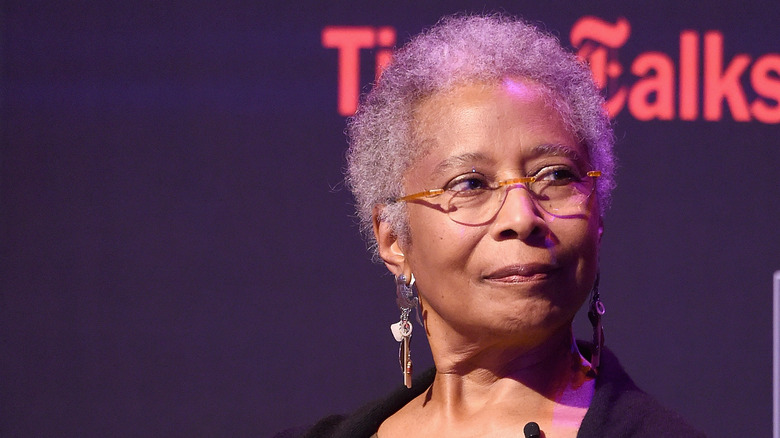 Jamie Mccarthy/Getty Images
Objection to critical race theory (CRT) being taught in schools and so-called religious blasphemy could be to blame for the banning of "The Color Purple" in many educational institutions. For example, it was the "troubling ideas about race relations," as well as "man's relationship to God," among other complaints that saw the book banned from a high school in Oakland, CA in 1984, according to the American Library Association.
At one point in the novel, Celie writes that she doesn't know God anymore. She compares God to every other man she's known and calls God "trifling, forgetful, and lowdown" (via Cliff Notes). Her crisis of faith plays a key part in moving the story forward, as Celie is essentially keeping a diary of what's happening to her character and the characters around her. 
Walker, however, stands by the novel and believes it can change people's lives. "I know what 'The Color Purple' can mean to people, women and men, who have no voice. Who believe they have few choices in life," the writer told Guernica. "It can open to them, to their view, the full abundance of this amazing journey we are all on. It can lift them into a new realization of their own power, beauty, love, and courage. It is a book that unites the present with the past, therefore giving people a sense of history and of timelessness they might never achieve otherwise."