A Vintage Clothing Dealer Just Paid An Insane Amount Of Money For 140-Year-Old Levi's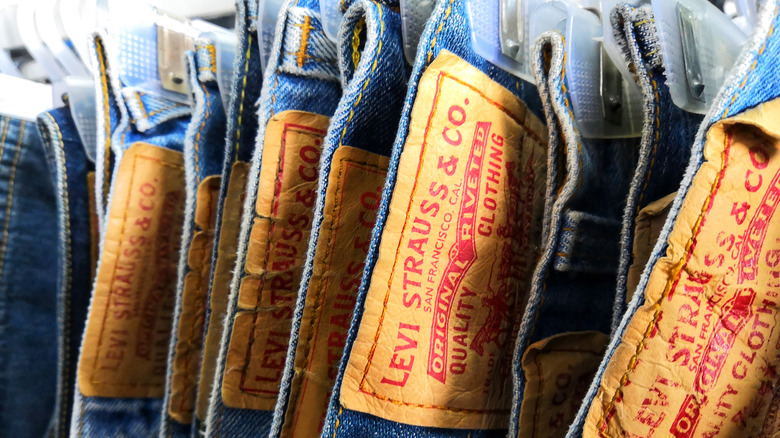 Everything You Need/Shutterstock
The vintage clothing market has been one rising in popularity for both re-sellers and their customers. In a way, they both experience a sense of thrill when searching for the perfect pieces of second-hand clothing. Many people who love wearing vintage fashion often do so because they tend to find unique items. According to ThredUp, the second-hand market is expected to grow 127% by 2026. It's a way that allows many consumers to save money and shop for fashion sustainably. For vendors and re-sellers, however, the business has become more competitive as it continues to grow.
Additionally, many people admire vintage fashion, and wearing it, with a love for its history attached to it. "It's also about wearing a piece of history. It's not hard to find out when a certain item was produced, or the general area it comes from," area manager for Sydney-based vintage retail shop French Fripe, Melody Zeng, tells The New York Times. "When you add that kind of soul to something, it comes alive."
For Golden State Vintage, a second-hand shop based out of California, this has certainly become the case as they invested in their love of vintage fashion and its history through one pair of jeans.
Investing in history
If you take a look at Golden State Vintage's Instagram page, there are a variety of denim jackets, t-shirts, sweaters, and more, all captioned with the details of their history. Some of the items, for the sake of that same history, are pictured in their original condition. For example, one of their latest features is a denim jacket which the company titled, "The Boss Denim Chore Coat" from the 1930s with army and wreath buttons. This jacket is pictured worn, torn, and dirty as if it has remained untouched all this time.
The vintage shop's latest acquisition rings of a similar story from a much more well-known brand and historic details. A pair of 1880s Levi's jeans was recently auctioned off for $76,000 during the Durango Vintage Festivus event in Colorado hosted by vintage denim hunter, Brit Eaton. The pair of jeans were bought by none other than Kyle Haupert, owner of Golden State Vintage, alongside Zip Stevenson, owner of vintage shop Denim Doctors, who chipped in for 10% of the cost. The grand total came out to be a whopping $87,400 dollars after the buyers premium (via NowThis).
The story behind the pair of jeans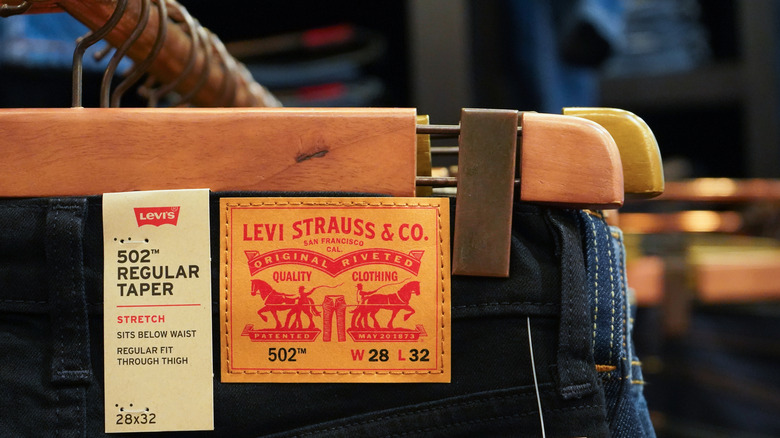 NP27/Shutterstock
This pair of 1880s Levi's were first discovered in an old mineshaft in New Mexico years ago. During the recent auction, the jeans were also in their original, somewhat worn-out condition. They have some stains, ripped holes, and candle wax splatters that are telling of their usage for mining. They feature selvedge seams throughout and suspender buttons on the waistband, instead of belt loops. The pair of jeans also feature a waist-cincher in the middle back of the waistband as well as a singular back pocket, which is also a visual representation of their time in history (via Long John).
Perhaps its most telling connection to history is in one of its interior tags in which is written,"Made by white labor." This refers to the 1882 Chinese Exclusion Act which forbade Chinese workers in the U.S. Levi's says they used the phrase to improve sales and align with their customer's views at the time. But by the 1890s, the phrase was no longer used (via NBC).
The auction listing described the jeans as one of the oldest known pairs of Levi's jeans tied back to the mining era. It was the first time offered for public sale as it had previously been a part of a private collection. Furthermore, it stated that the denim was "strong all over" making them "good" and "wearable."
The owner of Golden State Vintage, Kyle Haupert, trusts his partner Zip Stevenson of Denim Doctors to help him find the right customer. Stevenson has advised him not to consider anything less than $150,000 thousand dollars.