Heather Gay Lifts The Lid On Her Relationship With Jen Shah At BravoCon 2022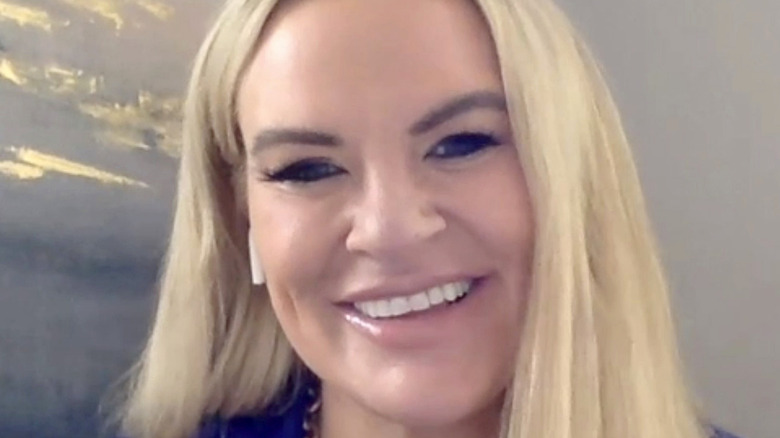 Getty Images/Getty Images
"The Real Housewives of Salt Lake City" is the latest American installment of the Real Housewives franchise, and it premiered in 2020 after being announced at the first annual BravoCon in 2019 (per Today). Immediately, cast member Heather Gay became positioned as the show's star and received the coveted "center snowflake" in the show's chaotic second season. Heather remained calm in a sea of madness in Season 2, which saw accusations that Mary Cosby and her church were part of a cult and the infamous arrest of Jen Shah. The arrest took place after federal authorities stormed the parking lot of Heather's Beauty Lab & Laser company, claiming they needed to speak to Shah, according to Today.
Until recently, Shah maintained her innocence and will do so throughout the already-filmed third season of "RHOSLC." However, in July, Shah changed her plea to guilty and confessed to all the crimes alleged against her. Per Page Six, Gay has remained on Shah's side throughout the entire legal ordeal despite describing her business on "Watch What Happens Live with Andy Cohen" as "unsavory." Also, even though they feuded most of last season, Meredith Marks has come forth as one of the most vocal supporters of Shah as well.
Naturally, viewers of the show are curious how the "RHOSLC" women that supported Shah feel about her since learning of her guilty plea. Luckily for Bravo fans, Gay spilled the tea at BravoCon 2022.
Gay says she is ride or die for Jen Shah despite guilty plea
She might be a "Bad Mormon," but she's a great housewife. Alongside some of Bravo's biggest flirts, Heather Gay appeared at the Right The Relationship panel during BravoCon 2022. According to a reporter from The List, Gay revealed where she stands with Jen Shah during the discussion following her switch to a guilty plea in her federal fraud case (via Page Six). Gay disclosed that she is still in contact with Shah, and they talked as recently as this morning. Gay said, "I still love her" and told the crowd that they are "ride or die." 
Following Shah's arrest, Gay was one of the only cast members of the reality show willing to be there for her, meeting with her and promising to be by her side. Her loyalty to Shah has remained despite Shah calling her "Shrek" and issuing other derogatory terms, including racism accusations, according to Soap Dirt. Gay has iterated numerous times on "RHOSLC" that she will stand behind Shah, no matter what happens. 
With numerous Bravo stars in New York City for the event, Shah's name was glaringly absent from the list of Housewives attending the convention. In fact, Shah is the only current "RHOSLC" star not making an appearance throughout the BravoCon 2022 weekend. However, Shah will return to NYC in November to appear before a judge, where she will learn how much prison time she will serve for the massive legal problem.