Are Glasses Or Contacts Better? Here's What Optometrists Have To Say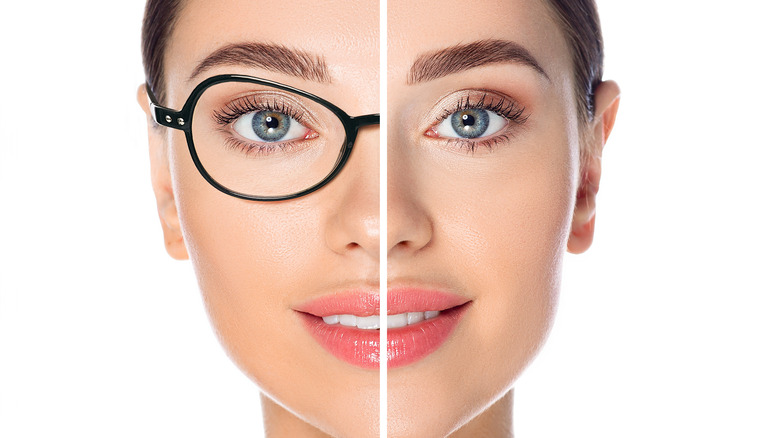 Peakstock/Shutterstock
Near sighted? Far sighted? You're not alone. 75% of people wear some type of vision correction reports a Vision Impact Institute study, per Essilor. Of that number, the majority opt for glasses over contacts. Of course, it wasn't so long ago that "hipster glasses" were in-style, trendy to the point where some even sported chunky frames without lenses. Taylor Swift's 2008 music video "You Belong with Me" further popularized the aesthetic — funny, what pining behind a window can do for the optical industry. However, according to The Wall Street Journal, glassless-glasses can be originally attributed to Japan in '90s. Though the trend eventually faded, it quickly popped back up in cities across China, South Korea, and Taiwan, and in the late 2000s and early 2010s, Rx-free glasses hit the U.S.
In the midst of the COVID-19 Pandemic, indie pop styles crept back into fashion on platforms like TikTok (yes, including quirky finger mustaches), per Vox. Only time will tell if this also includes 2010s "hipster glasses." However, despite changing styles, the convenience of contacts has also become clear in recent years — as it turns out, lenses fog-up when worn with a face mask in cold weather. Speaking on the debate between glasses and contacts is certified optometrist Dr. Ramin Rabbani, who spoke exclusively with The List and is here to settle your questions once and for all.
Glasses prescriptions are more specific than contacts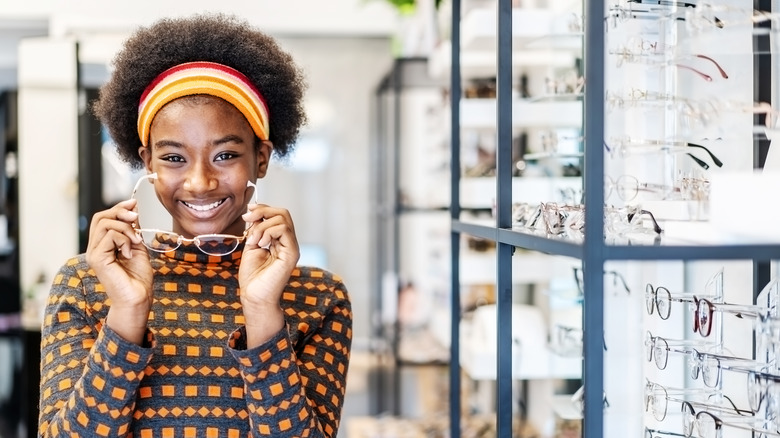 Blue Titan/Shutterstock
Trends come and go, and so do prescriptions. According to For Eyes, it takes just one to three years for most people to experience a change in their vision. Deciding whether to opt for contacts this time around? Dr. Ramin Rabbani, a certified optometrist at Eye Candy Optometry and innovative lens company, Shamir, spoke exclusively to The List about the differences between the two types of vision aids. "There are pros and cons to both," notes Dr. Rabbani. "Glasses will give you clearer and crisper vision because a glasses Rx is customized, whereas a contact lens Rx is semi-customized." It's also important to keep in mind that not everyone will be able to adjust to contacts — conditions like dryness or sensitive corneas make it difficult to wear lenses that rest directly on your eyes (via Visionworks).
However, whereas glasses might give you "crisper vision," wearing contacts will "give you better peripheral vision," according to Dr. Rabbani. The optometrist notes that contacts are also safer to wear during physical activities. Unlike glasses, they won't slip if you get sweaty or dodge too quickly. It's also important to have unobstructed peripheral vision when operating in fast-paced environments — after all, you never know when a basketball might fly towards your head. Perhaps best of all, as Dr. Rabbani notes, "contacts do not fog up like glasses," making them the ideal option when wearing Covid protection.
Factor in comfortability before making a choice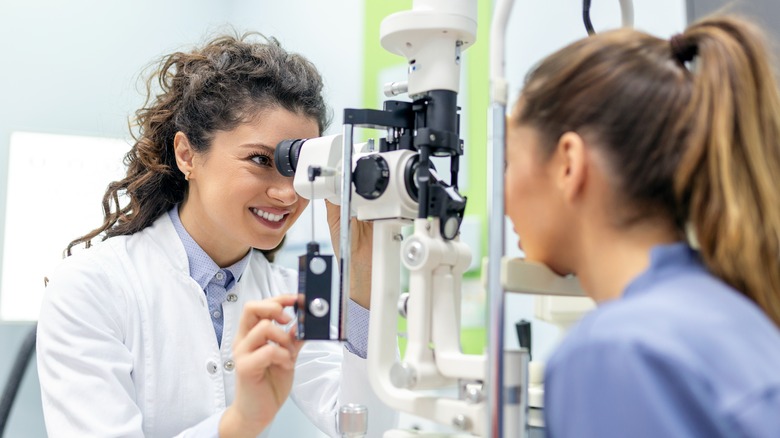 Photoroyalty/Shutterstock
Glasses have the ability to truly change your appearance — check out these celebrities who look totally different sporting their glasses. When looking at popular eyewear frame trends, make sure to factor in comfortability as well as aesthetic. For instance, decide whether you want a narrow fit or an extended fit based off of your face's width (via Zenni). Add a nose pad or anti-slip sleeves if you want your frames to remain steady all day, per BuzzFeed.
When shopping for contacts, talk to a certified eye doctor about your options. As noted by the U.S. Food & Drug Administration, some extended wear lenses can last up to 30 days. Others are daily disposables, meaning they should be thrown out after each use. Reusable lenses come with a higher level of risk — if you don't properly clean and soak them every night, you might be in danger of infection, per LensPure. Ultimately, wearing contact lenses comes with a series of do's and don'ts, tips your optometrist is sure to teach you at your fitting.