The Clothing Line You Never Knew Reese Witherspoon Started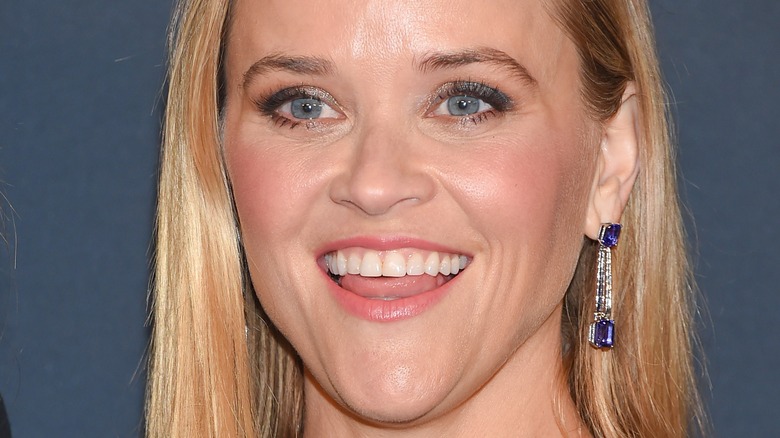 DFree/Shutterstock
Reese Witherspoon is one of the most talented and beloved actors in the world. Unsurprisingly, given her attention-grabbing roles in the likes of "The Morning Show" and "Big Little Lies" on TV, as well as movies such as "Sweet Home Alabama" and "Wild," Witherspoon is worth hundreds of millions of dollars. Of course, we can't forget the lovable star's iconic role as Elle Woods in "Legally Blonde" either. 
The film is one of Witherspoon's most well-known projects, boasting great characters, plenty of laugh-out-loud moments, a sweet romance between Witherspoon's Elle and Luke Wilson's Emmett, as well as an inspirational message, and of course unforgettable outfits. In the movie, Witherspoon rocks endless pink, ultra-girly ensembles that were two decades ahead of today's super-trendy Barbiecore aesthetic.
The actor's "Legally Blonde" looks are so memorable that some fans will always perceive Witherspoon as Elle Woods. But her real-life style is completely different. For instance, Witherspoon channeled French girl summer in a gingham swimsuit. Moreover, her clothing line showcases her style further. If you want a sense of what Witherspoon likes to wear, or even help dressing like her, it's the first port of call. 
Draper James is all about Southern elegance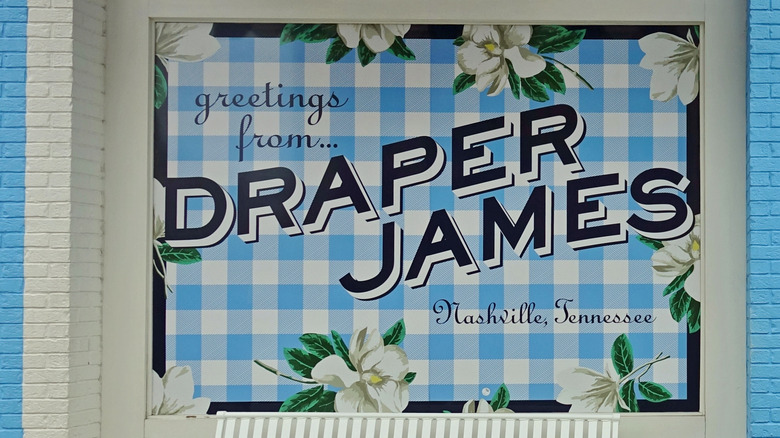 EQRoy/Shutterstock
Reese Witherspoon's clothing line is called Draper James. Unlike the glamorous Barbiecore outfits she wore in "Legally Blonde," Witherspoon's brand is more in line with the cottagecore and bloomcore aesthetics. The line exudes a wholesome vibe, featuring many flowy pieces with floral designs. Therefore, Draper James is giving more "Sweet Home Alabama" than "Legally Blonde." Plus, Witherspoon's family and Southern background inspired the brand.
In the about section of Draper James, the actor shared: "I started this company to honor my Southern heritage and in particular my grandparents who were, and still are, the greatest influences in my life: my grandmother, Dorothea Draper and my grandfather, William James Witherspoon." She continued, "My grandparents taught me everything I know about gracious Southern living ... When I returned to Nashville with my own family, I wanted to recapture and celebrate all that I love and remember about my grandparents and the South. That is why I created Draper James." 
Draper James has hundreds of thousands of followers on Instagram, and the brand seems to have a blue theme judging by their posts. In addition to the website, there are brick-and-mortar stores in Nashville, Lexington, and Houston. The actor shot the Summer 2018 line in Monterey, where "Big Little Lies" is filmed, telling Harper's Bazaar, "It was fun to merge my worlds together for a day." 
Witherspoon's line is expansive and well-reviewed
At Draper James, you can buy dresses, tops, bottoms, outerwear, swimwear, loungewear, shoes, and accessories. The most prominent items are dresses with puffy sleeves, flowy skirts, and floral details or other feminine patterns. Everything is available in a variety of colors, too. We could easily picture many of these dresses at brunches, baby showers, work events, romantic dates, and even family gatherings. Regarding price, most of the dresses cost between $100 and $195.
Meanwhile, there's another section of the website called "Reese's Picks," centered on Reese Witherspoon's favorite pieces. For example, the Tiered Skirt in Zinnia is a flowy, navy blue skirt with light purple and blue floral details. The product is currently available at Draper James for $115. But, how do customers feel about the charming celebrity clothing line?
Draper James has 3.5 stars on Yelp, and one happy reviewer wrote: "This place is adorable! Super cute clothes and home items. Prices are pretty hefty, but that should not be news to any fans of the brand ... Highly recommend to any Reese Witherspoon fan / southern girl!" Another reviewer noted: "Yes this store is not for everyone, just like Forever21, Hot Topic, and J Crew are not for everyone, but it's cute and clean with lots of southern charm."