Songs That You'll Want To Add To Your Running Playlist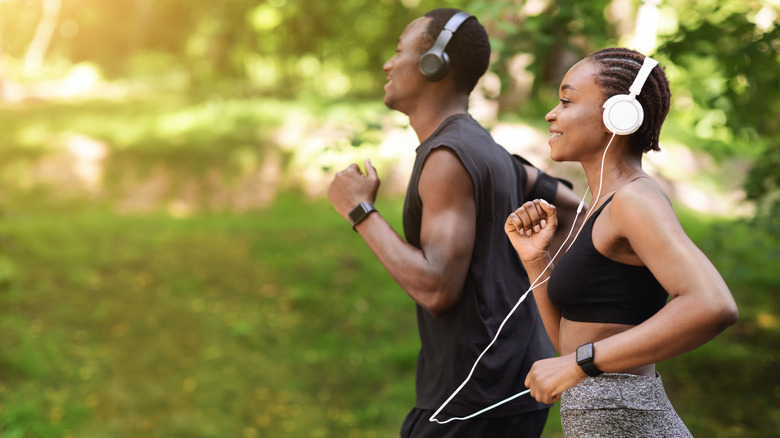 Prostock-studio/Shutterstock
As a form of exercise, running is widely popular across many different age ranges. In fact, Statista reports that in 2021, about 49 million people in the U.S. aged six and older ran or jogged that year. There are countless health benefits to running, WebMD notes, including a lower resting heart rate and lower risk of heart disease. Beyond the health benefits, however, some people find running daily just plain fun.
Whether you run for sport or for pleasure, there's no denying that feeling the wind in your hair and pumping some fun jams in your headphones while you're pounding the pavement can make anyone feel truly alive. According to Marathon Handbook, listening to upbeat music that you enjoy while running can increase your brain's levels of the hormone serotonin, which is known to increase the feeling of happiness and boost your mood. If you're used to running without music, or don't know where to start building a great and motivating mix, here are 10 songs to add to your running playlist.
Choose songs that build up energy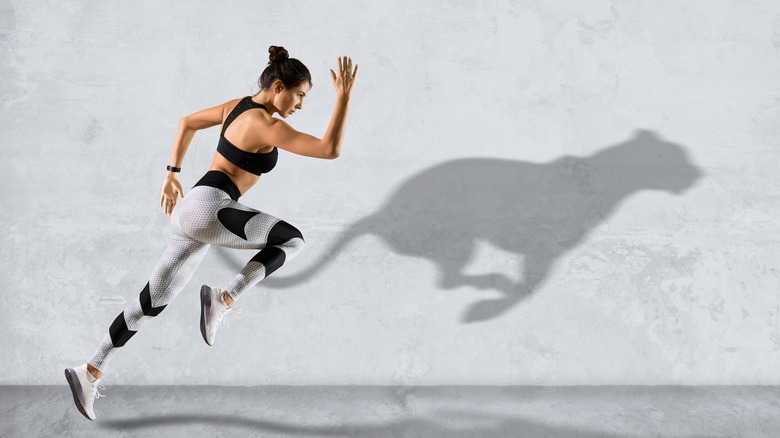 Andrey Burmakin/Shutterstock
No matter what your preferred genre of music is, there are sure to be plenty of bops from any musical styling that can keep you pumped up, mile after mile. Per a writer at Self, as you start your run, you'll want to choose some tracks that gradually build in energy and volume, so the music essentially "warms up" right along with you. For this purpose, try throwing in songs like "Pumped Up Kicks" by Foster The People or "CUFF IT" by Beyoncé. While somewhat high-energy, these songs are still chill enough for you to vibe with while you're getting into the groove of your first mile or two.
From there, you can increase the intensity of both your pacing and the music you're bumping. Marathon Handbook shares that choosing music that you really enjoy listening to can greatly improve your running performance, so try including popular tracks like "Paper Planes" by M.I.A., "Betty (Get Money)" by Yung Gravy, or "Unholy" by Sam Smith and Kim Petras. These are sure to get you moving and grooving along your route, and having a blast while doing so.
Find motivating tunes to keep you going until the finish line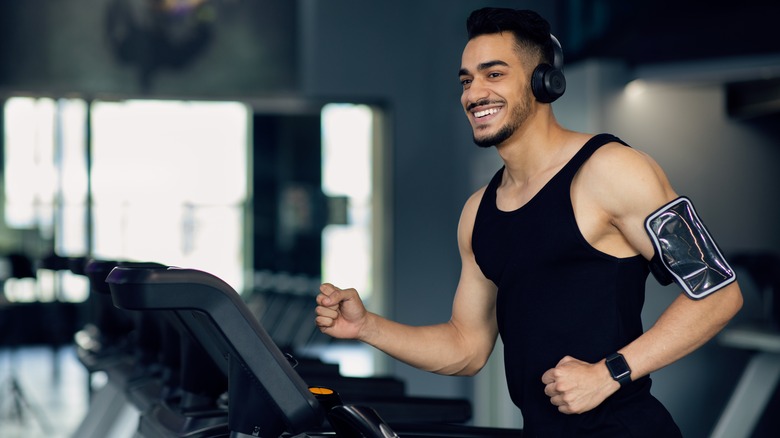 Prostock-studio/Shutterstock
Toward the end of your run, according to Self, it can be easy to start losing steam and feeling fatigued, so don't be afraid to slow down or start walking if you're feeling overworked. That being said, the outlet also encourages you to pick music that will keep you motivated to rock your run till the finish. Picking songs that are high-energy, quicker in tempo and have a strong and consistent beat behind them may not only boost your energy and speed, but help your mind focus on the rest of the course at hand.
For a well-rounded playlist with some major hard-hitters at the end, try adding in "Levitating" by Dua Lipa, "6 Foot 7 Foot" by Lil Wayne, or "Get Low" by DJ Snake. These upbeat, dance-worthy tracks will inspire you to keep going and push harder — you may even reach a personal best. For your cool-down period, slowing things down with some fun but chill tracks like "Walking On A Dream" by Empire of the Sun or "Say My Name" by ODESZA and Zyra can help you finish out your awesome workout with the pride of a run well done.