Viral 'Vampire Skin' Is The Shiny New Trend You'll Want To Try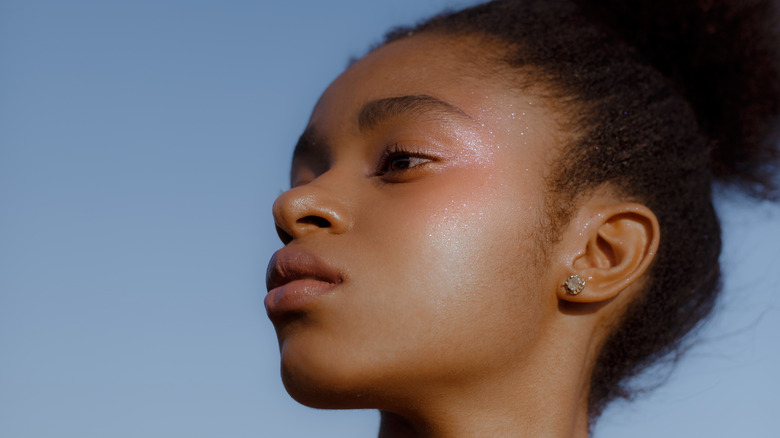 Tania Peresadko/Shutterstock
A new makeup trend is taking over social media, inspired by the likes of vampires, and specifically the ones seen in the "The Twilight Saga." This movie series was all the rage when it first released in 2008. When you used to think of a vampire, you probably thought of Dracula with the dramatic castle, the cloaks, and the coffin. And while "The Twilight Saga's" vampires did not fit that look, they still kept some vampire traits. They have pale skin, which is described as cold to the touch, as well as their vampire teeth. However, they look like everyday people: a modern vampire, if you will. According to CBR, though, these vampires had one trait unique to them: their sparkling skin in the sun, "like diamonds," with a glittery shimmer.
This became one of the most prominent details of the series. According to Screen Rant, the author of the "The Twilight Saga," Stephanie Meyers, later explained the reason for the sparkle. Vampire skin is different to that of a human, so their sparkle came from the crystalline properties of their skin. The skin cells become hard and resistant because of the lack of blood flow, which also makes the skin pale and hard.
Now, a new makeup phenomenon known as "vampire skin" can help you achieve the same look. This technique can really change the game and turn you into the vampire you've always dreamt of being, sparkle and all.
What is vampire skin?
Many fans of the series are reliving their fandom days with this new makeup trick. With over 1.5 million views on the hashtag #vampireskin on TikTok, the look is quickly going viral. TikTok beauty influencer and model,@Imonaugust currently has one of the top liked videos in which they show how to achieve the vampire skin look. In it, they point to a reference photo of "Twilight" vampire Edward Cullen himself for inspiration. Then the TikToker shows how they mix their regular foundation and liquid glitter together, using the back of their hand as a palette. Once it is thoroughly mixed, apply it just as you would regularly. This technique creates a way in which to better spread the glitter around your face. For extra shimmer, top off the foundation with even more glitter throughout their face.
"Vampire skin: is it just me or is that the coolest thing I've ever heard?" beauty influencer @mimiermakeup on social media says in a TikTok video reacting to August's video. "13-year-old me would scream. You don't understand, I legit thought I was a vampire back then," she adds. In her video, she also proceeds to recreate the look with products she already has on hand. Rather than mixing liquid glitter, she mixes a sparkly liquid eyeshadow with her foundation, giving the same result.
How to create vampire skin
MikhalchukStudio/Shutterstock
The element of the glitter in the makeup recreates that vampire glow just as you've seen on Edward Cullen or any of your other favorite "Twilight" vampires. In fact, creating the look for yourself is fairly easy to achieve. Just as many beauty influencers and creators have shown, the basics comes down to two things: your foundation mixed with a glitter form of makeup for the shiny look throughout your whole face, via TheBeauLife. Keep in mind, however, that while the vampires may be a pale tone, you can still use your regular foundation color for an everyday look. Your glitter source can also be anything you'd like, as long as it's safe to use on your skin and face.
Beauty influencer @uniquelytyana also gave the look a try with what she had on hand. In one of her videos creating the look, She uses a variety of items. First, she begins by applying a glow enhancer. Next, she mixes a glitter gloss, loose glitter, and her foundation together. After applying the foundation all over her face, she then applies a shiny highlighter for extra effect. TyAna's technique is a perfect example of how fun and easy it can be to play around with how you choose to create vampire skin. The simplest way is by adding a form of glitter or glow product into your foundation and adding as much glitter detail as you'd like to top off the look.