Why You Should Think Twice Before Throwing Away Old Paint Cans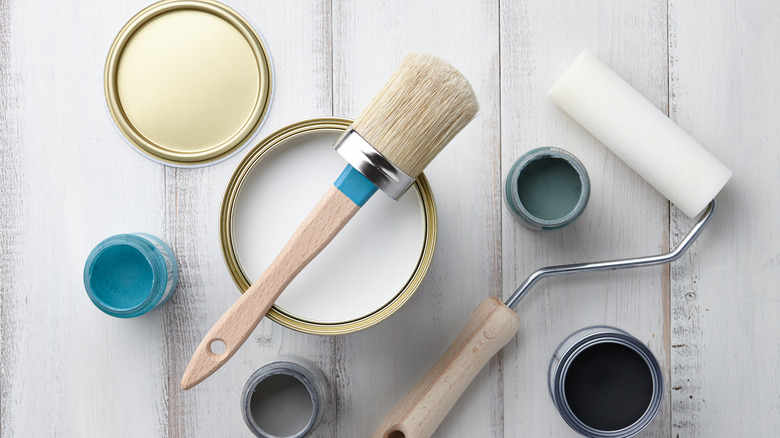 Kobeza/Shutterstock
When you're caught up in the excitement of painting your new home in your favorite colors, the last thing you're probably thinking about is the empty paint cans left behind after the process is completed. 
Made either from High-Density Polyethylene (HDPE) or tin-plated steel, paint cans are manufactured to be sturdy and durable (via Air Sea Containers). While there are recommended ways of disposing of empty paint cans, repurposing them is also a good way to make sure you're being kinder to the environment. According to Air Sea Containers, reusing paint cans is both an economically efficient and smart choice, and there are a lot of ways to put them to good use. 
Being environmentally conscious can lead to endless DIY possibilities. It's got us thinking twice before throwing away plastic straws and binning cereal boxes. Even old K-cups can come in handy and don't need to be thrown away, so why not do the same with old paint cans? After you clean out your paint can properly, there are so many ways to turn what you may have thought of as trash into treasure.
Old paint cans make great material for ice buckets and shelves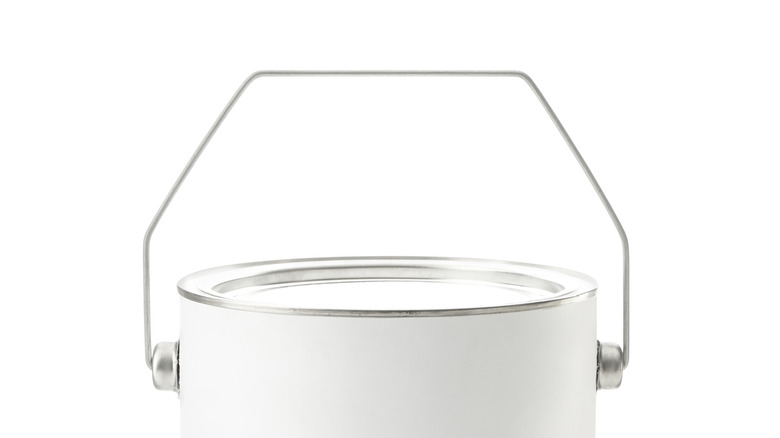 New Africa/Shutterstock
How many times have you sat down with a cold drink or had friends over for some drinks and snacks and wished you had an ice bucket in handy to keep your drinks cool? Gallon-size paint cans with handles on top make great ice buckets for such occasions, notes Home Depot. They'd also make for good conversation starters among guests and serve as the perfect starting point for talking about sustainability
Get to work by thoroughly cleaning out your old paint can first, per Home Depot. If the handle feels rough to the touch, you can sand it down before you begin. Situate yourself in a ventilated space with some paper spread out on your workspace and spray paint the handle and rim of your can. Use a decorative material of your choice — it could be as simple as your favorite wrapping paper — and cover the surface of your old paint can with it, making sure to cut out small spaces on both sides of the can where the handle meets the can. 
If you want to use your old paint cans just the way they are, you can try sticking them on your walls and turning them into creative organizational tools, according to One Crazy House. You can store everything from shoes and your mail in there or you could even use them as coat hooks. 
Curtain and garden projects with old paint cans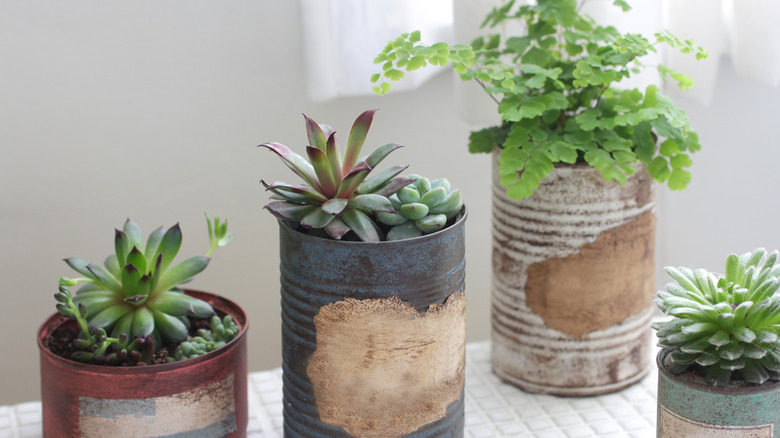 sogane/Shutterstock
If you're looking for a cute curtain idea for your kid's nursery, try making pouring paint can curtains from Crafty Morning. All you'll need are a few small old paint cans, some curtain material of your choice, binder rings, magnetic hooks, and a drill. Make holes at the side and bottom of each can and slide the binder ring through both openings. Work your curtain material into the binder ring. Fasten the outside end of the binder rings to magnetic hooks placed on the curtain's beams and you're all set. 
Another reason you shouldn't be throwing away old paint cans is that you can make DIY planters with them. Drill some holes in the bottom of your paint can first, per One Crazy House. You can either leave the exterior of the old paint can as it is or you could paint it; just make sure to prep a workspace so you don't make a mess, advises Upcycle My Stuff. Move on to decorating the exterior of your paint can either by gluing on nature-themed objects or even by painting flowers on it. Finish off by adding some varnish and voila! You've officially given your old paint can a new lease of life.