Why This SNL Sketch Has Donald Trump Throwing A Tantrum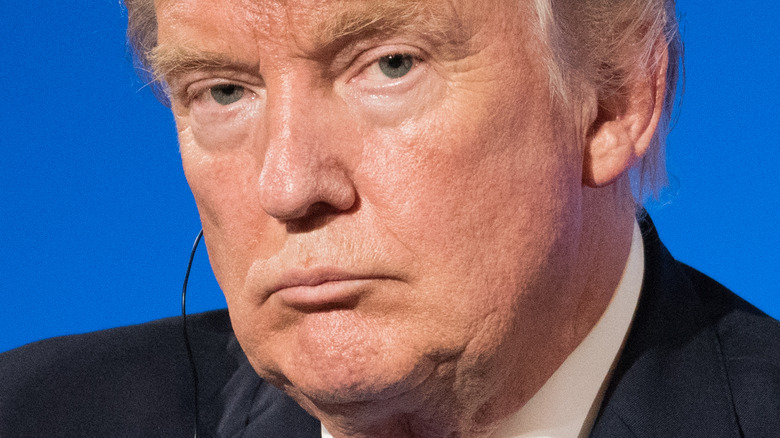 Frederic Legrand - COMEO/Shutterstock
It's no secret that former president Donald Trump has taken issue with the sketch comedy show, "Saturday Night Live," since the 2016 election season. While the show has been portraying the characterization of Trump since the 1980s, it became a full feud between the then-presidential candidate and the group of comedians when actor Alec Baldwin began playing him (via The New York Times).
Trump felt that Baldwin's portrayal of him was offensive and blamed the media for rigging the election through these sketches. When he had access to Twitter, he would often take to the platform to talk about his distaste for the show. He once wrote, "Watched 'Saturday Night Live' hit job on me," adding, "Time to retire the boring and unfunny show. Alec Baldwin's portrayal stinks. Media rigging election!"
While he made an appearance hosting the show in the middle of the 2016 election, Trump has continued to take issue with the show's portrayal of himself (via Vox). A recent sketch on the show had him seeing red.
Trump didn't hold back when posting about Saturday Night Live on his social media platform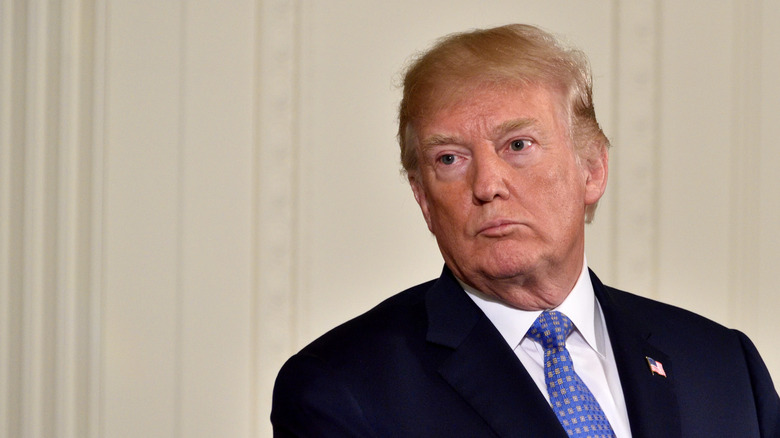 Evan El-Amin/Shutterstock
Former president Donald Trump has not been a fan of the late-night sketch comedy show, "Saturday Night Live," for several years now. However, it appears a sketch during the show's latest episode set the 45th president off like never before (via Decider).
During the October 15 show's cold open, James Austin Johnson — a new featured player — portrayed the former president at the January 6 insurrection hearings, where he was sitting on a gold toilet. This crossed the line for Trump, who has been colloquially known for his association with the golden porcelain throne, lavish lifestyle, and opulent Trump Tower decor. 
"I once hosted 'Saturday Night Live,' and the ratings were HUUUGE! Now, however, the ratings are lower than ever before, and the show will probably be put to 'rest,'" Trump said on his social network, Truth Social. "It is just not, at these levels, sustainable — A bad show that's not funny or smart." He even took aim at the show's longtime producer, Lorne Michaels, in his social media rant (via Newsweek).
"L.M. is angry and exhausted, the show even more so. It was once good, never great, but now, like the Late Night Losers who have lost their audience but have no idea why, it is over for 'SNL' – A great thing for America!" he wrote.