Things You Should Never Do At A Bachelorette Party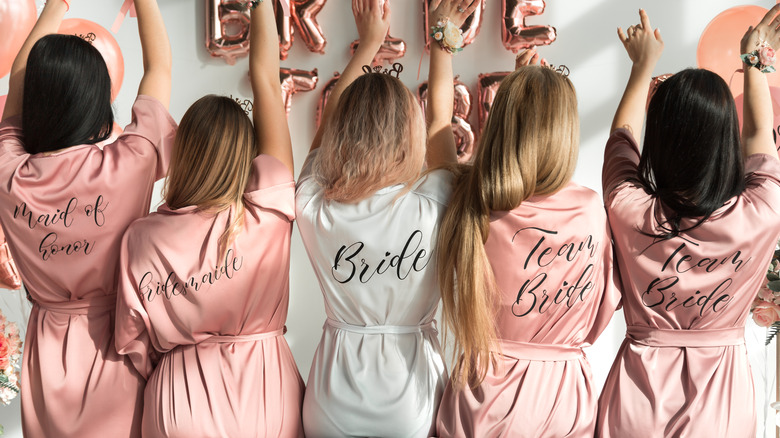 luchik08/Shutterstock
The venue is booked, the gown is purchased, and the guests have RSVP'd. Now, all that's left to do is unwind with your best friends for a night (or weekend) of boozy, rowdy bachelorette fun. While these pre-wedding parties were historically reserved for men, thanks to the women's liberation movement and the sexual revolution, that began to change in the 1980s (via the Chicago Tribune). Bachelorette parties have remained popular ever since, proving to the world one more time that anything men can do, women can do too.
But, before you pack your bag, book your Vegas hotel, and hire that undercover stripper dressed as a police officer, there are things to consider. For instance, what shouldn't you do at a bachelorette party? According to a 2019 study by The Knot, most brides-to-be prioritize their bachelorette parties leading up to the wedding day. That means the last thing you want to do is ruin your bestie's (or your own) once-in-a-lifetime bash. With that in mind, here are a few behaviors to avoid.
It's all about R-E-S-P-E-C-T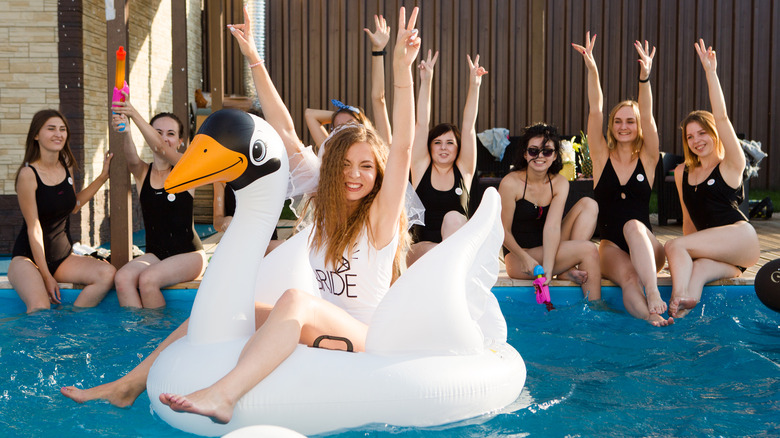 Ulza/Shutterstock
There are several traditions that brides take on when planning for the wedding, and most of those traditions bleed into the bachelorette party, as well. For example, brides traditionally wear white on their wedding day, but it's considered to be in poor taste for any guest to do the same (via The Knot). This rule also applies at the bachelorette party, so do the bride a solid and leave the white get-up at home (unless specifically requested by her). While on the topic of giving the bride her shining moment, it's also important to plan activities that you know the bride will enjoy. Remember, it's all about her. This includes avoiding games or events that you think may embarrass the bride, make her uncomfortable, or get her in trouble with her future husband (via Bustle).
When it comes to alcohol, there tends to be a lot of it at such events. In fact, society usually encourages all who attend to get mega wasted (at least according to "The Hangover"). Regardless, it's important to know when you should have your last drink of the day, as being a blitzed bridesmaid who requires everyone to take care of her on the bride's special event is a big no-no (per Wedding Wire). The goal is to have a stress-free night and celebrate the bride, so remember to limit the theatrics; if any drama ensues, keep the catfights and gossip to a minimum and save the eye-rolling until you get home.
So what should you do at a bachelorette party?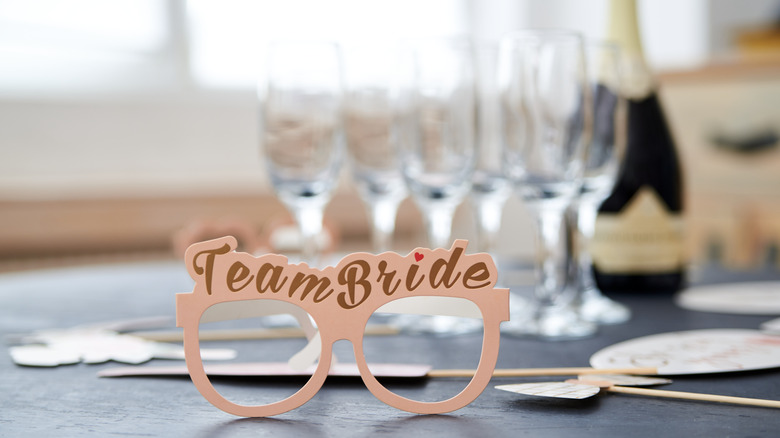 Nataliia Martseniuk/Shutterstock
Now that the rulebook is shut, it's time to have some fun. As long as you're going with the flow and embracing everything your bride bestie wants to do on her special day, you can't go wrong. However, having an open conversation about any concerns about the occasion is recommended (per Bridal Guide). Is there a budget the party should stay within? Does the bride have an opinion on strippers or traditional matching outfits? Laying it all on the table is essential to ensure there are no surprises (or drama) at the party.
Whether the party takes place at a stunning Airbnb rental or in the bride's living room, decorating for the bachelorette party sets the mood and provides a fun ambiance. Place lots of balloons, sparkly backdrops, flashy banners, and balloon arches throughout the space to liven it up, Wedding Wire suggests. Get the bride a sash and veil to wear so she feels important and stands out. Even if she doesn't want to wear it out and about, she can rock it while playing games or pre-funking at home before heading out. Whether a weekend Vegas getaway or a night at the local bars, making the entire event about the bride is truly what matters most.