How Kathryn Bigelow Broke The Glass Ceiling
Tinseltown/Shutterstock
Even if you're not familiar with Kathryn Bigelow as a celebrity, you definitely know her work. She directed Jamie Lee Curtis in the hit movie "Blue Steel," and Patrick Swayze and Keanu Reeves in the action classic "Point Break." Bigelow also notably helmed "The Weight of Water" with Sean Penn, and "K-19: The Widowmaker" with Harrison Ford, among others.
She made quite the impression as both the director and producer of award-winning films "The Hurt Locker," led by Jeremy Renner and "Zero Dark Thirty," starring Jessica Chastain. And that's not even her full résumé, just a sampling. Before breaking into film, the California native explored being a professional artist. Bigelow shared with Vogue France, "I love art, I will always like painting." 
However, she argued, "These art forms exist in a secluded world. What is exciting about movies is that they transcend class boundaries. They offer a collective experience that can transport you, highlight issues and even force the viewer to reflect. That is the beauty of cinema — this capacity to penetrate the subconscious." The world of filmmaking is dominated by men, but Bigelow argued it's not the only place females find challenges. 
In a "60 Minutes" interview on CBS, the director explained, "The journey for women, no matter what venue it is — politics, business, film — it's a long journey." Happily, Bigelow fought hard for her spot and made history in the process. 
She was the first female director to win an Oscar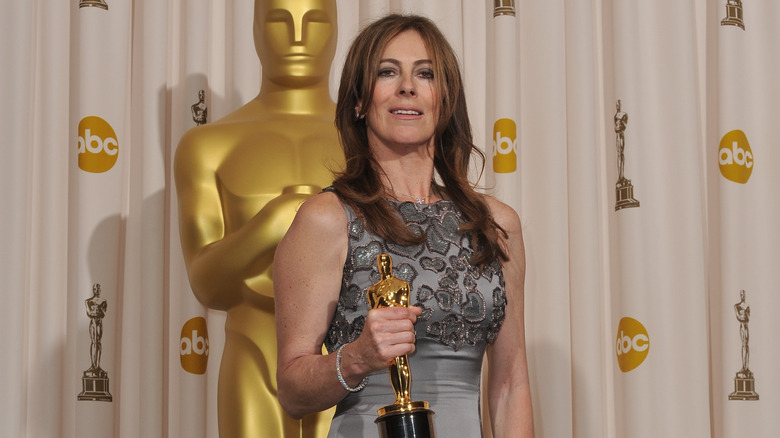 Featureflash Photo Agency/Shutterstock
After successfully helming "The Hurt Locker," Kathryn Bigelow was nominated for Best Director at the 82nd Academy Awards, in 2010. And, to the shock and delight of women all over the world, she walked away with the top prize. Only three female filmmakers before Bigelow had even been nominated for Best Director, namely Lina Wertmueller in 1977, Jane Campion in 1994, and Sofia Coppola in 2004, per History. Bigelow is the first woman to win an Oscar in the top category.
When asked by CBS News how she felt about being the first woman to take home the Academy Award for Best Director, Bigelow responded, "Well, first of all, I hope I'm the first of many. And, of course, I'd love to just think of myself as a filmmaker, and I long for the day when a modifier can be a moot point. But I'm ever grateful if I can inspire some young, intrepid, tenacious male or female filmmaker and have them feel that the impossible is possible and never give up on your dream."
As a producer on the film, Bigelow also shared "The Hurt Locker" Oscar for Best Picture, while the movie earned several other top honors in directing elsewhere, including a BAFTA and a Directors Guild of America award (via IMDb). 
Kathryn Bigelow spoke out about women in film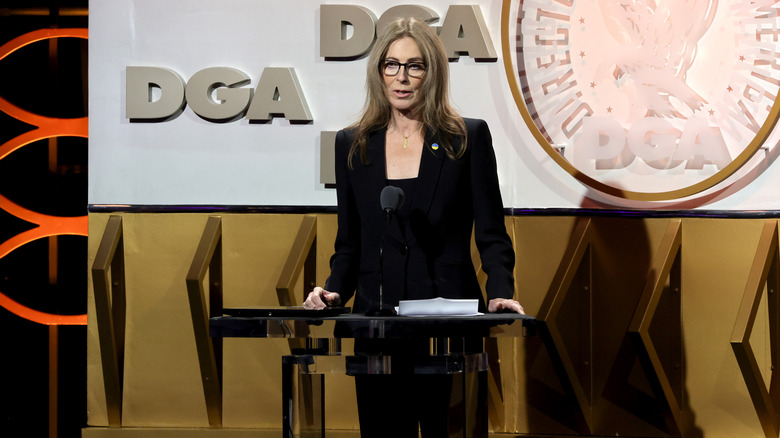 Kevin Winter/Getty Images
Since Kathryn Bigelow smashed through the glass ceiling at the Academy Awards, four more women have been nominated for a Best Director Oscar; Greta Gerwig for "Lady Bird," Chloe Zhao for "Nomadland," Emerald Fennell for "Promising Young Woman," and Jane Campion for "The Power of the Dog." Both Zhao and Campion won the award, per NPR. 
Bigelow herself has not received another Best Director nomination at the time of writing, but she did pick up one for Best Picture, in 2013, for "Zero Dark Thirty" (Bigelow ultimately lost to Ben Affleck's "Argo"). As for being a woman in the film industry, Bigelow shared her philosophy with MIT's The Tech: "If there's specific resistance to women making movies, I just choose to ignore that as an obstacle for two reasons: I can't change my gender, and I refuse to stop making movies," she asserted. 
Bigelow continued, "It's irrelevant who or what directed a movie, the important thing is that you either respond to it or you don't. There should be more women directing; I think there's just not the awareness that it's really possible. It is." The prolific filmmaker has continued to work extensively in the subsequent years, both as a producer and director. Bigelow served as both on "Detroit," while she was also tapped to helm the adaption of hit novel "Aurora."