How To Decorate Your Porch For Thanksgiving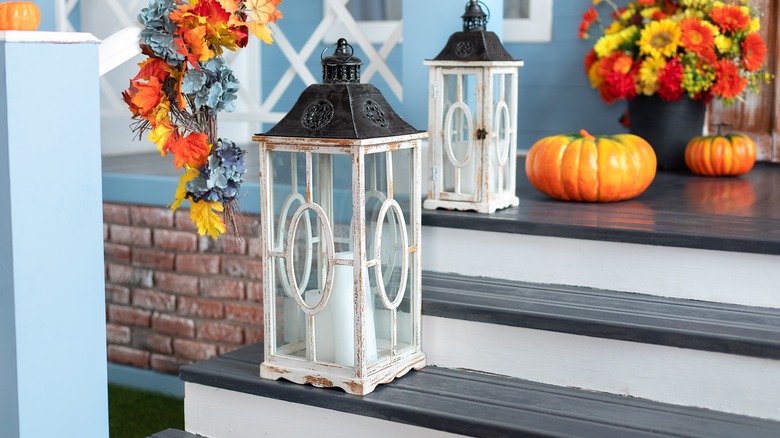 stock_studio/Shutterstock
If you're usually listening to Christmas music once Halloween is over, you may choose not to decorate for Thanksgiving at all. Maybe you jump straight into the jingle bells and lights without even giving the November celebration a second thought. While many people have different ideas on when to gear up for certain holidays — and since many department stores start selling Christmas trees in September, we don't entirely blame you — taking a day to add some small touches to your front porch for the Thanksgiving holiday may be the change of pace you need this year.
What better way to show off your impeccable taste and style than by sprucing up your front porch for the local dog walkers and neighbors to admire this November? With a little thoughtful planning, you can make it happen. But, before you get carried away and decide to Google traditionally tacky fall decor, let's take a step back and talk about the best way to decorate your porch for Thanksgiving.
Start early and add or remove as you go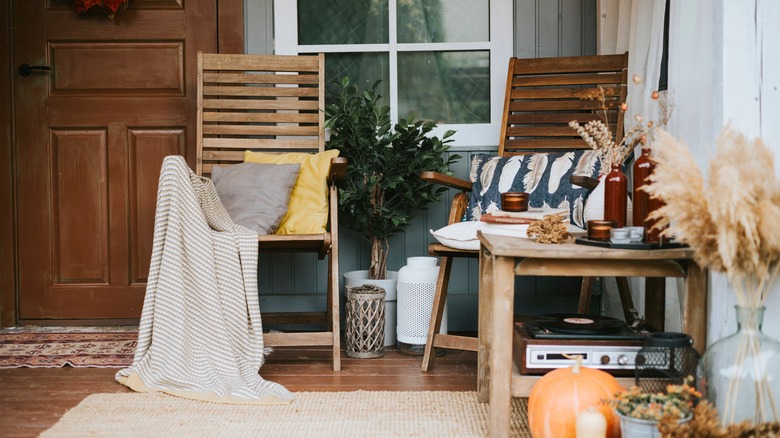 KlavdiyaV/Shutterstock
Since Thanksgiving is toward the end of the fall season, a lot of items you decorate with can be shared between both Halloween and Thanksgiving holidays. This means you won't want to spend a lot of money or time on new fall decor specifically for Turkey Day, especially since you'll be dying to decorate for Christmas before the leftovers are even put away. Because of this, it's recommended to add traditional fall decor to your front porch at the start of the fall season and take away and add as you go (via Houzz).
For example, begin the fall season by adding pumpkins, a simple wreath, lights, corn stalks, and/or potted plants to your porch. Strategically place a few pumpkins by the front door or down the entryway. Then, add smaller accessories like hay bales, gourds, and dried corn stalks nearby (via Food52). You can also string some lights or place some lanterns for a cozy feel. 
Once October is over, it's important to remove any spooky Halloween-related decorations and replace them with a Thanksgiving-related doormat, pillows, and throw blankets for your front porch swing or other furniture. While turkey decor tends to look tacky, per Homes & Gardens, adding a small turkey figurine on your front porch won't hurt if you simply can't help yourself. Remember, a little goes a long way!
What about indoor Thanksgiving decor?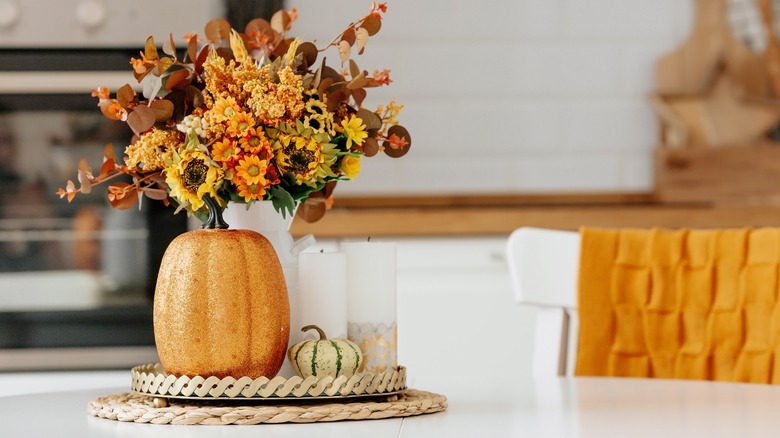 PhotoJuli86/Shutterstock
Now that your front porch is more inviting, you'll want your guests to experience the same ambiance once they're inside. Decorating for each season depends highly on your personal taste. However, it's recommended to avoid overdoing traditional fall colors like orange, red, and yellow, as they tend to look gaudy and a bit cliche (via Homes & Gardens). Instead, opt for neutral colors like beige, white, and softer shades of red and yellow. If you have a mantle, adding accessories like candles, plants, and other knick-knacks can also be a great added touch (via Food52).
You can never go wrong with glass, plastic, or ceramic vases shaped like pumpkins and filled with plants and flowers in complementary colors (per The Spruce). Place them in the center of the dining room table or even in your home office! Don't be afraid to extend the Thanksgiving vibe throughout the house rather than simply confining it to common areas. For an extra comfy feel, layer Thanksgiving and fall-themed pillows and throw blankets on the furniture, and light a yummy vanilla-scented candle. After all, nothing feels cozier than a delicious fall scent lingering throughout the home.