Days Of Our Lives' Banks Siblings Explained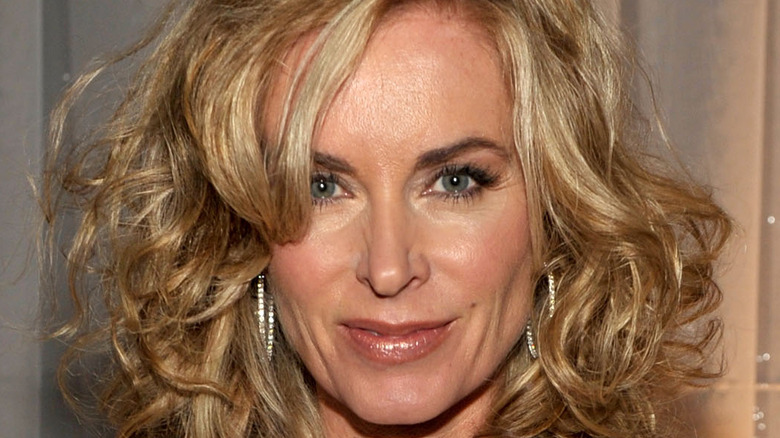 John Shearer/Getty Images
"Days of Our Lives" fans have gotten to know the character of Kristen DiMera very well over the years. She first came to Salem in 1993 and became the adopted daughter of the town's biggest villain, Stefano DiMera (Joseph Mascolo). At the time, the role was played by actress Eileen Davidson. Kristen went on to fall in love with John Black (Drake Hogestyn) and later found out that she was pregnant, per Soap Central.
When Kristen lost the baby, she was afraid to tell John because she thought that he would go running back to Marlena Evans (Deidre Hall). So, Stefano found a pregnant woman named Susan Banks (another of Eileen Davidson's many roles on "Days of Our Lives"). Susan was a wacky character, but she agreed to impersonate Kristen when needed and allowed her to adopt her unborn baby.
This was just the first of many of Kristen's shocking plots over the years, as she has been involved with stealing babies, blackmailing, kidnapping, and helping bring characters back to life. Actress Stacy Haiduk now plays the role of Kristen, which means that she often pulls double duty as Susan as well, per Soaps in Depth. 
While Kristen's plan to adopt Susan's baby blew up in her face, fans did get to know Susan better because of it all, and her story was very interesting.
Penelope Kent was Susan Banks' long-lost sister
"Days of Our Lives" fans learned to love the character of Susan Banks, a kindhearted and eccentric person with a soft spot for Elvis Presley. She even named her son EJ DiMera after the singer (via Soaps in Depth). Over the years, fans of the soap opera have learned more about Susan, including the fact that she had psychic abilities — and that she had three siblings with big personalities as well.
In addition to playing the roles of Kristen DiMera and Susan Banks on "Days of Our Lives" over the years, Eileen Davidson also portrayed all three of Susan's quadruplet siblings. They are an interesting group — and almost make Susan look normal (via Soaps.com).
One sister is Penelope, who was given up for adoption at birth and met Susan as an adult, revealing that she was an actress dying of an incurable disease. Susan first mistook Penelope for Kristen but soon learned the truth about her sister. Sadly, Penelope ended up dying in a swimming pool before she got to spend any significant amount of time with Susan. 
Penelope may have been a short-lived character, but she brought plenty of drama and entertainment to Salem during her time on the soap opera.
Susan's other siblings include Mary Moira and Thomas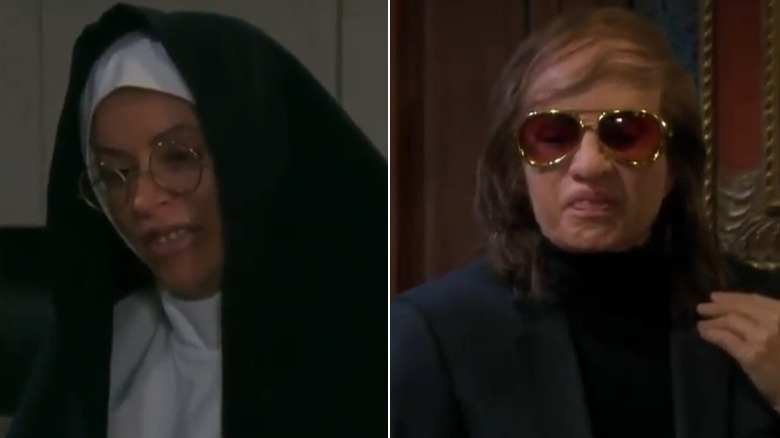 Peacock/YouTube
"Days of Our Lives" fans have also met Susan Banks' other sister, a nun named Sister Mary Moira. After Susan's trouble with Kristen, Stefano, and John, Mary Moira came to Salem looking for her sister. When she finally caught up with Susan, she was concerned about the fact that she was now a single mother to baby EJ. 
The nun urged Susan to reveal the identity of the baby's father. Susan believed that Elvis himself was the biological father (via Soap Central). However, with Mary Moira's help, she was able to discover that Stefano DiMera had tricked her into conceiving by dressing up as Elvis and having her artificially inseminated, per Soaps in Depth.
Susan's third sibling, Thomas Banks, is her only brother. Susan turned to him when little EJ was kidnapped and asked him to help her find her son. However, he had other things on his mind, although Mary Moira stopped Thomas before he could hurt Susan (via Soap Central). Years later, Davidson returned to reprise the role of Thomas on "Beyond Salem," which delighted longtime viewers, per Michael Fairman TV.
Davidson's portrayal of Kristen and Banks siblings Susan, Penelope, Mary Moira, and Thomas made her the first actress on daytime television to ever play five different roles simultaneously (via Soaps.com). Of course, fans would likely welcome Davidson and her array of characters back to the show for updates in the future.