Things In The Notebook You Only Notice As An Adult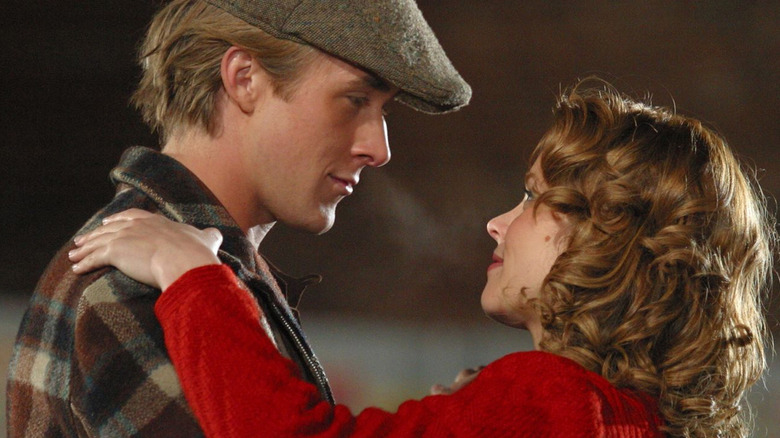 YouTube
The year was 2004 when a movie called The Notebook hit theaters. An adaptation of the romantic Nicholas Sparks novel of the same name, the film was inspired by the author's wife's grandparents — a fact that made it even harder not to swoon. In fact, it was downright impossible. Considered a sleeper hit, the love story of Noah and Allie has spawned a cult following arguably unlike any other. But, as with most matters of the heart, the passing of time brings new perspective to The Notebook. 
Upon re-watching the classic romance, the following things jump out in a way they failed to before. Keeping it real, though? Some of 'em will just make you want to "come back" to the film a million times more. 
Li'l Abner is an anachronism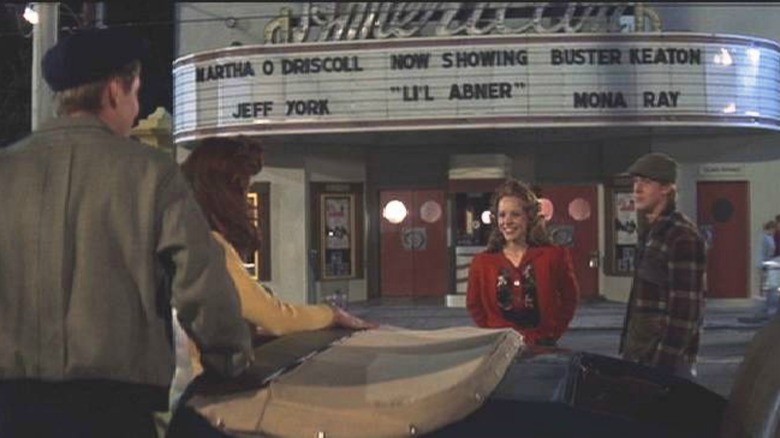 YouTube
The scene during which Noah and Allie go on their first official date (and a double one, to boot) could put butterflies in anyone's stomach. It all starts with Allie's BFF Sara duping Allie into coming by not telling her Noah will be there, setting the potential pair off on a jittery start. But, as we all now know, the evening — which starts at Charleston's nostalgic American Theater — ultimately sets them down the path to true love. 
Having said that, the date wouldn't even have happened in real life. At the very least, it would have involved picking a different first date movie, because their pick hadn't actually made it to theaters yet. While Allie and Noah's romance began during the summer of 1940, Li'l Abner didn't premiere until November 9, 1940. 
They are too bundled up for summer in the South
If you're from the South or have ever spent any time in the region during the summer months, you might cast a little side-eye at the screen while watching The Notebook. No one in their right mind dares to wear thick cardigans, wool coats, caps, and long sleeves during sweltering Southern summers. 
We know several of the scenes in which the characters are seen all bundled up — going to the movies, dancing in the middle of the street — were, in fact, set during the summer, because they occurred shortly after Allie and Noah first met. The Notebook author Nicholas Sparks confirmed this timeline himself, telling CBN the film was "one third set the summer that they first meet when they are 17." 
To put things into perspective, the highest daily max temperature in Charleston (where filming took place) during the month of June occurred in 1944 and was 103 degrees Fahrenheit, according to a report by the National Climatic Data Center. And on average, the mean temp during June hovers just shy of 90 degrees. Coats and scarves? Uh, no thank you. 
Allie's summer home isn't really a summer home
If you're anything like me, you probably marveled over just how palatial Allie's family's "summer home" was in the movie. I mean, sure, this family is wealthy but wow. However, a bit of due diligence reveals that it wasn't just any summer home. It is Boone Hall Plantation, located in Mt. Pleasant, South Carolina, just outside of Charleston. According to the plantation's website, it was founded in 1681 by a wealthy Englishman Major named John Boone and came to be both a lucrative and influential piece of Lowcountry history. 
In one scene of The Notebook, you can even see the plantation's nine original slave cabins, which now serve as a collective exhibit preserving and honoring black history. That exhibit and, yes, the house used as Allie's summer home (along with the rest of the grounds) are open to the public. 
This relationship isn't exactly healthy
By the end of the movie, it's easy to feel starry-eyed about Noah and Allie's romance. After all, their love took them away together. You can't get much sweeter (albeit morbid) than that, can you? But when you go back and take a closer look at their saga, cracks in the facade are more readily apparent. 
In a word, their relationship is volatile. There's an entire montage devoted to how they never get along and often get into heated arguments. They call each other names. When they break up, Allie is obviously distraught. Still, that doesn't mean she should physically accost Noah, pushing him and slapping him. In case you missed it, domestic violence is a serious issue. 
The fact that we, as fans, can overlook the aggression in Noah and Allie's relationship points to another problem: we've put them on a pedestal. When TimeOut asked a team of experts to name the movies with the most unhealthy view of love, The Notebook made the cut. "Talk about idealized love!" therapist Gurpreet Singh told the outlet, pointing out that "most average couples are nothing like that." 
Noah is romantic, but also creepy
When Noah builds Allie a house with his bare hands, it seems dreamy. The fact that he refuses to give up on their love and basically lives in a state of frozen nostalgia comes off as sweet. And the way he writes her without fail? Swoon. But, c'mon, if an ex pulled half of the stuff Noah does, you'd probably have the local police precinct on speed dial. 
Even Ryan Gosling concedes this point. "Basically, this is a guy who, you know, writes 365 letters to a girl he barely even knows," he told Canada's Tribute about a minute into the interview. "And then builds a house for her and essentially pretends like he lives in it with her, you know? And in any other movie, this guy's gonna get locked up. But she thinks it's romantic." 
Allie and Noah look frigid in the boat scene
As previously mentioned, Allie and Noah don what amounts to winter wear during their younger years in the midst of the stifling South Carolina summer. Yet, when Allie and Noah reunite years later and Noah rows Allie in a boat on the river, they've ditched the outerwear although it looks like they actually need it this time. 
At one point, you can even see Noah's breath against the frigid air. In an interview with Allure, Rachel McAdams confessed both counts — that it was in fact bitter cold, and that they were not dressed well for the weather.
"We just wanted to get out of the rain," she said of shooting the boat scene. "It was very cold. That dress was made for the film, but a lot of the stuff I wore was rented and was actually from the 1940s. So much of it was falling apart. I think there's a scene in the movie where I'm running in bare feet, and it's only because [after] the first few takes I did, the shoes disintegrated off my feet." Yikes!
There must have been a duck whisperer on set
Speaking of that iconic boat ride Noah and Allie take, how is more not made of the ducks? Re-watching the film sans the love goggles of youth, the romance of the scene fails to drown out one very practical question: how did they get the ducks to, you know, cooperate? 
Well, prepare to be wowed. Despite being told by New Line Cinema that shooting a scene with that many birds would never work, director Nick Cassavetes would not be deterred. He stubbornly went out, bought a bunch of hatchlings, and had someone march them down to the lake every single day to be fed. "By the time the movie was shooting, they were kind of grown but they had been fed out there every day," Cassavetes told VH1. "So, when the studio came down to see the scene — because they didn't believe we could do it — the guy marched them out there like the Pied Piper and they went out on the lake." 
Sam Shepard was phenomenal (per the norm)
He may not have had the biggest role in The Notebook, but veteran actor and playwright Sam Shepard shone through just the same. His role, of course, was that of Noah's blue collar dad, Frank Calhoun — a man who read poetry by Walt Whitman with his son and sold his house so Noah could finally buy Windsor Plantation. 
The character, despite being minor, made a major impact thanks to Shepard's warmth and commitment. "It's really interesting being a director, writing for Sam Shepard," said Nick Cassavetes. "You say, 'Well I thought you might do something like this,' and you look at him and you know he's being so polite because he's looking at you, going, 'Kid, I could have written this so much better than you did. Check my Pulitzers if you don't believe me.' But he's so kind and so gracious that he goes out of his way to make you feel that you're actually saying something that he respects."
Sadly, Shepard passed away in 2017 from complications due to Lou Gehrig's disease. He was 73 at the time. 
Man, houses were affordable back then
Every fan of The Notebook dreams of living in the house Noah built Allie — and when you hear how much he was selling it for, that dream doesn't seem so far out of reach. It goes without saying that it was a different time period, so you have to take inflation and other logical matters into consideration. But still, the thought of scoring that iconic white house with blue shutters (aka Windsor Plantation) for $45,000 gives a person sticker shock in a good way. 
Alas, such a price tag simply isn't feasible now. The home used in the movie is an actual real-life residence located at Martins Point Plantation on Wadmalaw Island outside of Charleston, South Carolina. While the home is not on the market and is off-limits to the public, Zillow estimates its current value to be over $2 million. 
Ryan Gosling wore colored contacts for the film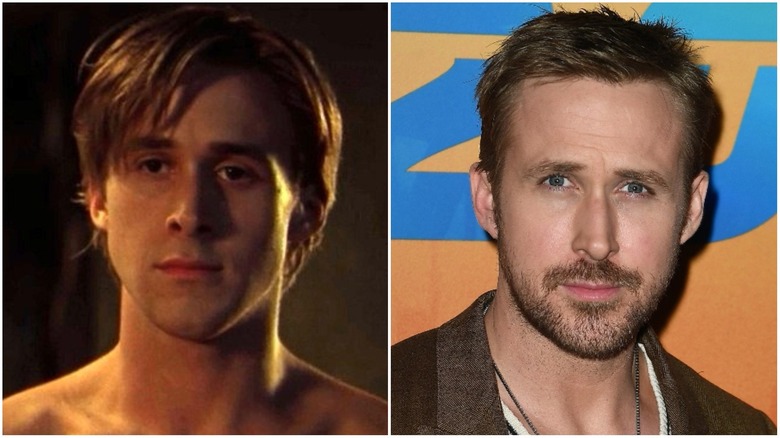 YouTube/Getty Images
There's one glaring thing missing from The Notebook. Can't put your finger on it? Well, the answer is quite literally staring you in the face for the film's duration: Ryan Gosling's eyes! While they are naturally a blue hue, Gosling's eyes received a makeover for consistency's sake — James Garner, the legendary actor who plays the older version of Noah, has eyes of a different color. 
In an interview with VH1, director Nick Cassavetes divulged the behind-the-scenes convo between Garner and Gosling that led to this creative decision. While Gosling likes to discuss roles, Garner isn't one for chit-chat, according to Cassavetes. So when the young star asked about their difference in eye color, the veteran actor didn't mince words. "Everyone knows James Garner's got brown eyes. Do what you want, kid," Cassavetes recounts Garner saying, to which Gosling simply responded, "Okay, I guess I'll wear contacts." 
War widow Martha Shaw is also Terry from The Killing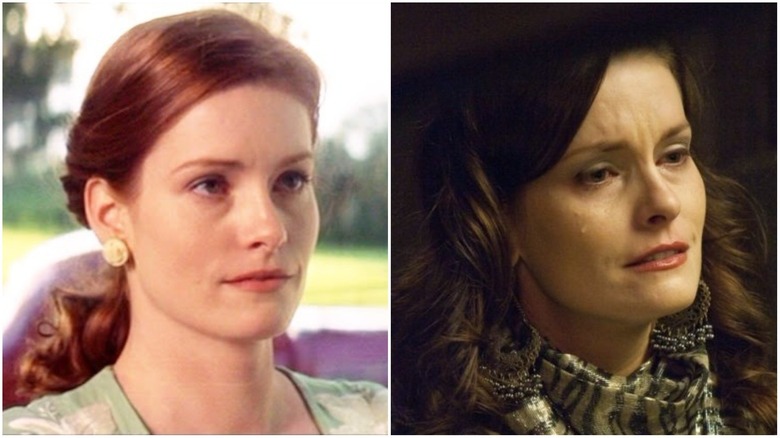 YouTube
At the time of The Notebook's release, actress Jamie Anne Allman's star was still rising. She'd enjoyed bit parts in a string of TV shows and had started to make a name for herself with a recurring role on the gritty crime drama The Shield. So when she popped up as pretty war widow Martha Shaw in The Notebook, her face didn't necessarily ring any bells. Re-watching the film, though, Allman stands out for a more recent role — that of Terry in the inaugural season of another crime drama, The Killing. 
Playing the aunt of a young woman who disappears, Allman brought the kind of emotional resonance to the role that audiences find hard to forget. Or casting directors, for that matter. Since The Killing, she has secured spots on popular TV shows like Bones, Chicago P.D., Preacher, Longmire, and Z: The Beginning of Everything. 
And you know what? The Notebook's director, Nick Cassavetes, totally called it. In an interview with Paste magazine, Allman revealed that, at the film's premiere, Cassavetes "wanted me to stand up and said, 'Hollywood, this is Jamie Brown, if you don't know her yet, you'll know her.'" 
Allie's mom's ex is the jerky dad from One Tree Hill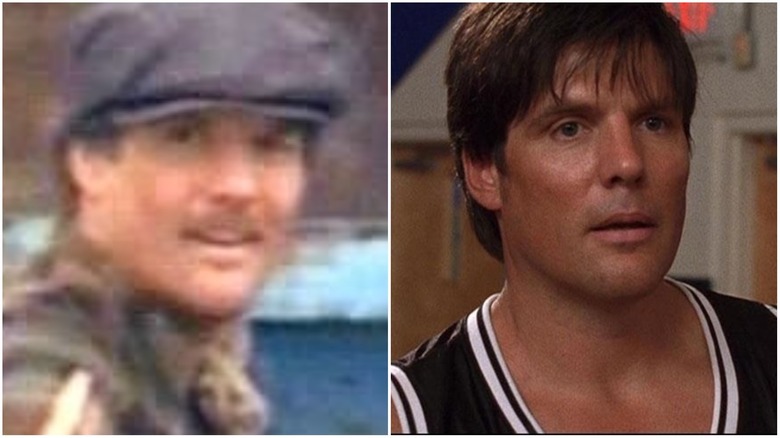 YouTube
As you well remember, there's a blink-and-you'll-miss-it moment in The Notebook where Allie is given a glimpse of the man her mother once loved. That tiny peek didn't stand out then, but it's hard to miss the man's pronounced jawline if you tuned into the teen drama One Tree Hill for its nearly decade-long run. That's right — Allie's mom's ex-lover and OTH's jerky dad Dan Scott are one and the same! Actor Paul Johansson is responsible for both parts. Johansson's gig on OTH had actually been underway for around a year when The Notebook landed in theaters, but it hadn't yet achieved cult status. That, coupled with the fact his cameo in the film was so short, made it possible for Johansson to fly under the radar. 
The tiny gig clearly paid off, though, because director Nick Cassavetes continues to cast Johansson in his films. Prior to The Notebook, the pair collaborated on 2002's John Q. Then, in 2006, they worked together again on Alpha Dog. In late 2017, it was announced that Cassavetes will direct a new romance called Have You Seen Her? in early 2018 and, this time, Johansson will be co-writing and starring in the movie.