What Is 'Mascara Cocktailing' All About?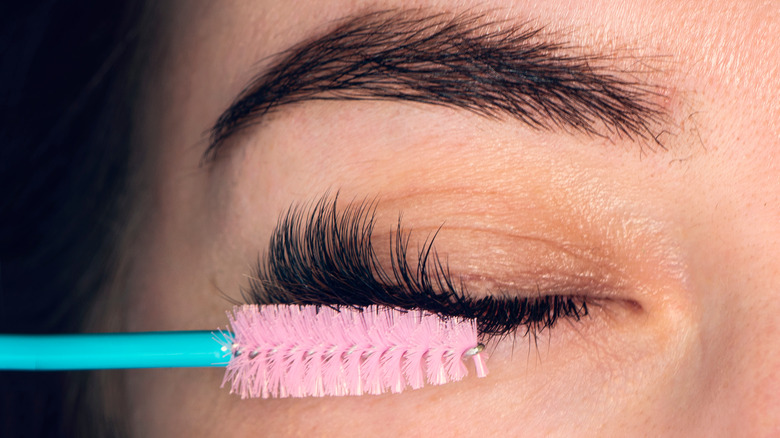 diy13/Shutterstock
We may receive a commission on purchases made from links.
We know that countless beauty enthusiasts enjoy using mascara to enhance their eyelashes. And we love sipping on cocktails to unwind and get the party started after working all week. But who would've thought that "mascara" and "cocktail" — or in this case, "cocktailing" — would ever be used in the same sentence, let alone become a trend? No, we're not talking about the best mascaras for natural-looking lashes or the best cocktails to spice up your next office party. We're talking about the makeup technique that involves using more than one mascara stick for luxurious-looking lashes.
As random and out-of-nowhere as mascara cocktailing probably sounds, there are videos on TikTok dedicated to the concept that will help you understand the benefits and results of the technique. One TikTok by someone who goes by the username "akaskinbasics" explained that the strategy is "when you use two different mascaras that have different effects to create a better overall look." In other words, why should you have to choose between longer or thicker lashes when you can layer two mascaras to get both desirable outcomes?
Get ready to layer different mascaras
Another TikToker who goes by "ShoppaHollyc" shared a more involved spin on mascara cocktailing that she refers to as her "lash routine" in her video. She starts by curling her eyelashes with a lash curler, then uses an eyelash primer on her eyelashes. Next, she puts on one of her black mascaras, followed by another one. While this seems like a time-consuming strategy, her lashes look very defined. One person even commented, "I took your mascara rec and it's been the best update to my makeup routine."
If you want to start exploring mascara cocktailing but don't want the process to be too involved, you can use one mascara for length and another one for thickness. For instance, Rare Beauty by Selena Gomez Perfect Strokes Universal Volumizing Mascara is excellent for providing thicker, darker eyelashes. It's available at Sephora for $20 and has 4.4 stars with over 1,000 ratings. Meanwhile, the Ilia Limitless Lash Lengthening Clean Mascara is all about helping you achieve longer lashes. You can buy it at Sephora, where it has 4.3 stars with more than 3,000 reviews. So, you should try layering these volumizing and lengthening mascaras to get the best of both worlds!