Why Serena Williams Ended Up On A Pro Tennis Probation In 2009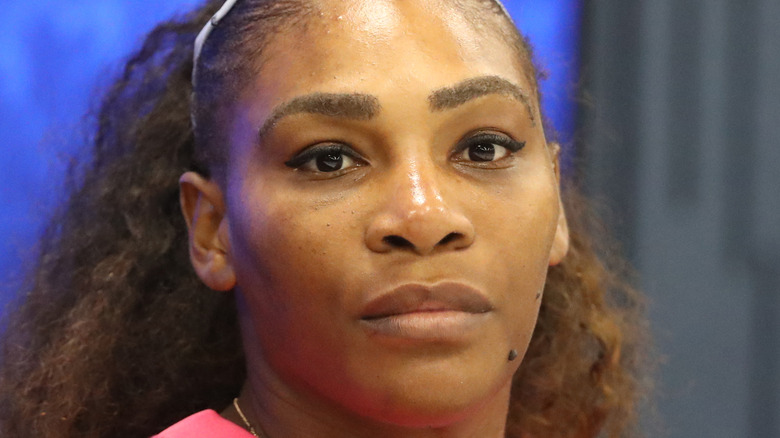 Leonard Zhukovsky/Shutterstock
If there's one name used to define success in tennis, it's Serena Williams. The 23-time Grand Slam winner dominated the court during her career, from her first success in 1999 to her final performance at the 2022 US Open. "I have never liked the word retirement," the tennis star wrote in an article for Vogue in August 2022, revealing that she would be "evolving away from tennis, towards other things that are important to me."
In the piece, Williams admitted she was "far from perfect" and that, unlike her sister Venus Williams, she's "never been one to contain my emotions." While Williams writes that she built her "career on channeling anger and negativity and turning it into something good," there were points where her outbursts on the court very nearly ended her career. This was most notably the case during the 2009 US Open when she was under a two-year probation (via ESPN).
Serena Williams threatened a lineswoman at the US Open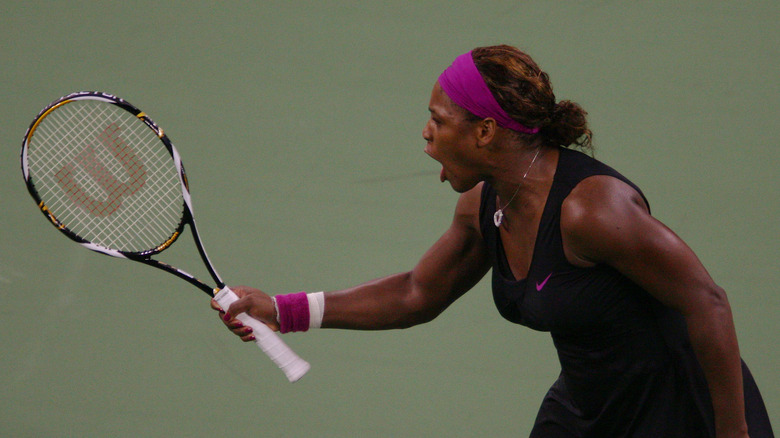 Clive Brunskill/Getty Images
On September 12, 2009, Serena Williams competed against Kim Clijsters in the semifinals. After losing the first set, Williams was given a warning after throwing her racket on the ground (via The Guardian). However, during Williams' second serve, she touched the court's baseline with her foot (via Tennis Court), resulting in calling a foot fault. In response to the lineswoman who made the call, the tennis star shouted and swore at her, threatening to "take this f***ing ball and shove it down your f***ing throat" (via New York Post).
The lineswoman reported Williams' behavior to the umpire. At the same time, the tennis star asked her whether she was "scared because I said I would hit you?" The lineswoman said Williams threatened to kill her with the tennis ball remark, to which former world No. 1 responded, "I did not threaten to kill you. Are you serious?" (via YouTube). Because of the warning earlier in the match, a decision was made to penalize a point from Williams and disqualify her, resulting in Clijsters winning the game.
Williams was ordered to pay a $175,000 fine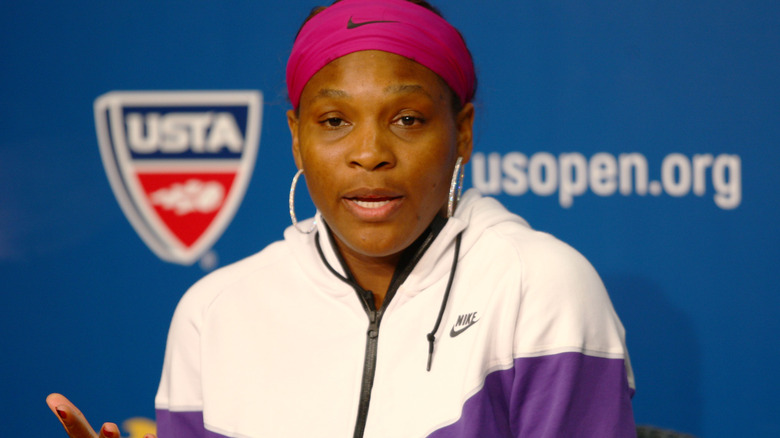 Clive Brunskill/Getty Images
When Serena Williams received a warning for throwing down her racket during the match, she was fined $500 (via The Guardian). But following an investigation by the Grand Slam committee, she was ordered to pay $175,000 and faced a two-year probation (via Sky News), which was reduced to $82,500 after meeting the probation requirements. While she technically broke the rules in 2011 after shouting "come on" at Australian player Sam Stosur, it didn't affect the conditions of her probation as "William's conduct, while verbally abusive, does not rise to the level of a major offense under the Grand Slam code of conduct," the United States Tennis Association said in a statement (via The Guardian).
While Williams issued a statement following the incident, she didn't fully apologize for her behavior until the following day. "I want to apologize first to the lineswoman, Kim Clijsters, the USTA, and mostly tennis fans everywhere for my inappropriate outburst," she said (via ESPN). "I'm a woman of great pride, faith, and integrity, and I admit when I'm wrong." She went on to say that the way she handled the situation was "not the way to act — win or lose, good call or bad call in any sport, in any manner." Nevertheless, Williams concluded that she "will learn and grow from this, and be a better person as a result."