How To Protect Your Scalp From Getting A Sunburn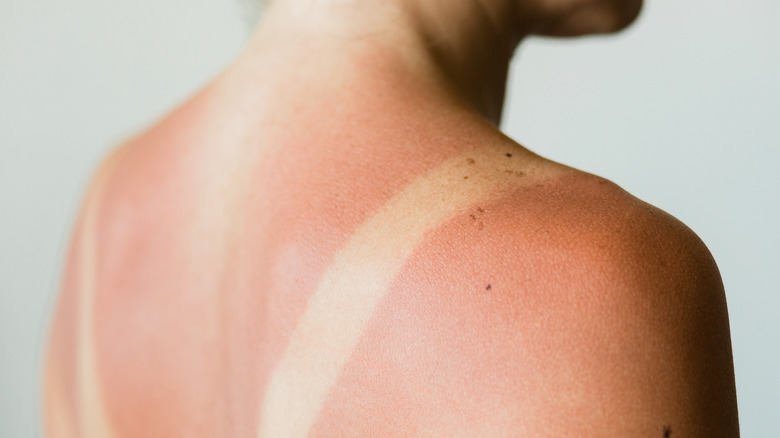 Marjan Apostolovic/Shutterstock
For a few years now, skincare has been a hot topic. The internet has ushered in all kinds of skincare trends, such as the Korean 10-step routine and skin cycling. However, sunscreen is always a must-have, no matter what trend you're stuck on. According to a 2020 study by RealSelf, only 11% of Americans use sunscreen on a daily basis. Without the daily application of sunscreen, it's easy to get sunburned.
Sunburn occurs when you've been in the sun for a bit too long, resulting in pink or red inflamed skin (via Mayo Clinic). The skin can feel warm or hot, almost feverish, and have swelling and tenderness. Symptoms such as inflamed skin can be harder to spot in individuals with darker skin, so it's important to be consistent with sunscreen application.
Many people know that getting sunburned on their face or body is possible and protect themselves accordingly. Yet when they're applying their sunscreen and donning their shawls, they often forget that the skin on their scalp also needs protection.
Products to use for scalp protection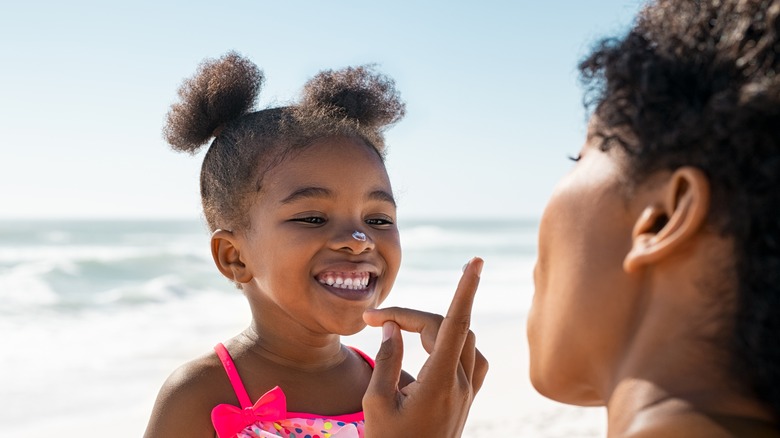 Rido/Shutterstock
Sunscreens such as the Elta MD UV Restore sunscreen are great multitaskers, perfect for both the skin and scalp (via NBC News). It's a 100% mineral sunscreen that uses natural ingredients, not additives, to protect you from the sun's UV rays. The sunscreen is tinted, ensuring that it doesn't leave a white cast, and is suitable for all skin tones.
If your scalp is on the oilier side, try a powder sunscreen, like the Brush on Block Translucent Mineral Powder Sunscreen. It's sweatproof and water resistant, so you don't have to worry about your scalp or hair getting greasy. According to reviews, it goes on clear and doesn't leave you with a white cast. The packaging isn't bulky but designed like a makeup brush, so you can easily throw it in your purse or backpack.
The Alba Botanica Hawaiian Sunscreen is efficiency in a bottle. It comes in an aerosol can that can be sprayed at any angle, which is ideal for quick applications. The formula is water resistant and contains shea and coconut butter, protecting you from the sun and dry hair. It also has aloe vera and safflower seed oil, providing a soothing effect.
Styling your hair for scalp protection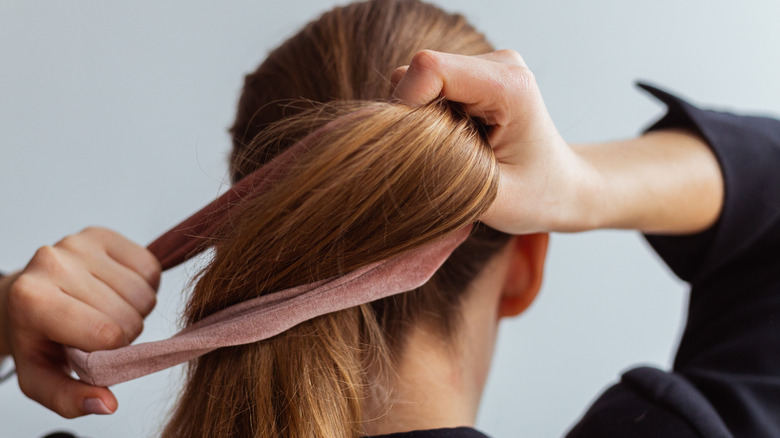 Jan Cieplik/Shutterstock
Sunblocks aren't the only way you can protect your scalp from the harmful UV rays of the sun. Styling your hair a certain way or wearing hats can also offer protection. A top knot not only keeps your hair out of your face and off the neck, but it completely covers your scalp (via Desert Essence). Before you twist it up, apply a hair oil meant for UV protection. If you prefer to leave your hair down or it's too short to put in a bun, opt for a lightweight bandana or scarf that will keep your scalp covered.
If you think your scalp may already have been damaged by the sun, take a look in the mirror or have a friend check it for you. There can be several signs of sun damage, such as rough patches of skin that look like warts or age spots (via WebMD). As these are harder to spot in darker skin tones, pay attention to any sensitivity or soreness you may feel on your skin after being in the sun. It's best to see your doctor or dermatologist after any of these symptoms, just to be on the safe side!