Where To Find A Dupe Of Katherine Heigl's Wedding Dress From 27 Dresses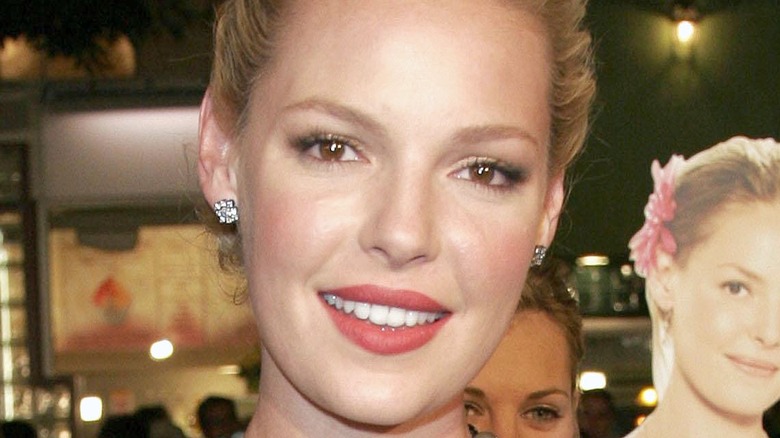 Everett Collection/Shutterstock
We all remember "27 Dresses." It was the quintessential early aughts rom-com that fully encompassed the notion of "always the bridesmaid, never the bride." It also left us with the age-old quote, "Love is patient, love is kind, love means slowly losing your mind." There's something utterly romantic, nostalgic, and hopeful about this movie, and the wedding dress at the center of it all fits that description perfectly.
In the 2008 romantic comedy, Katherine Heigl played Jane, a woman who had been a bridesmaid 27 times — and, yes, wore 27 different bridesmaid dresses. The movie focuses on her struggle to serve as a bridesmaid once again, but this time for her sister, who happens to be marrying the man Jane loves. Like with any good rom-com, you may laugh, you may cry, and you'll be singing "Bennie and the Jets" for weeks to come. 
In the end, Jane finds love and finally gets to sport a beautiful wedding dress of her own. If you want yours to look just like hers, you're in luck –– you just might be able to get it.
The wedding dress from 27 Dresses
What wouldn't Katherine Heigl look beautiful in? She pulled off even the most bizarre of the 27 bridesmaid dresses she sported in the movie and even made scrubs look like a fashion statement during her tenure at "Grey's Anatomy." Still, choosing the wedding dress in a movie all about wedding dresses is a pivotal fashion moment for any costume department — just like your wedding dress is a pivotal fashion moment for you on your wedding day. 
Jane's dress in "27 Dresses" is simple and classic. With a deep V-neck, A-line skirt, and delicate lace, her own beauty shines through and adds to an already elegant yet understated canvas. If you're looking for a dress just like this one to wear on your big day, you're certainly not alone. Luckily, you can snag your dream dress for only $180 with the help of The Celebrity Dresses. It doesn't get more romantic comedy-worthy than that.
Making the '27 Dresses' gown your own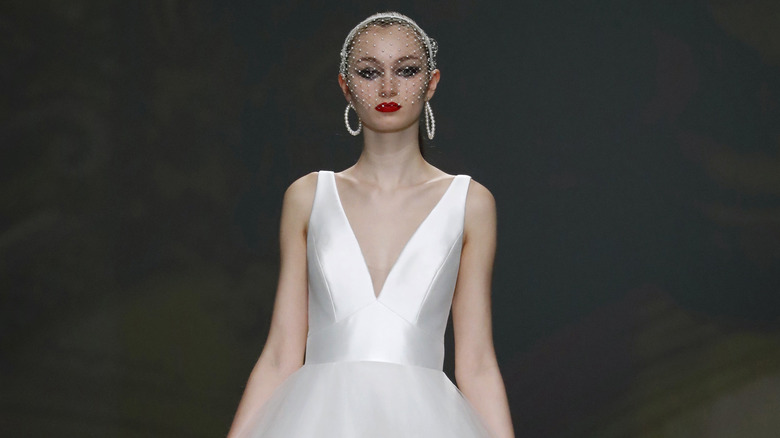 Estrop/Getty Images
If you love the simple, classic feel of Jane's dress, there are many similar options that will help you maintain that look and still allow you to tweak details to make it the perfect dress for you. Plenty of brides want a little sparkle on their big day, which is one thing the "27 Dresses" gown doesn't offer. This option from Anna Custom Dress will give you that same silhouette but with a bit of subtle sparkle. Plus, it'll only set you back $160.
Plenty of brides-to-be have sleeves on their lists of wants for their wedding dress. Whether for extra warmth at a winter wedding or an elegant, timeless feel, you've got plenty of options if you want to have your arms covered while still achieving Jane's look. We're ready to say "I do" to this option from AW Bridal. It maintains the neckline, A-line skirt, and lace detailing of the OG "27 Dresses" dress, but the billowy sleeves and more intricate lace give it a cool, bohemian feel. Not to mention, we love that open back and the price at less than $500. 
Ultimately, if you love the "27 Dresses" bridal gown and are on a budget, you've got options. Not only can you get the exact look, but with a bit of searching, you can find something that meets all your needs without taking too much of a chunk out of your wedding budget.