Inside Madonna And Dennis Rodman's Relationship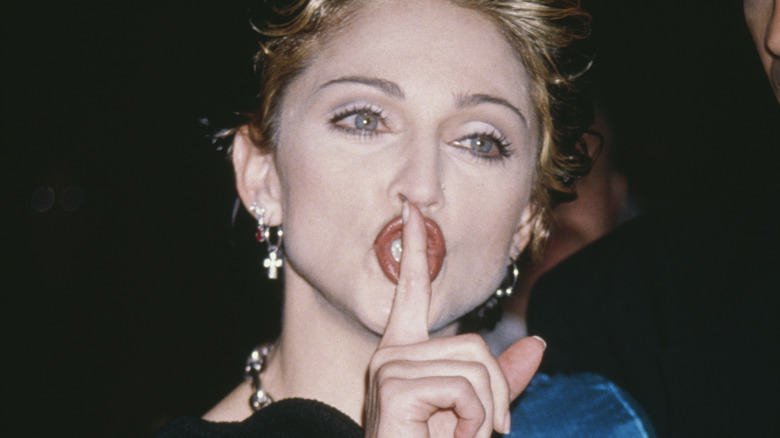 Michael Ochs Archives/Getty Images
Madonna has dated a virtual who's who of famous men (and women), from actors to athletes. The pop star famously paired off with Alex Rodriguez around 2008, after she ended her decade-long marriage to director Guy Ritchie (via Ranker). Of course, you probably remember how the singer also dated Carlos Leon, with whom Madonna had a daughter, Lourdes. The list goes on, with the star having also been married to actor Sean Penn, and rumored to have gotten cozy with the likes of Tupac Shakur, Michael Jackson and even John F. Kennedy Jr.
But we'd be remiss in not exploring what was one of the star's reportedly most passionate romances with former pro basketball player Dennis Rodman. For his part, the larger-than-life athlete has been wed three times, most famously to Carmen Electra (via PopSugar).
The year was 1994 when Madonna and Rodman got together (via Marie Claire). This would have been before the former Chicago Bulls player said "I do" to Electra in Las Vegas (via People). The relationship that fans are still dissecting decades later also happened after Madonna's marriage to Penn and before she took another trip down the aisle with Ritchie.
Madonna and Dennis Rodman got serious fast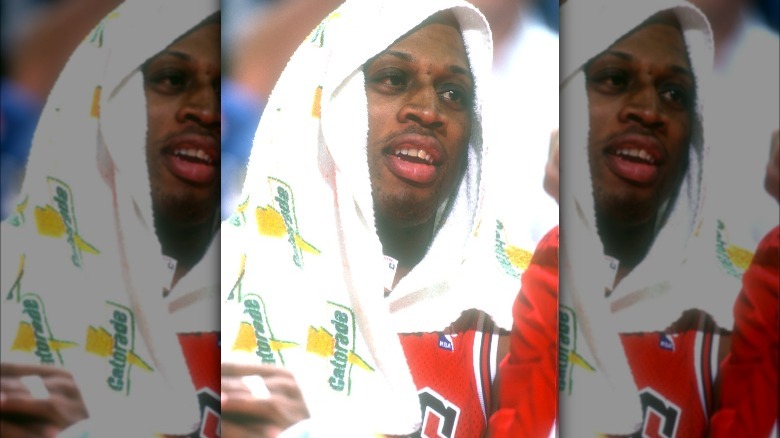 Mitchell Layton/Getty Images
So how did two of the biggest names of the 1990s get together? The meeting was pretty much like you'd imagine, with Madonna reportedly attending one of Dennis Rodman's games when he played for the Chicago Bulls (via Marie Claire). The forward noticed the singer during the action, but it was later that they would first talk — when she gutsily barged into the locker room. Rodman reportedly went home with Madonna that very night.
By his account, things got serious fast. The star player opened up about dating Madonna in his memoir, "Bad As I Wanna Be." He would characterize the romance as far less dramatic than fans might envision, writing, "We never had any problems. It was one of the easiest relationships I'd ever been in" (via People).
But the fling wasn't without stories that still make jaws drop years later. Specifically, Rodman wrote in his book about the pop princess wanting to go all the way with him. "Madonna talked all the time about having a baby," he penned. "I think she wanted every bit of Dennis Rodman—marriage, kids, everything."
One particular story is definitely for the ages.
The relationship fizzled as quickly as it began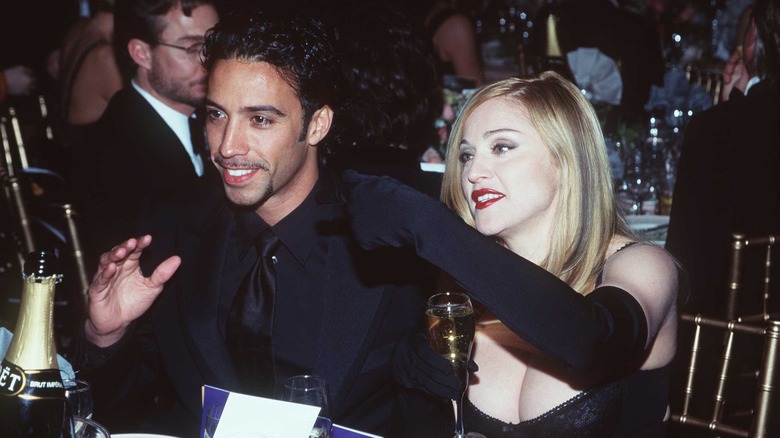 Ron Wolfson/Getty Images
Dennis Rodman wrote another book, "I Should Be Dead By Now," in which he detailed more about how Madonna was hoping to get pregnant while they were together (via The U.S. Sun). The player wrote about an occasion on which he was in Las Vegas playing craps when his famous girlfriend called from New York.
"I picked up the phone and Madonna was like, 'I'm ovulating, I'm ovulating,'" Rodman recounted, adding that she wanted him to fly across the country to her. "So I left my chips on the table, flew five hours to New York and did my thing," Rodman said. He would then fly back to Las Vegas to resume his game of craps.
Of course, Madonna did not end up having her first child, Lourdes, until two years later — despite Rodman's claim that at one point she offered him $20 million to impregnate her (via Bleacher Report and People). By then, she had moved on with Carlos Leon and Rodman would soon cross paths with Carmen Electra. As for why the two mega personalities split up, Rodman reportedly didn't want to be "Madonna's boy-toy" (via Marie Claire).