How Beyoncé Keeps Her Skin Looking Flawless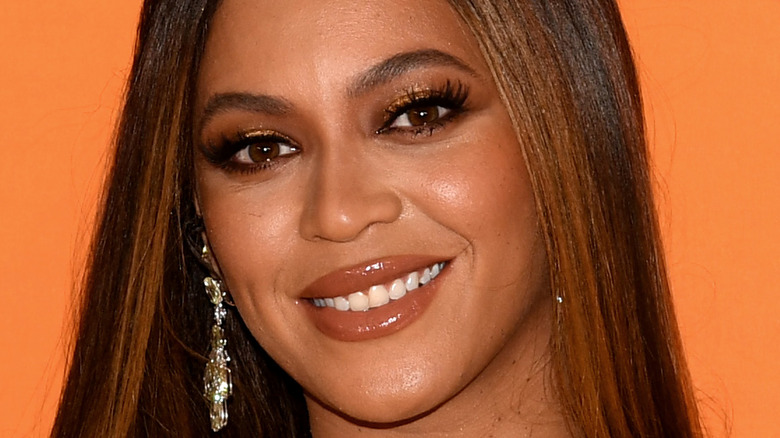 Gareth Cattermole/Getty Images
We may receive a commission on purchases made from links.
There's no denying Beyoncé is one seriously talented singer and actor. Her vocal range is out of this world — can you imagine any bachelorette party being complete without singing and dancing along to her chart-topping song, "Single Ladies?" Before launching her super-successful solo career, Beyoncé was a key member of the beloved girl group "Destiny's Child." To date, she's won an incredible 28 Grammy Awards (via Vanity Fair).
It seems unfair someone so talented is also breathtakingly gorgeous. In fact, Beyoncé is often described as one of the most beautiful women in the world. In 2012, she won the title of "World's Most Beautiful Woman," per People, sharing: "I feel more beautiful than I've ever felt because I've given birth." Still, celebs have a team of professional makeup artists, hair stylists, personal trainers, and skin specialists on hand at all times.
In an interesting and somewhat controversial finding based on the ancient Greek Golden Ratio combined with propriety face-mapping technology, London-based cosmetic surgeon Julian De Silva named Beyoncé the second most attractive woman on the planet (via Oprah Daily). Of course, Beyoncé knows there's more to life than being pretty. As she once said, "We all have our imperfections. But I'm human, and you know, it's important to concentrate on other qualities besides outer beauty" (via Marie Claire).
We're consistently inspired by this strong female role model and can't help but wonder how she does it all. This is how Beyoncé ensures her skin always looks incredible. 
This is the secret to Beyoncé's perfect skin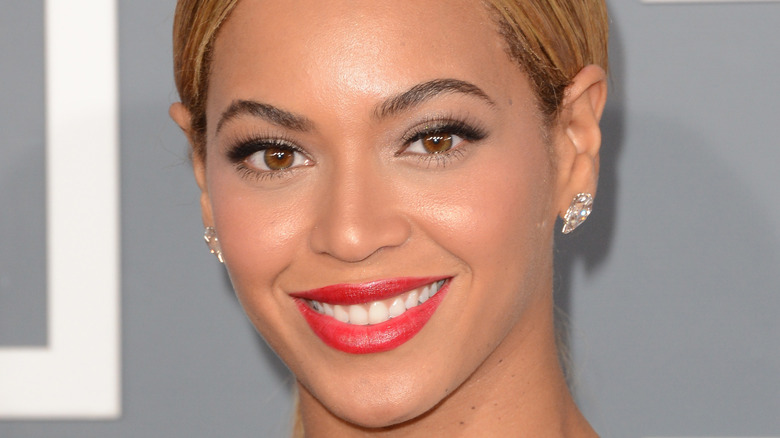 Jason Merritt/term/Getty Images
Beyoncé has had a stunning transformation during her decades in the limelight, and it's pretty clear she's been blessed with some great genes. However, she is loyal to these skincare products (immediately *adds to cart*). Regardless of how busy the "Halo" singer is, she never forgets to apply Aquaphor before going to bed. As Beyoncé admitted to Elle, "I go to bed looking totally greasy, it's not all glamour all the time." 
As for how the "Dreamgirls" actor manages to always look like a bronzed goddess, Beyoncé opts for either L'Oréal Paris Sublime Bronze One Day gel or Scott Barnes Body Bling when she is out in public. Elsewhere, Carol's Daughter — Ocean Sea Salt Scrub is one of her favorite at-home beauty treatments. Beyoncé enthused to Allure, "It feels like the beach, and it has the most beautiful scent." 
Moreover, the scrub is so moisturizing she doesn't have to use too much lotion afterward, saving her time. One of Beyoncé's other favorite beauty products is Rosebud Salve for her lips, while she also uses it as a primer for her lashes, describing it as "a natural mascara." Beyoncé elaborated, "It made the lashes hold the curl and look shiny. I use it for everything!" For her flawless skin, she reportedly used Alleven Colour Shield Hydrating Tinted Protection for her 2018 performance at Coachella (via Harper's Bazaar).
These are some of Beyoncé's other beauty secrets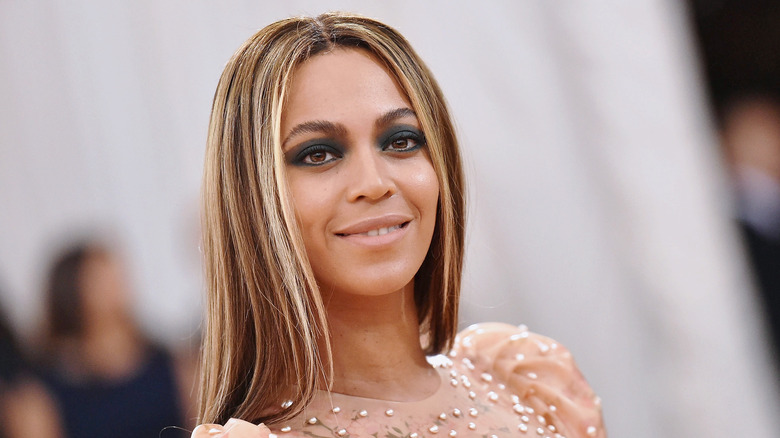 Mike Coppola/Getty Images
Unlike other celebrities, Beyoncé doesn't really share her beauty tips on social media or even do very many interviews anymore, so whenever we learn something it's like finding gold. For instance, Queen Bey revealed to Elle that her secret to never looking tired is: "I put a little gold eye shadow in the inner corners of my eyes — it's more subtle than white, but it still really makes you look more awake." 
Beyoncé also has her Ray-Ban sunglasses on hand at all times, in case she needs to hide them completely. The superstar singer loves doing her own makeup before shows, acknowledging she finds it "very relaxing." Beyoncé's makeup always needs to look perfect, though. She adores M.A.C. Fix+, telling Allure: "After you put your powder on — I don't know how it does it — but it makes your skin look like skin again."
Moreover, the "Crazy in Love" hitmaker loves how natural it looks. In an interview with Vogue, Sir John, Beyoncé's longtime makeup artist and friend shared how he used MAC Fluidline Eye Liner Gel during the "On The Run" tour, explaining, "I love this because it doesn't move, it doesn't go anywhere." We'll always admire Beyoncé's beauty, but what we love most about her is her self-confidence. 
As the lady herself put it simply: "Your self-worth is determined by you. You don't have to depend on someone telling you who you are" (via Marie Claire).