If You Love Yellowstone, Here Is The Book You Should Read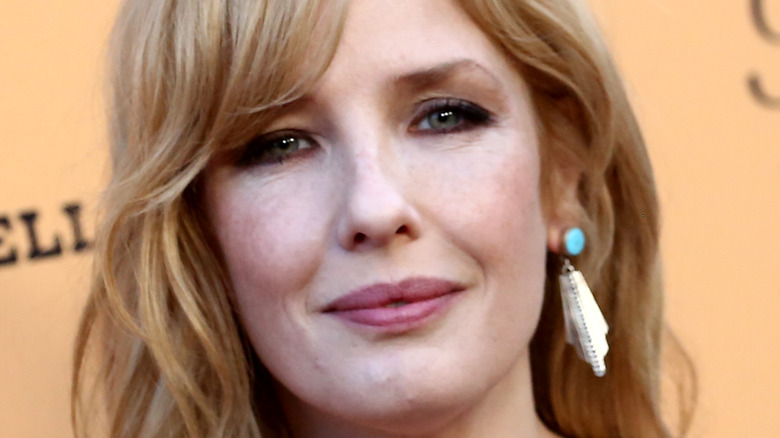 Tommaso Boddi/Getty Images
Books and television are so closely related these days that many people don't realize that some of their favorite TV shows are actually based on novels. Fan favorite series' such as "Big Little Lies," "Orange Is The New Black," "You," "Outlander," "Friday Night Lights," "Gossip Girl," and "Westworld" have all been adapted for television from books, per Insider. Other shows that fans may not realize were originally novels include "Dexter," "Band of Brothers," "True Blood," "Killing Eve," "The Handmaid's Tale," "Sex and the City," and "Game of Thrones" (via Literary Hub).
By bringing novels to life on television, writers are able to dive deeper into each character and expand the story past the pages. Each episode is like a new chapter, which can follow along with the books or can stray from the written word in order to tell a brand new story.
Of course, not all TV shows are based on books, and some of today's most popular shows were created strictly for television such as the wildly popular drama "Yellowstone."
What is Yellowstone about?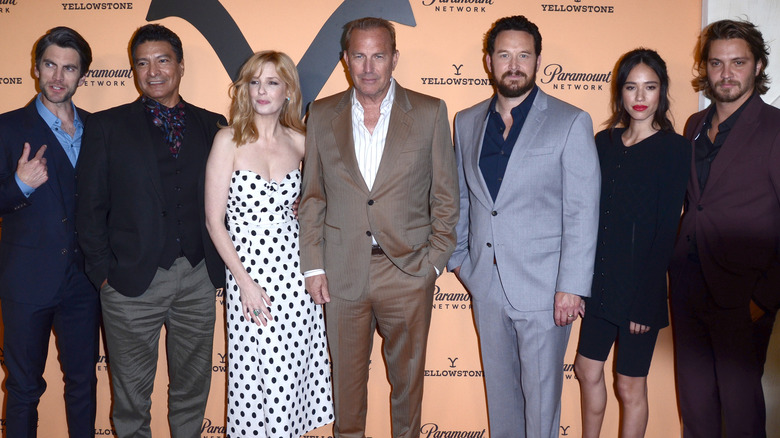 Kathy Hutchins/Shutterstock
"Yellowstone" has taken over television to become one of the most watched shows in recent years. The series, which airs on the Paramount Network, revolves around the Dutton family, who own and operate the largest ranch in Montana, per Movie Web. However, the series is so much more than just a tale of farm life. Kevin Costner stars as the family's patriarch John Dutton, who is a sixth-generation rancher and father to three children, Beth, Jamie, and Kayce Dutton. The family is in a constant battle to keep their land and ranch from their many enemies and all of those who seek to take a piece of their abundant estate (via Rotten Tomatoes).
The series also follows the lives of the Dutton family's significant others as well as all of the ranch hands that work at the Yellowstone. The show's stellar cast includes Kelly Reilly, Cole Hauser, Luke Grimes, Kelsey Asbille, West Bentley, Jefferson White, Jennifer Landon, Gil Birmingham, Ryan Bingham, Forrie J. Smith, and many more, like Josh Lucas, who plays a younger version of Costner's John Dutton in flashbacks — and the show's creator, Taylor Sheridan, who plays a roaming cowboy named Travis (via IMDb).
Yellowstone is a gritty and raw look at the modern western lifestyle, as well as a dramatic play on family life, making it something that nearly everyone can enjoy. So, if you're a "Yellowstone" fan looking for similar content, you may want to read "The Me I Used to Be."
Yellowstone fans will love The Me I Used to Be by Jennifer Ryan
According to Reader's Digest, "Yellowstone" fans will love the Jennifer Ryan novel titled "The Me I Used to Be." The story has plenty of similarities to "Yellowstone," including family drama, ranch life, criminal activity, and more. Good Reads reveals that the story centers around the character of Evangeline Austen who comes home to her family's Napa Valley ranch to start fresh after being released from prison for a crime that she didn't commit. However, her family isn't happy to see her, and she'll have to contend with a cold mother and brothers who don't want her to have any part of the ranch business.
Of course, in addition to navigating her strained family life and finding her place on the ranch, Evangeline will also look for answers about who set her up and sent her to prison. Her only friend will be the police officer that sent her to jail as they work together to get to the truth and get justice.
"The Me I Used to Be" was published in 2019 by Ryan, who is a New York Times bestselling author who has penned other novels such as "Love Of A Cowboy," "Montana Heat," "Lost and Found Family," "Restless Rancher," "SIsters and Secrets," and many more, per Barnes and Noble. So, for those who love the ranch setting and the family drama of "Yellowstone," this book should be added to your to-read list.