The Reasons General Hospital Fans Had Such A Problem With Carly And Drew's 'Florida' Beach Scenes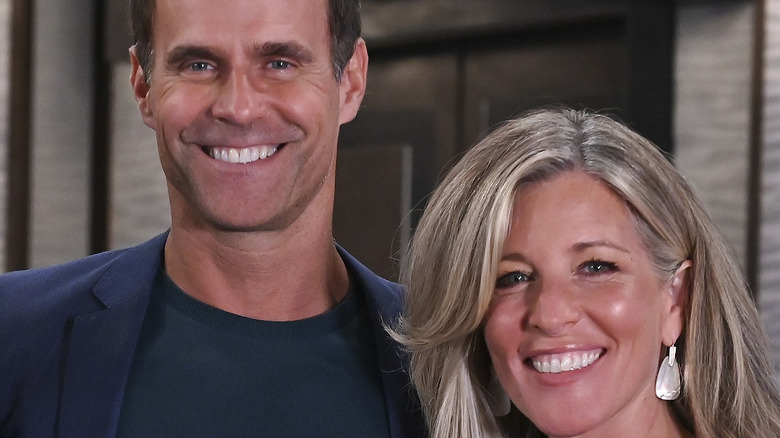 ABC/Frank Micelotta
For years, it was not uncommon for soap operas to film in various locations outside of their normal studio sets. Per Soaps Central, shows like "Guiding Light," "All My Children," and "The Bold and the Beautiful" sometimes chose to film in other states, or even out of the U.S. This trend continued until soap audiences started to dwindle, as did their budgets. "General Hospital" is no stranger to location shooting, with some of Luke and Laura Spencer's (Anthony Geary and Genie Francis) adventures being filmed in Rochester, New York, per the Democrat & Chronicle.
Legendary "GH" super couple Sonny Corinthos (Maurice Benard) and Brenda Barrett (Vanessa Marcil) went to Puerto Rico, per Soap Opera Digest. Meanwhile, Ned Ashton (Wally Kurth) and Lois Cerullo (Rena Sofer) had their honeymoon at Coney Island, and Luke and Laura headed to Niagara Falls for theirs (via Showbiz Cheat Sheet). In recent years, "GH" hasn't strayed too far from their Los Angeles studio, though, heading closer to home when filming demands scenic shots, as Soaps She Knows. 
Recently, "GH" chose to shoot a beach scene in Malibu, California as a substitute for Carly Corinthos (Laura Wright) and Drew Cain's (Cameron Mathison) story location of Jacksonville, Florida and the fans had something to say about t.
Fans were not fooled by General Hospital's location shoot
Amid all the twisting storylines, "General Hospital" took the time to go on location at Malibu beach so that it could act as a substitute for Jacksonville, Florida. The show tweeted a picture of actors Laura Wright and Cameron Mathison on the beach, captioning it, "We don't get to leave the studio often, but make the most of it when we do. Check out this #BehindtheScenes shot from our location shoot in Malibu!" The accompanying picture was that of actors Laura Wright and Cameron Mathison on the beach. 
The fans were divided into three groups: those who felt the story was boring, those who couldn't get past a California beach standing in for Florida, and those who liked the scenery and enjoyed the story. Viewers who weren't fooled were the most vocal, tweeting, "Definitely not Jacksonville," and "None of that shot looks like Jacksonville Beach or any of the other pics. The West coast beaches are totally different..."
Those not liking the storyline posted replies such as, "Definitely not GH finest moment! Looks nothing like Florida, and nobody cares about this storyline! Fast forward all the way!" A truly uninterested fan wrote, "This arc made zero sense and was as interesting as tying a shoe lace." Happy fans welcomed the change of scenery and embraced the story as one replied, "Beautiful scenes with a beautiful story to go behind it. Good job to all."
To paraphrase poet John Lydgate, you simply can't please everyone.