How Hilary Clinton Broke The Glass Ceiling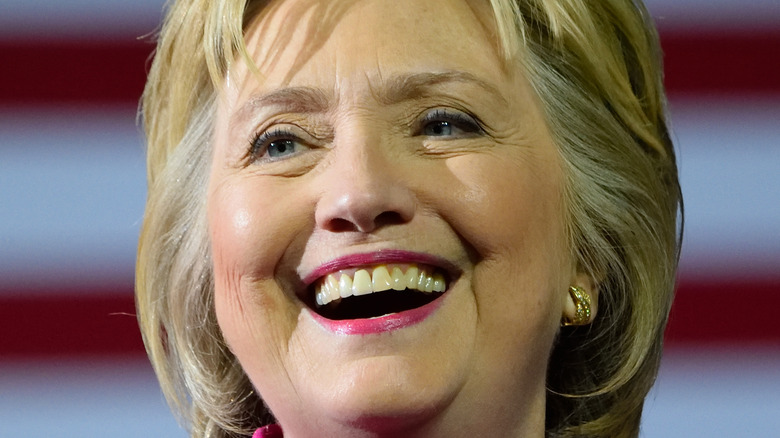 Evan El-Amin/Shutterstock
Throughout Hillary Clinton's career, the politician has often talked about "breaking the glass ceiling" (via ABC News). A metaphor often used by women to describe the struggles of obtaining high positions in the workplace (via Business Insider), it originated from writer Marilyn Loden in 1978, who noted how women seemed "unable to climb the career ladder beyond the lowest rung of middle management," as she told BBC News, and "the barriers to advancement ... were cultural not personal."
Since graduating from Yale Law School in 1973 (via her website), Clinton certainly didn't let those barriers stand in her way. She is a woman of many firsts, like when she became the first female partner of her law firm (via The History Channel) or the first female to run for president of the United States. Clinton overcame many obstacles to get where she is today and continues to be an inspiration for women worldwide, striving to achieve equal opportunities — particularly in politics.
Hillary Clinton paved the way for future first ladies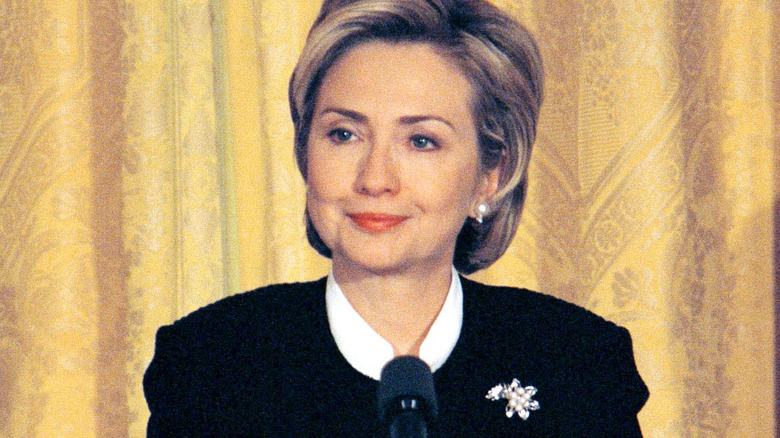 Georges De Keerle/Getty Images
Like many before, Hillary Clinton used her role as First Lady to make changes for women across the United States. For Clinton, finding a balance between "family, work, and service" was what she strove to achieve while her husband, Bill Clinton, ran the country as the 42nd president of the United States (via The White House). She had already done so for over a decade as First Lady to Arkansas, where she championed services for families and children.
Clinton took the responsibilities of First Lady in her stride. While some of her efforts didn't succeed, the politician created a template for First Ladies to come in terms of sharing a similar platform of importance and power to the president. In this sense, Clinton helped shape the "true democracy" she outlined during a speech at the 1997 Vital Voices Conference in Vienna, Austria (via Clinton Digital Library). "There cannot be true democracy unless women's voices are heard," she said. "There cannot be true democracy unless women are given the opportunity to take responsibility for their own lives. There cannot be true democracy unless all citizens are able to participate fully in the lives of their country."
Clinton very nearly became the first female president of the United States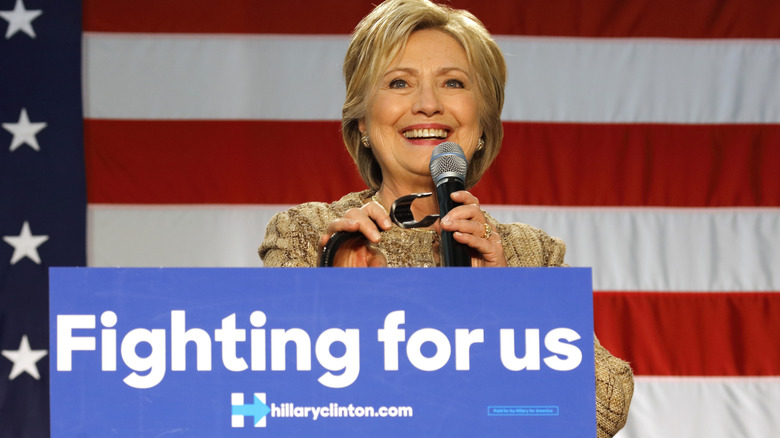 Joseph Sohm/Shutterstock
For Hillary Clinton, the defining moment of her career would have been to become the first female president of the United States. She ran for office twice, ending her first attempt after Barack Obama won the Democratic Party's nomination. She got much further in her second presidential run, this time winning the nomination and making it all the way to the final two. Unfortunately, even though she won the popular vote (via AP News), Clinton lost to the Republican Party's nominee Donald Trump.
"Nothing has made me prouder than to be your champion," Clinton said in her concession speech (via TIME), addressing the millions of women that supported her along the way. "I know we have still not shattered that highest and hardest glass ceiling, but someday, someone will, and hopefully sooner than we might think right now."
That someone was Kamala Harris, who became the first female vice president of the United States when Joe Biden took office in 2021. "It delights me to think that what feels historical and amazing to us today — a woman sworn into the vice presidency — will seem normal," Clinton wrote on Twitter in response to Harris' victory.