What You May Not Know About Karen Gillan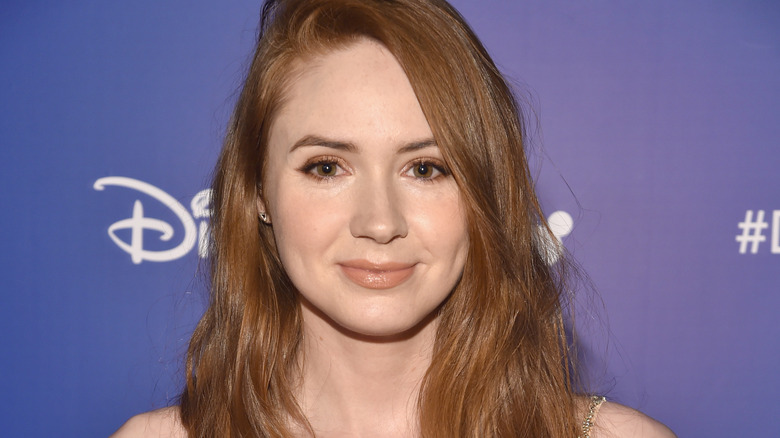 Getty Images
Karen Gillan's meteoric rise to fame may seem fairly recent to American audiences, but the model-turned-actress has been performing professionally for her entire adult life. The Scottish redhead couldn't have predicted the iconic role that would launch her into fame, seemingly overnight. Her big break came in her early 20s, when she was cast in the British sci-fi show Doctor Who in 2009. Since then, the Scottish actress has achieved international acclaim, starring in hits such as Marvel's Guardians of the Galaxy series and 2017's Jumanji: Welcome to the Jungle. 
Even though she has achieved A-list status in such a short period, her success hasn't gone to her head. She's still the same girl who dropped out of school and suffered crippling stage fright as a child (though, she clearly overcame that fear). She's still a proud feminist who worries about dating, and loves vintage shopping — there's so much more to her than you can gather from her TV, movie, and red carpet appearances. Here are fascinating details about Gillan that you probably didn't know. 
The reason she hates the L.A. dating scene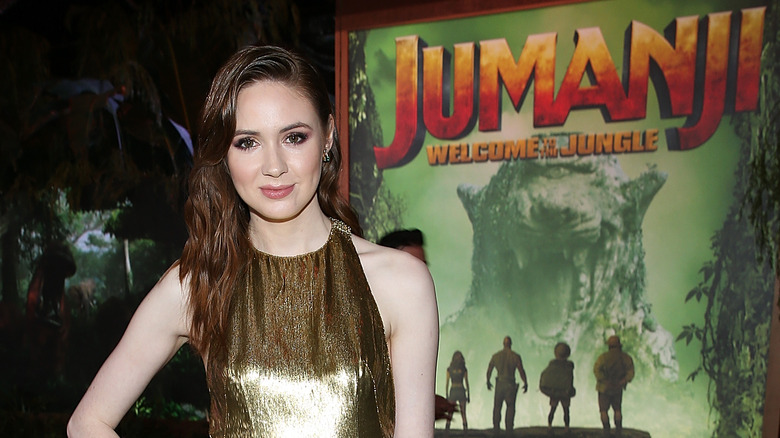 Getty Images
Dating isn't easy, even for famous stars like Gillan, but there's one reason in particular she hates the Los Angeles dating scene. In 2014, not long after she moved to L.A., she told The Telegraph that the city's dating scene was daunting. 
"I'm so terrified by the prospect!" she said. "Americans seem to go about it in a different way where they date loads of people at the same time ... I'm like, 'Are you kissing all of them?' I prefer the UK way, where we just drink near each other and no one knows if it's a date or not." 
She loves all things vintage for a sweet reason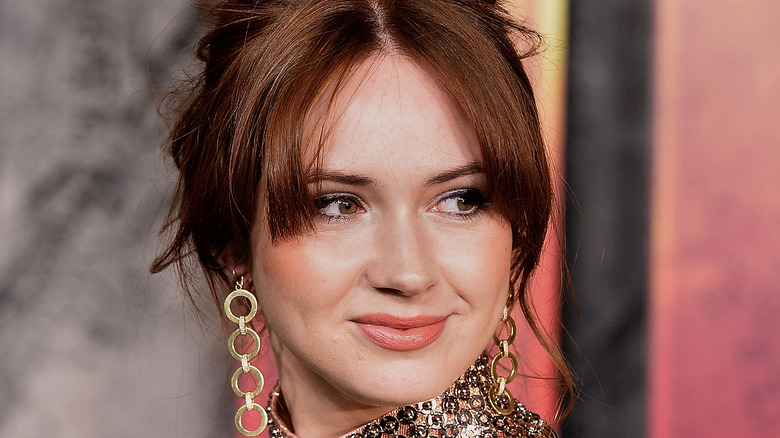 Getty Images
Gillan is an old soul, a characteristic that was heavily influenced by her father. Gillan told the Evening Standard that when she was growing up, she and her father would scour shops every weekend looking for vintage vinyl records. That father-daughter time clearly left its mark, giving her a deep appreciation for iconic artists such as Nina Simone and Elvis.
The star's love of vintage also extends to fashion; Gillan loves shopping for vintage outfits on the weekends. "It's one of my favourite hobbies," she said. "I start at the top of Brick Lane and work my way down and I always have an outfit by the time I get to the bottom."
This is what she would do with a time machine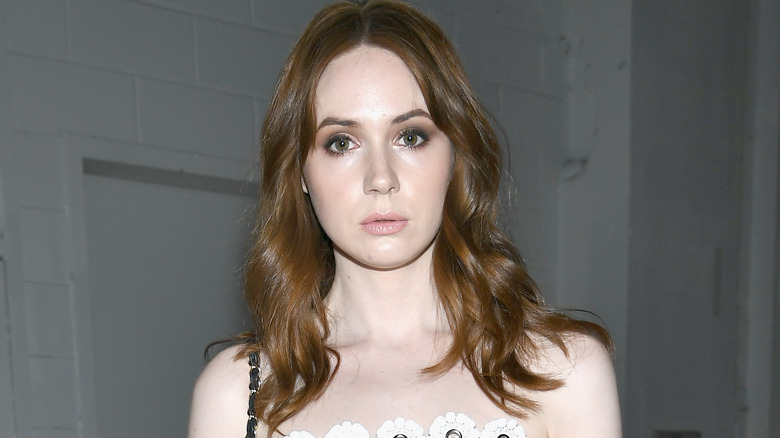 Getty Images
In spite of Gillan's love for vintage music and clothing, if she had access to a time machine, she said that she wouldn't use it to go into the past. When asked by The Mary Sue where she would go if she could go back in time, Gillan said that she would instead prefer to see what the world will be like in the future.
"See I always think I would probably go as far into the future as possible before the sun explodes," she said, "and just see what the world is like and how it's progressed and just see what we look like physically because, I have a theory that ... we won't do anything for ourselves and we'll develop these massive brains and have really frail bodies because we don't actually do anything for ourselves, like robots do it."
She's a stage school dropout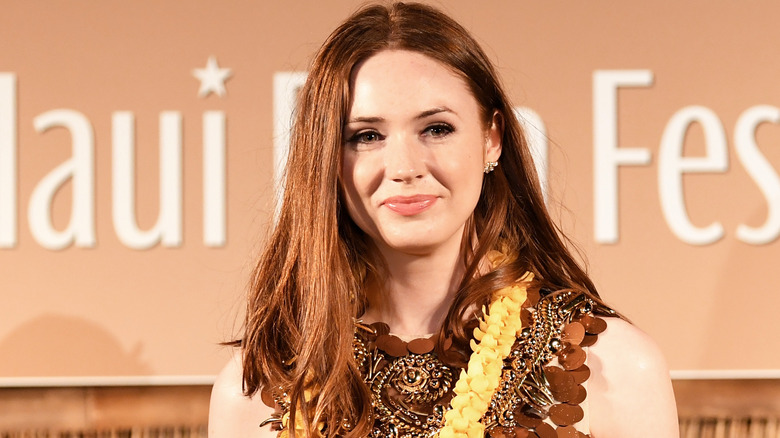 Getty Images
Gillan was enrolled at London's Italia Conti stage school when she was cast in the Scottish show Rebus, but had to drop out in order to take the role. "I was 18, I couldn't resist the temptation but it was only one episode so I was taking a gamble," she later told The Telegraph.
Other roles eventually followed, although Gillan had to support herself by working in a pub before she gained steady acting work. "I think that was really important for me," she told Scotland's The Herald. "That's the reality of it. You get a job here and there and you have to really try to get into acting, unless you're very lucky of course. But also to just work in a pub and do that kind of job, I think it's important to experience that. I can appreciate this all the more."
The trait she had to overcome to become a star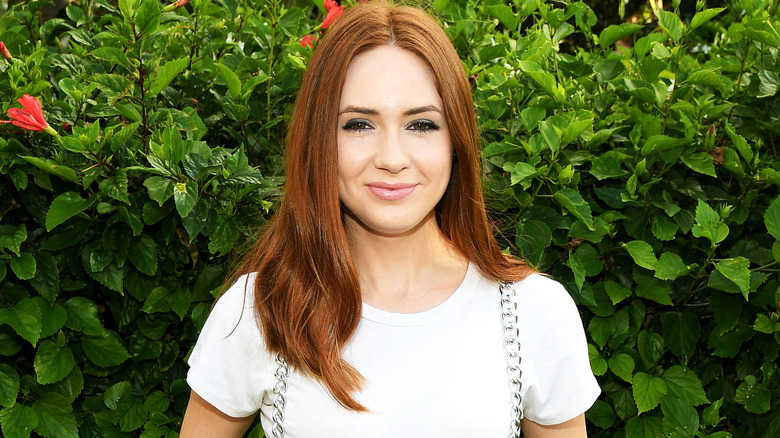 Getty Images
In order to pursue her dreams of performing, Gillan had to overcome the crippling stage fright she experienced as a child. "I was one of those weird children that just couldn't talk to people, so I kind of had to make myself be not like that because I knew it was going to hinder me," she told The Telegraph.
Gillan said that her stage fright was so bad that when she tried performing on stage as a child she "couldn't get anything out." To overcome her shyness, she kept confronting her fear. "I knew that I just had to keep on doing it because you only get scared of stuff that you don't know; you've just got to familiarise yourself with it and then it's fine," she said.
She's an outspoken feminist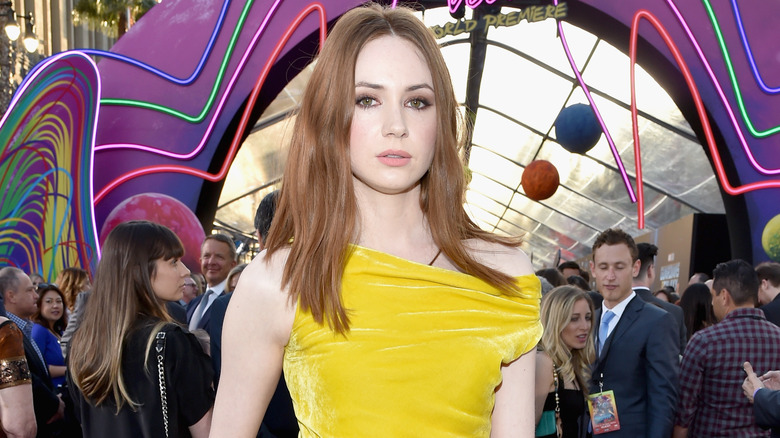 Getty Images
Today, Gillan isn't afraid to speak out, especially when it's about her convictions. When a woman was cast to play the latest incarnation of the Doctor on Doctor Who, Gillan celebrated the announcement. "People have questioned whether a female can play the role, and that's completely ridiculous," she told The Mirror.
One of the things that attracted her to the role of Nebula in Guardians of the Galaxy was how different the role was from most female parts. "All I knew is that it was a female villain and that was enough to attract me to it because you know, with these big films quite often a girl is the girlfriend or, some sort of glamorous role," she told A Magical Mess. "But this was totally different ... My dad always told me to aim to be a Bond villain rather than a Bond girl. So that was kind of like a cool moment for me."
Acting isn't her dream career
Getty Images
Gillan began making small films at a young age. "The first time I ever got into acting was when I got a video camera, and I started writing and directing little horror films around my house, where I would end up killing my dad," she told The Herald. "So it was really fun. We would get tomato sauce and use it for blood, and everything. And so I've actually been doing this since I was a kid."
Now that she has achieved her acting dreams, she has set her eyes on directing. "I feel like it's just exactly what I should be doing," she told Women's Wear Daily. "I feel totally stimulated by it."
Gillan already has one film under her belt, The Party's Just Beginning, which she wrote, directed, and starred in. "It was one of the best experiences of my life," she told Collider.
She's a reluctant action hero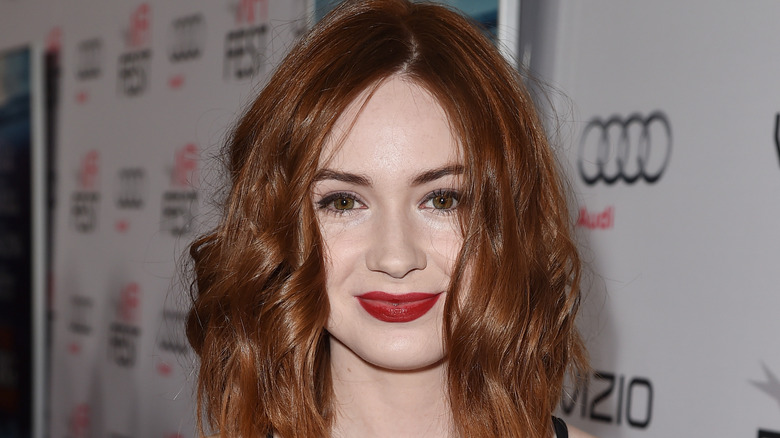 Getty Images
Her adventurous roles have earned Gillan a reputation as an action hero, but she told Metro she doesn't "know how that really happened." Gillan said that perhaps it was her height (she stands just under six feet tall) that helped her land so many action roles. "It's not something I actively set out to do, I just set out to hopefully get to act in some stuff," she said. "I didn't anticipate that I would do so much action. But I am loving it."
One of the things she loved about her role in Jumanji: Welcome to the Jungle is that it challenged stereotypes of female action heroes who are typically "strong, sexy girl[s] who can kick everyone's a**."
"I'm a bit bored of that now," she said. "Let's have a girl who falls over her own feet while trying to be that. That's another layer I can play with."
She's a full-on geek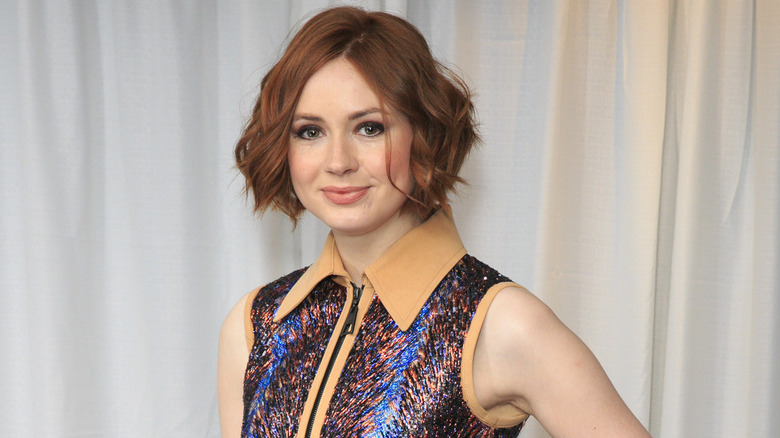 Getty Images
Gillan's mother is a sci-fi fan. She told The A.V. Club that because of her mother she grew up watching sci-fi, and is a fan of The X-Files, The Outer Limits, Star Trek: The Next Generation, and Voyager.
She told Rolling Stone that her love for sci-fi meant she "always had the potential" to be a geek, but that she "wasn't a full geek" until she joined the cast of Doctor Who. "Now I've become a full-on geek," she said.
She's got serious musical chops
Music is Gillan's first passion, and she grew up singing and playing the piano. Her singing chops were featured in an episode of the show Selfie, and Gillan has also proven that she can tickle the ivories. She attributes her love of music to her father, who she described as "a massive music fan" in The Herald.
It was actually Gillan's love of music that led to her acting career. "I played the piano from a really young age and I was thinking about doing something with performance and music, and that introduced me to acting," she told the London Evening Standard.
Transitioning to the big screen was tricky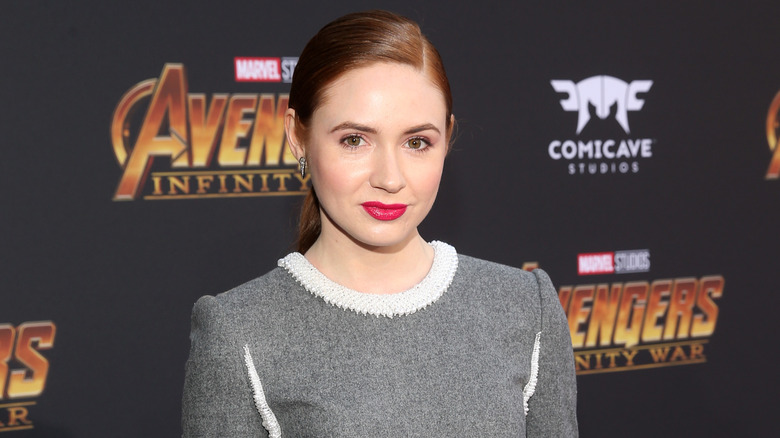 Getty Images
Fans who have been following Gillan since her Doctor Who days were excited to see her make the leap from TV star to a bona fide film icon. The transition might have seemed flawless to audiences, but making the jump isn't as easy as it looks. TV episodes are filmed more quickly since they have smaller budgets and have to produce several episodes each season, while movies can often take months to shoot. Since there's so much more time and money involved, things that might have taken one or two takes to shoot for TV will often be filmed over and over again for a movie.
"We spent an entire week, seven full days, filming the one fight sequence between me and Gamora," Gillan told Wired, referring to her Guardians of the Galaxy role. "In television I was used to spending a couple hours on something, doing maybe one or two takes of running down a corridor."
Scotland still has her heart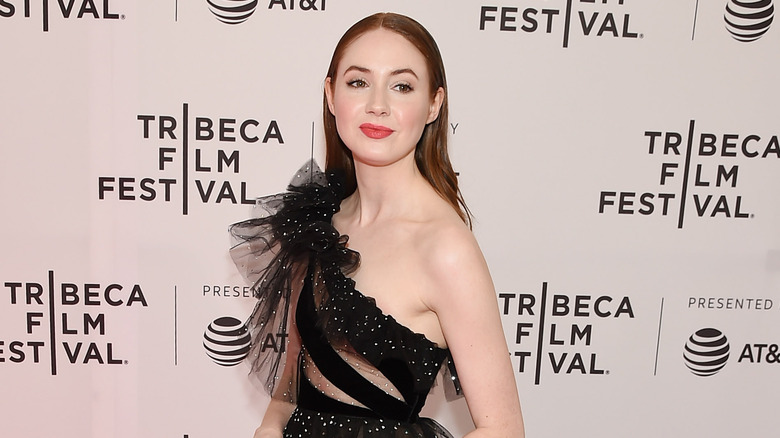 Getty Images
Thanks to her skyrocketing film career, Gillan lives full time in L.A., but that doesn't mean she doesn't miss her native Scotland. "I'm living with a consistent, subtle homesickness all the time," she told The Guardian. Her acting career demands her proximity to Hollywood, but Gillan is finding ways to be near home. Her directorial debut, The Party's Just Beginning, is set in her hometown of Inverness, a city in the Scottish Highlands.
Gillan, who also wrote and starred in the film, had to fight against producers who wanted to shoot the movie in Glasgow. Gillan flat-out refused to change the film's location. "It was important to me to shoot the exteriors in Inverness," she said. "Any Scottish person watching the movie will know that [it's wrong] if it's Glasgow."
Gillan added that her hometown is "idyllic," and that her dream is to one day buy a large house in the Highlands to use as a writer's escape.
She doesn't scare easily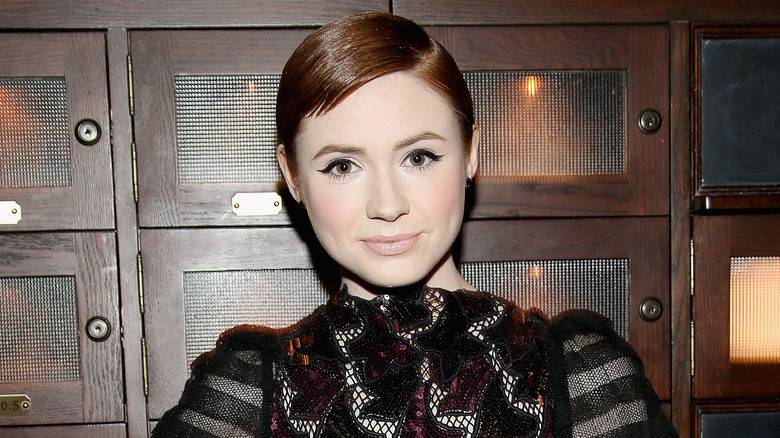 Getty Images
Her role in the 2014 horror film Oculus may have been a departure from the more lighthearted fare served up in Doctor Who, but it turns out that Gillan is no stranger to the scary stuff. Some actors might balk at filming terrifying scenes, but it seems that Gillan has nerves of steel.
"I love horror films and grew up on them as a teenager," she said in an interview with Bloody Disgusting. "That's all I would pretty much watch." Some of the scream queen's favorite horror movies include Scream, The Exorcist, and I Know What You Did Last Summer.
In fact, the only thing that really fazed Gillan about filming the fear-filled flick was discovering that she would have to deliver a 13-page monologue. None of the spooky scenes bothered her, but she said that delivering such an emotionally-charged — not to mention lengthy — monologue was a challenge.
She shaved her head, but she kept her hair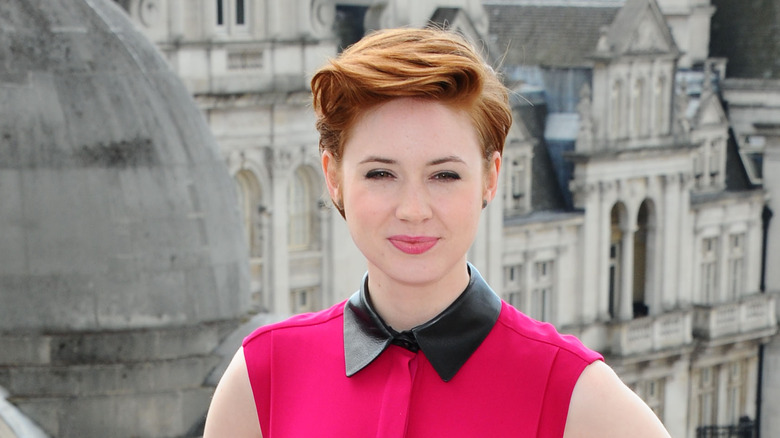 Getty Images
One of Gillan's most notable physical characteristics is her gorgeous red hair. She had to shave off her flaming locks for her role in Guardians of the Galaxy, but she didn't let them go. Gillan used a wig made of her real hair while she waited for it to grow back. Gillan told BBC America that she would often shock people who didn't realize she was bald by pulling off her wig. She added that it's also an effective way to stave off unwanted flirting. "If you don't want to get hit on at a party, just take your wig off," said Gillan.
While the star told Wired that shaving her hair was a fun experience "because it made me feel like an entirely different person," she was grateful when she was able to get away with an undercut for Guardians of the Galaxy Vol. 2. "That was the best gift ever," Gillan told The Wrap.
This is why she says her American accent is spot-on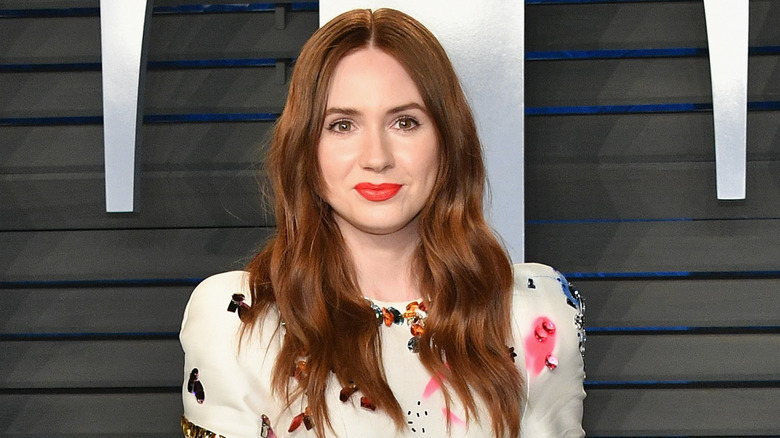 Getty Images
It's easy to forget that Gillan's natural accent is a thick Scottish brogue. She pulls off such a convincing American accent that some moviegoers may have no clue the actress isn't from the U.S. You could chalk up her flawless diction to arduous dialect coaching, but there's a simpler explanation for why Gillan's American accent is so good.
According to Gillan, the average British person can pull off a decent American accent, while most Americans struggle to put on a passable British accent. Her theory is that it has to do with the movies and shows people watch in both countries. "It's because over in the UK we're so saturated with American entertainment, we pick it up, and in the US they just have Downton Abbey and Harry Potter," she told BBC America. She thinks that since British people hear American accents on a regular basis, it's a lot easier for them to mimic one.