Breast Cancer Survivor And Entrepreneur On Why We Need More Inclusive Bras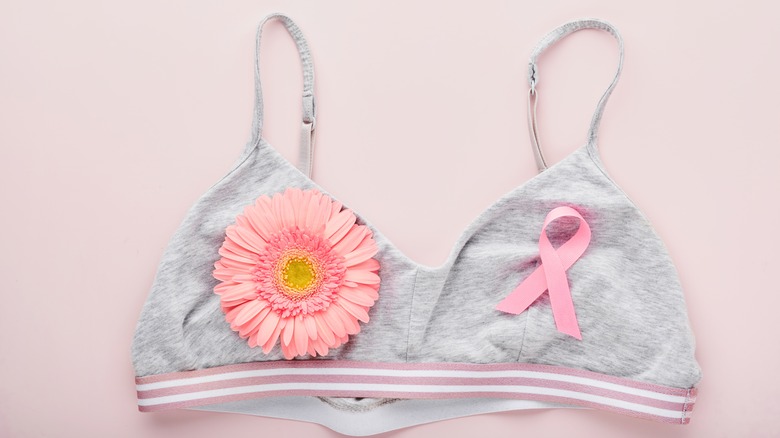 Katarzyna Hurova/Shutterstock
October is Breast Cancer Awareness Month — an international campaign dedicated to educating people about breast cancer and to promoting early detection. A number of non-profit organizations use the month to help raise money for breast cancer research, education, and equity, including Susan G. Komen and Breast Cancer Research Foundation, per VeryWell Health. Donors can give directly, or there are plenty of businesses that will donate a percentage of their profits during Breast Cancer Awareness Month to support breast cancer causes. One of those businesses is AnaOno, which has a limited edition collection designed with Lori Goldstein to support the Triple Negative Breast Cancer Foundation.
CEO and founder of AnaOno Dana Donofree was diagnosed with breast cancer in 2010 at the age of 27, and after losing her breasts to cancer, she couldn't find a bra to fit her. So she made her own. AnaOno makes bras for those with any and all boob types as well as underwear, lingerie, and loungewear. Donofree spoke exclusively to The List about why inclusive bras are so important.
Millions of women in the U.S. will be diagnosed with breast cancer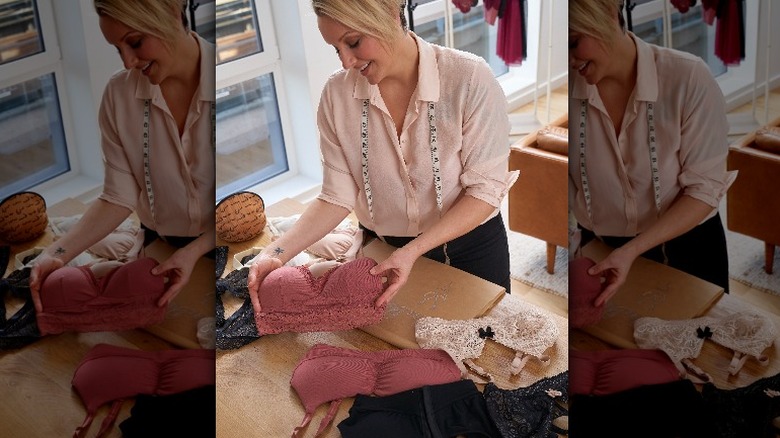 Courtesy of AnaOno
When Dana Donofree, CEO and founder of AnaOno, was diagnosed with breast cancer, she became one in eight women who will get a breast cancer diagnosis in their lifetime. That means, as Donofree exclusively told The List, "nearly 4 million" women in just the United States. "This is a big part of our population that deserves to be considered within every intimates department," Donofree said. Treatments for breast cancer can leave you with no breasts (double mastectomy), one breast (single mastectomy), or breast(s) with a changed appearance after a lumpectomy or partial mastectomy.
Donofree wasn't facing common bra problems. She recounted her own experience in trying to get a bra post-breast cancer after losing her breasts to cancer, and it's an experience that likely many women have had. "I went into every store I shopped before having my breasts removed as a part of treatment, I was told there was nothing there for me on many occasions. Some stores tried to fit me into other bras, knowing they weren't right or weren't perfect, but tried to help."
It shouldn't be hard to find a bra that fits and looks good after cancer treatment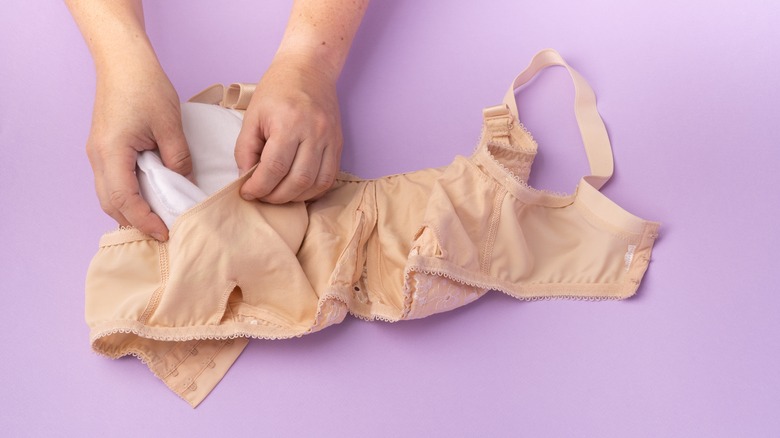 Maria Paina/Shutterstock
There are places specifically catering to those with more unique bra needs, but for Donofree, the options still weren't good enough. "Visiting the local mastectomy boutique broke my spirits overall, the one place that was supposed to 'see' me, only had grandma looking mastectomy bras," Donofree explained to The List. And it left her feeling defeated. "I felt so broken, like the world didn't want me to feel beautiful after all I had been through."
Athleta brand ambassador Kimberly Irvine seems to have shared a similar experience; she was diagnosed with breast cancer at 31, and she recalls crying in a dressing room over the challenge of finding the right fit for her changed body.
Dana Donofree had a clear goal for AnaOno in regard to inclusivity. "Give other breast cancer patients and survivors, just like me, a safe place where they felt seen and heard, and could find something that helped them feel beautiful, even in the darkest of times."
Feeling comfortable and beautiful in your body, particularly with and after a breast cancer diagnosis, can be a big challenge and it can take time (via Best Health). Reaching out to support groups specifically for those with or who've had breast cancer can help, per the American Cancer Society.