How Aretha Franklin Broke The Glass Ceiling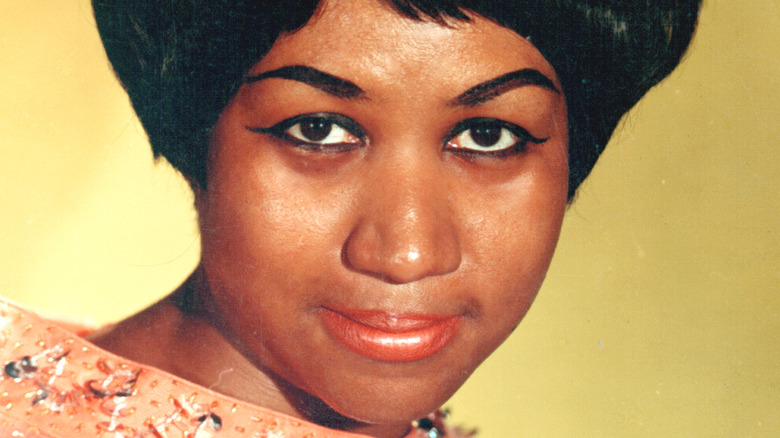 Michael Ochs Archives/Getty Images
In 1965, Otis Redding released the single "Respect." But the song didn't get the, well, respect it deserved until Aretha Franklin made it her own two years later. Having already established herself as a rising voice in the soul genre after signing with Columbia Records when she was just 18, Franklin moved over to Atlantic Records in 1966. 
There, she recorded the two songs that would make her a global sensation — "I Never Loved a Man (The Way I Love You)" and her cover of Redding's "Respect" (via "Aretha Franklin: The Queen of Soul").  Released during a time when women and African Americans were marching for their rights (via Binghamton University), "Respect" became an anthem for both movements and equality in general (via City Girl Network). 
On top of that, Franklin switched the song's meaning from a man wanting respect from his woman to the opposite (via Vox), signaling Franklin's strength and power as a female artist in an industry dominated by men. From there, Franklin forged a groundbreaking career, with 10 R&B albums reaching the top of the charts (via The Guardian). She was also the first singer to receive the Grammy Award for Best Female R&B Vocal Performance. Franklin was one of a kind, and she paved the way for other women too. 
Aretha Franklin was proud of the significance Respect held in music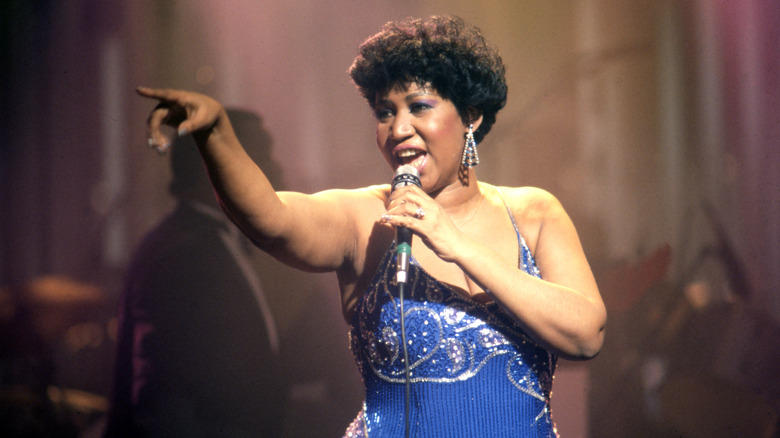 Icon And Image/Getty Images
Despite being an anthem for equality in the '60s, Aretha Franklin didn't record her most famous song for that reason initially. However, when asked by Vogue whether "Respect" and "(You Make Me Feel Like) A Natural Woman" were influenced by civil rights or feminism, Franklin simply emphasized the importance of respect for everybody. "Not just to me or the Civil Rights movement or women — it's important to people," she said. 
Franklin continued, "People want respect — even small children, even babies. As people, we deserve respect from one another." And even though she didn't think "Respect" was necessarily responsible for kickstarting the racial and gender equality movements, Franklin didn't mind that it took on a life of its own. "I don't make it a practice to put my politics into my music or social commentary," Franklin wrote in her 1999 autobiography, "Aretha: From These Roots." 
But the iconic singer also acknowledged, "The fact that 'Respect' naturally became a battle cry and anthem for a nation shows me something," (via The Fader).  
She paved the way for other women in music to reach the highest heights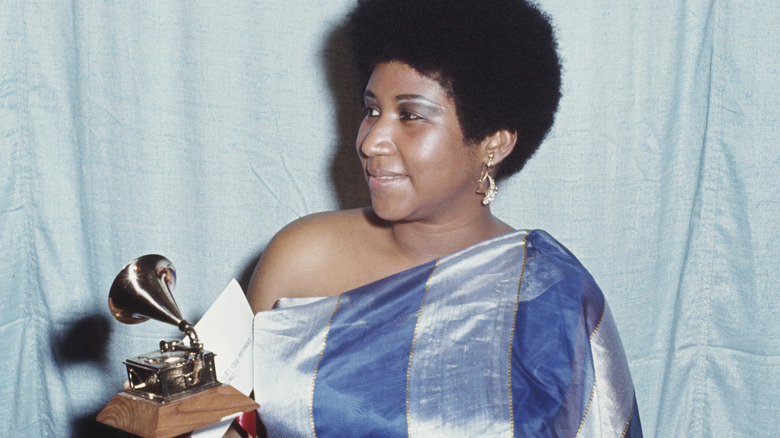 Michael Ochs Archives/Getty Images
Aside from the historical importance of Aretha Franklin's "Respect" and "(You Make Me Feel Like) A Natural Woman," her success helped pave the way for women in music to be heard and celebrated in their own right. In 1987, Franklin made history when she became the first woman to be inducted into the Rock & Roll Hall of Fame (via CNN).
Described by the museum as "an artist of passion, sophistication, and command" when she passed away in 2018, Franklin enabled the likes of Joan Jett, Chrissie Hynde, Mary J. Blige, Carole King, Lady Gaga, Stevie Nicks, Beyoncé, and Debbie Harry to follow in her footsteps (via the Rock & Roll Hall of Fame), as well as Dolly Parton and Pat Benatar who will be inducted in November 2022, per NBC News.
And while Franklin won't see them grace the Rock & Roll Hall of Fame, she was optimistic about where women in music were heading. "I don't think women need to do anything other than what they're doing right now, and that's moving forward," she told TIME magazine a year before her death. "Moving to the forefront. Moving into the executive offices. Moving into the areas that men have held captive. We're coming."