The Best Eyeshadow Palettes For Halloween 2022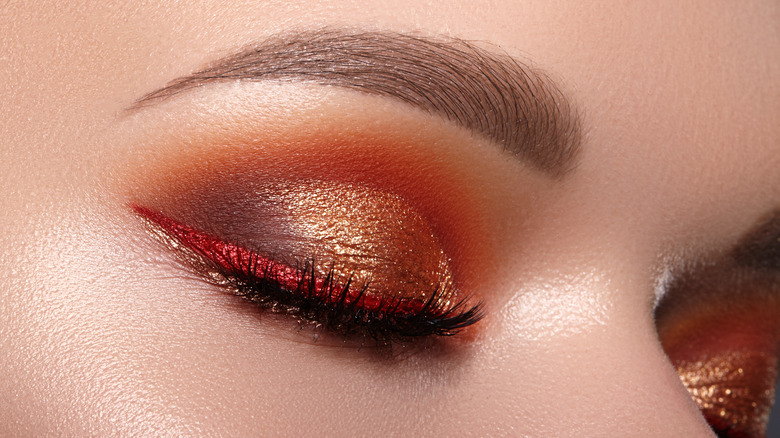 marinafrost/Shutterstock
It's officially about to be Halloween weekend, and for those of us who relish the thought of dressing up, stepping out, and getting spooky, makeup is often a big part of the fun!  While makeup mavens likely already have a pretty good stock of cosmetics they could use to create whatever costume-centered face they want, Halloween is a great excuse to go makeup shopping!
Fortunately, cosmetic companies know their clients are stoked about spooky season, and if you're in the market for some new, sparkly, Halloween-themed makeup, they've got you covered. Whether creating a glamorous or ghoulish look, your eyes are bound to be a major focal point of your plan. With countless tutorials and videos for creating eye looks for virtually any character from Cleopatra to Harley Quinn on Youtube and TikTok, you can make any face you want to. 
Here's a list of the best Halloween-ready eye shadow palettes to get you in the mood to haunt, whether you're going for sparkly, dark, festive, or fierce.   
Spooky shadows you should check out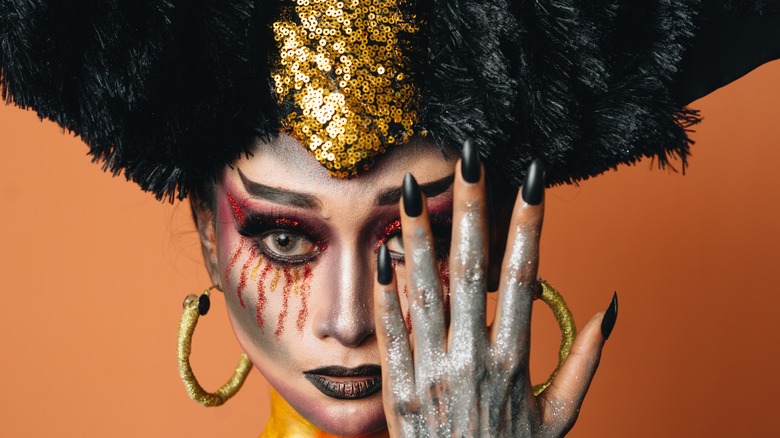 Charisma Maya/Shutterstock
One of the best places to check to see what makeup lovers are saying about eyeshadow palettes is Sephora's ratings section. One of the top-rated Halloween palettes this year is Pat McGrath Labs Mothership IX Eyeshadow Palette. With over 4 stars, gorgeous packaging, and shimmering shades of both warm and cool tones, this palette is sure to help create a killer Halloween look. 
Another top-rated palette available on Sephora is Violet Voss' cleverly-named Tie Dye For palette. With over four stars and bright hues you'd find in the most pigmented tie dye clothing, you can create a truly eye-popping look. Huda Beauty's Wild Obsessions Palette has four stars, dark packaging, and colors straight out of your wildest rainforest-themed dreams. If you're looking to create a look for a character like Medusa, a swamp creature, or some other magical, earthy being, this is the palette for you!
If you're looking to create a retro-style eye, the highly-rated Natasha Denona Retro Eyeshadow Palette is full of beautiful matte and shimmer shades that harken back to a time of malt shops and poodle skirts. Plus, the packaging is a perfect, simple retro pink, so you'll still be in character if you pull it out at the party to do some touch ups.
Sparkles, face paint, and more!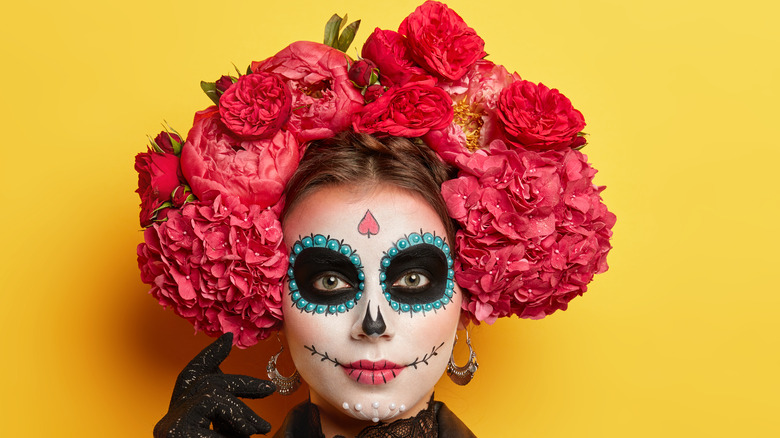 Cast Of Thousands/Shutterstock
Style Craze has created their own list of their favorite eyeshadow palettes for Halloween, and we love some of their suggestions! Prism Makeup's Supreme Seductress palette is full of fierce, fiery warm shades in both sparkly and matte. Versatile and beautiful, it's perfect for creating a look in pumpkin orange, shimmering gold, or deep brown. The UCANBE Cruise Face & Body Painting Palette is packed with highly-pigmented shades in every color of the rainbow, and to boot it's waterproof! So if you're trying to create an intense look for which face and body paint might be the best bet, this is your palette! Especially if you're going to be dancing or if you get caught in the rain while running amuck. 
The Cleof Mermaid Glitter eyeshadow palette is straight out of your deep sea dreams. Full of sparkly shades in the shape of mermaid scales, this palette will help you shine no matter what color you need, warm or cool, bright or subtle. And if that weren't enough, it's vegan! Last, if you're looking to create a seriously bold, pigmented look with non-irritating ingredients, you'll want to pick up the YMH Beaute palette in Rainbow. 
Have fun, be safe, and Happy Halloween!