The Most Flattering Fashion Styles For Women In Their 30s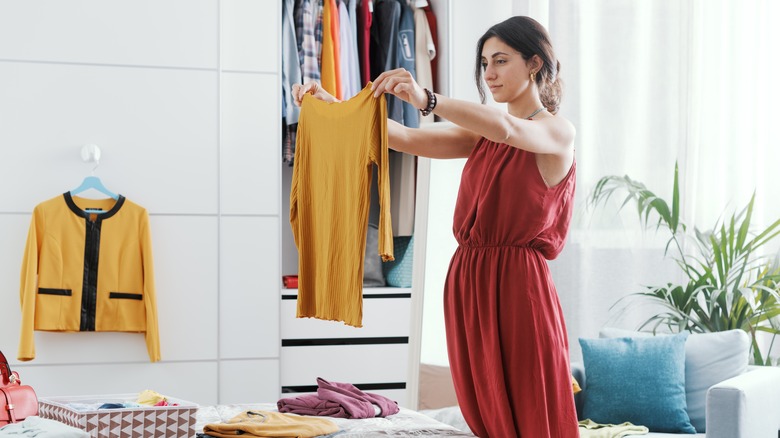 Stock-Asso/Shutterstock
Once you exit your 20s, it seems like you're a whole different person than you were when you entered. All those tough lessons, hard truths, and sleepless nights made you the wonderful person you are today. Many things are laid to rest once you enter your 30s (like the ability to enjoy a few cocktails without waking up with a raging hangover), but one thing you don't have to leave behind is your fashion sense.
By now, you've probably found your own personal style and are wondering, "Should I be dressing differently now that I'm thirty, flirty, and thriving?" Well, yes and no. According to The Cut, by your 30s, you've probably collected several pieces that you know work well for you. You know what you like, what looks good on you, and what you don't want to get rid of. But, there are things to remember when choosing the most flattering styles for your age.
Dressing 'young' can actually make you look older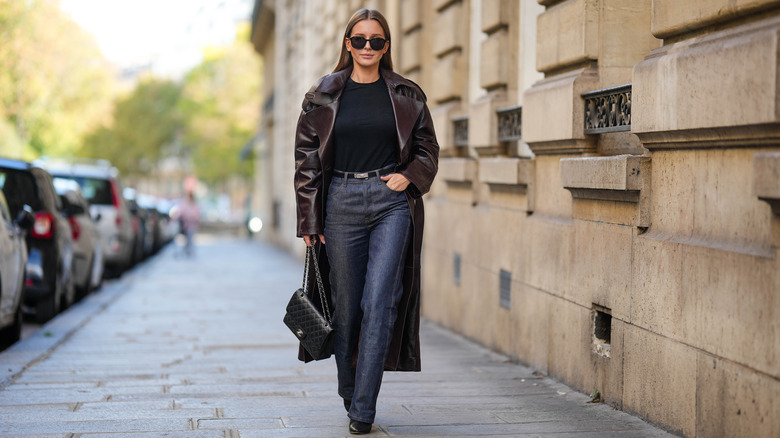 Edward Berthelot/Getty Images
While the same outfit you were wearing while getting down on the dance floor at 21 probably isn't your go-to anymore, that doesn't mean you have to change your entire vibe just because you're in your 30s. But, have you ever seen someone try to "fit in" with the younger crowd by dressing like them? It gives the opposite effect. Therefore, you may end up aging yourself if you reach for an outfit that someone way younger than you would wear (via Fashion Lady).
Vogue recommends a collection of button-up shirts, structured blazers, and a classic plain white t-shirt for a polished, classy look that can be incorporated into almost any ensemble. A good general rule of thumb is to steer clear of shirts that go off the shoulder, as well as cartoon graphic t-shirts and overalls, per Fashion Lady.
When it comes to the bottom half of your outfit, look for a pair of denim jeans that flatter your body shape, and definitely reach for classic black trousers, regardless of the style. Whether wide-legged or pleated, a black pair of pants is a staple piece that looks exceptionally classy with a button-up shirt or structured blouse tucked into it (via Vogue). Pencil and maxi skirts are also timeless choices, especially when paired with a fitted top.
How to refresh your wardrobe in your 30s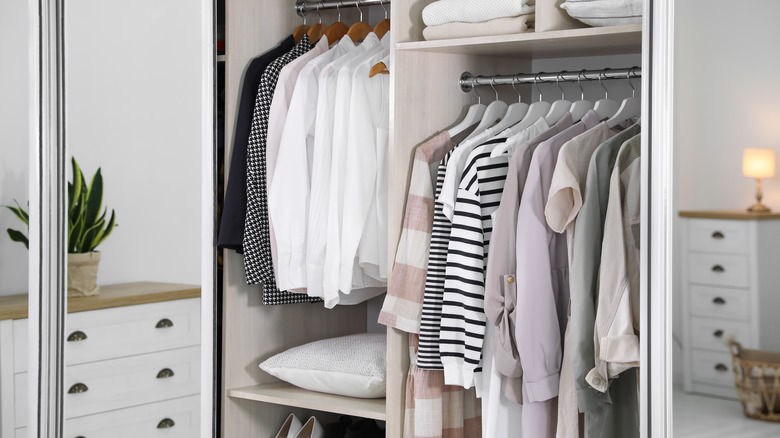 New Africa/Shutterstock
If you're looking to revamp your style, the first thing you should do is go through your closet (via Stick Fix). Make room for the new, and donate the items you don't wear anymore. From there, you can note the things you already have and what you want to collect moving forward. You may also want to avoid fast fashion companies like Shein and shop for timeless pieces you can enjoy for a while.
When you head to the mall, look for classier alternatives to items you typically purchased in your 20s. Think slim-fitting camisoles and tanks instead of tube tops, and sleek flats instead of strappy low-cut shoes like Mary Janes (per Who What Wear). An excellent trick to shopping for a revamped 30-year-old wardrobe is to ask yourself, "Is this something I would have worn 10 years ago?" then buy the upgraded version. After all, your 30s are nothing more than the best, upgraded version of you!