Why Interior Designers Can't Wait To Ditch Maximalism In 2023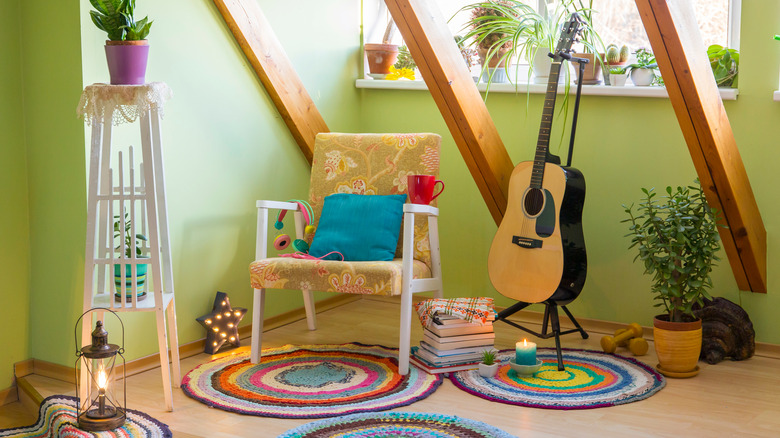 FotoHelin/Shutterstock
Your home should be one of your favorite places to be, where you are free to relax and unwind in any way you see fit. And because your home is an extension of you, you probably decorate it in a way that best represents and reflects who you are. Whether your aesthetic is moody vibes or shabby chic, there are ways in which you can decorate your home while simultaneously improving your space to make it more relaxing, inviting, and something you are proud of.
And just like fashion and beauty trends that come and go, so do interior design trends. According to Forbes, some interior design styles have gone bye-bye (or should have) in 2022 — this includes the "modern farmhouse" vibe and "mid-century modern meets boho" looks.
One home design trend many interior designers are dying to ditch in 2023 is maximalism, or the idea that "more is more," by overcrowding a space with many decorations to make it appear full (via The Spruce). If this is your vibe, don't worry, there are ways to make your home appear fuller without overusing maximalism. Here's why it's going out of style.
Maximalism can make your space look cluttered if not styled correctly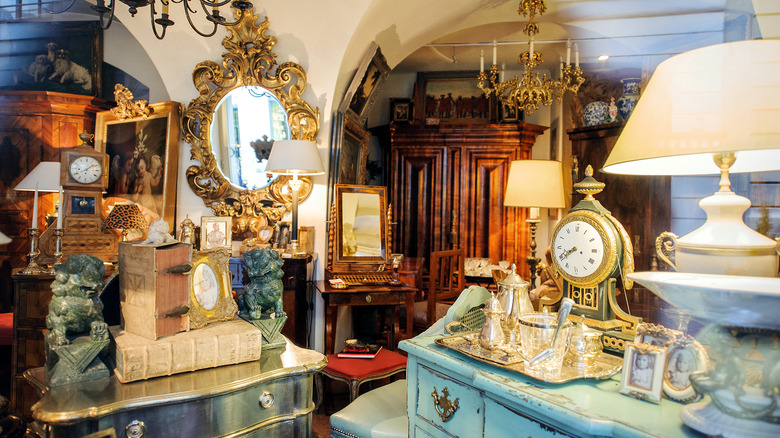 Hadrian/Shutterstock
Maximalism is very popular, especially among millennials who often have an affinity for bright colors, lots of plants, and a love of accessories, according to The Spruce. To fill their space and make it feel homier, those who go the maximalism route tend to throw all their favorite things in one room, which, if done poorly, can look cluttered.
According to a YouTube video from scientist turned interior stylist and content creator Kiva Brent, if you don't have a place to put all of your gizmos and gadgets, your home will look disorderly. Not only that, but you are spending more money than you need to and are making more work for yourself in the long run.
Going into 2023, Brent believes this trend will become too much work for people to pull off effectively. However, she encourages you to find the middle ground between minimalism and maximalism. You want your home to look lived in, but not like it could be featured on an episode of "Hoarders."
How to make maximalism work if you just can't let it go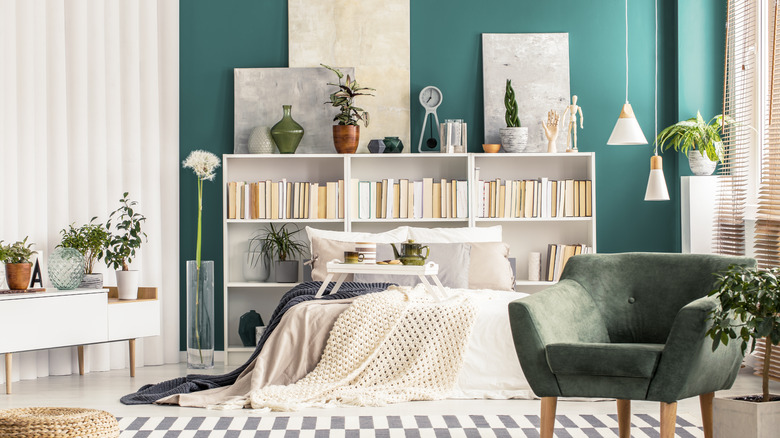 Ground Picture/Shutterstock
You can incorporate the maximalism trend into your space, according to Kiva Brent in her YouTube video, but it involves a lot of "tact, intention, and time." Maximalism works best if the things in your home are special items you collected throughout your life, not from that one super-expensive trip you took to Target.
Multidisciplinary artist Sarah Keenlyside told Elle, "I think to go out and deliberately buy a whole bunch of stuff in a short period of time is antithetical to what maximalism is," she said. So, collecting things over time and incorporating them into your home is recommended. "Without meaning, maximalism is just clutter."
If you want to incorporate all your favorite things in one area of your home, Brent recommends finding an intentional space for every item. It's also recommended to narrow down your favorite items to two or three and work around those instead of throwing a bunch of statement pieces in one room (per The Spruce). Regardless, your home should make you happy, and if  showcasing all of your favorite belongings in one room does that, then who is anyone to stop you!