The Controversial Reason Prince William Refuses To Attend This Year's World Cup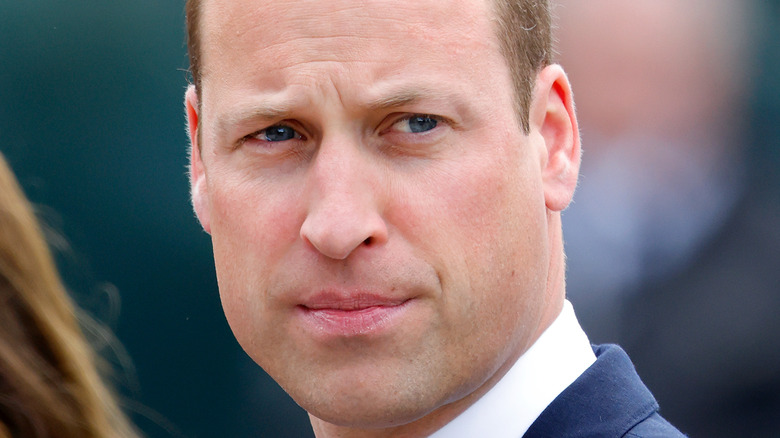 Max Mumby/indigo/Getty Images
William, Prince of Wales is a big fan of football, and as the President-Designate of the Football Association (FA), he is responsible for handing out trophies during major matches while also watching on the sidelines). He attended the Euro 2020 final with Catherine, Princess of Wales, and their eldest son Prince George, lending their support to England when the team lost to Italy. "You can all hold your heads high, and be so proud of yourselves — I know there's much more to come," the royal wrote on Instagram following the defeat.
There certainly was, as the next major match he attended was the Women's Euro 2022 final, which England won 2-1 against Germany after extra time (via Reuters). William described the match as "sensational" on Instagram and handed out the coveted trophy and medals to England's Lionesses. The last royal to hand an award to an England team for such a huge ceremony was Queen Elizabeth II in 1996 when England won the World Cup (via People).
Speaking of the World Cup, that's the next big event on England's football calendar, which begins on November 20 in Qatar, with England's first match against Iran taking place the day after. Unfortunately, William will not be attending the 2022 Qatar World Cup, with many speculating it may have something to do with Qatar's troubling human rights record (via the Mirror).
The 2022 World Cup has been surrounded by controversy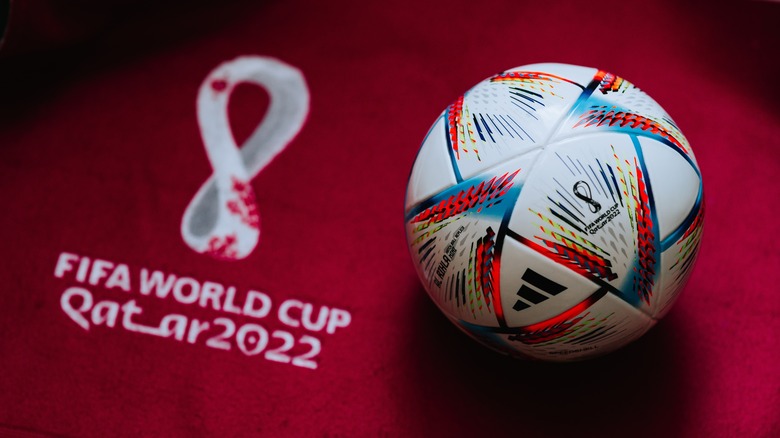 kovop58/Shutterstock
Kensington Palace issued a statement saying that William, Prince of Wales has "no plans" to travel to Qatar for the World Cup "due to the busy winter schedule" planned with his new duties as the Prince of Wales (via ITV News). But the Mirror reports that William's absence may concern Qatar's human rights record.
Since Qatar won the bid to host the World Cup in 2010, 30,000 migrant workers have been hired to build the seven stadiums for the event, as well as a new airport, metro system, roads, and hotels. However, some workers, who have protested against their working conditions, argue that they haven't been paid for their work for "several weeks" (via BBC News), while others have reportedly been "detained" and "deported" for having "breached security laws," according to the Qatari government.
In 2016, Amnesty International accused Qatar of using forced labor on migrant workers. "All workers want their rights: to be paid on time, leave the country if need be and be treated with dignity and respect," the general secretary of Amnesty International, Salil Shetty, told BBC News.
The Guardian also reported that since winning the bid to host the World Cup, 6,500 migrant workers had died in Qatar. 37 of those deaths were related to the construction of buildings for the World Cup, with 34 deemed "non-work related" by the Qatari government.
Many are anxious about Qatar's human rights record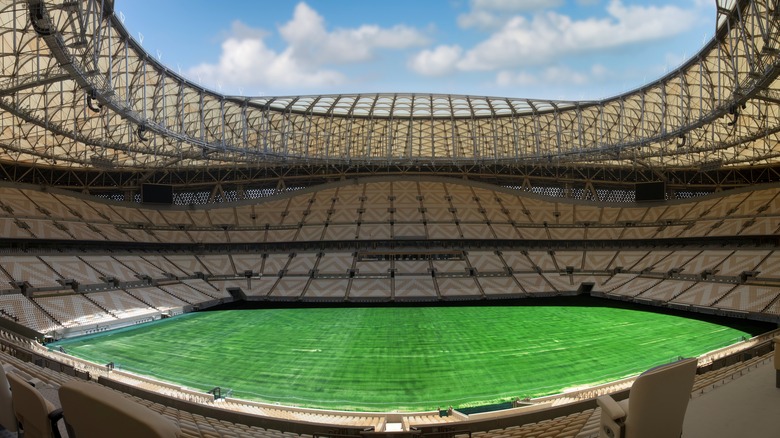 Sanjay JS/Shutterstock
There are also concerns regarding the rights of LGBTQ+ spectators and women traveling to Qatar to attend the 2022 World Cup. Homosexuality is illegal in the country, and those arrested can face up to seven years in jail with a maximum penalty of death by stoning (via Sky News). While the FA received "the unequivocal answer that all fans, including those from LGBTQ+ communities, will be welcome at Qatar 2022, and that the safety and security of every fan is Qatar's top priority," many are still concerned about how the laws in Qatar apply to LGBTQ+ fans attending the event.
There is also unease surrounding women's rights in Qatar. Rothna Begum, a women's rights researcher at Human Rights Watch, expressed her concern to The Atlantic regarding martial status laws and how they can affect women who report crimes of sexual violence as they can be "prosecuted for extra-marital sex." In response, FIFA said that "any fan who reports a sexual assault will have access to Qatar's high-quality healthcare system irrespective of marital status."
Women's rights are also restricted under Qatar's male guardianship laws, where Qatari women must have permission from a male guardian to marry, study, and travel abroad (via Human Rights Watch).
If you or anyone you know has been a victim of sexual assault, help is available. Visit the Rape, Abuse & Incest National Network website or contact RAINN's National Helpline at 1-800-656-HOPE (4673).