The Most Popular Quote From Wuthering Heights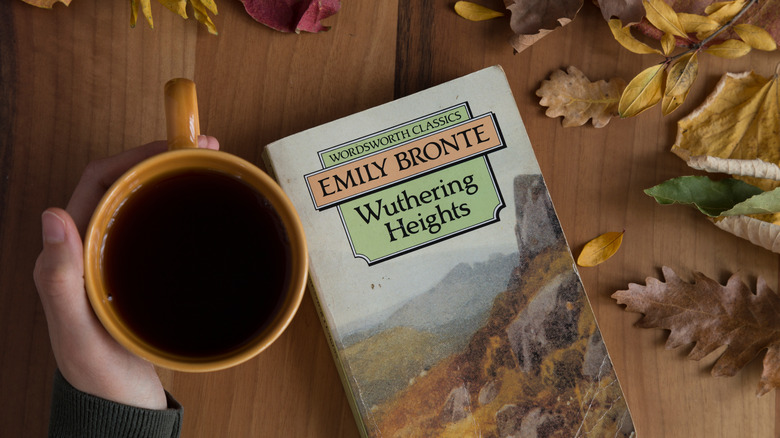 Fertas/Shutterstock
Whether you live in the English countryside like Heathcliff or a studio apartment in the city, colder weather means curling up with a book, a blanket, and maybe even a house cat or two. Emily Brontë's 1847 novel "Wuthering Heights" is the perfect chilly season read. Told through a series of flashbacks set in the late 18th century, the story details the doomed romance of Catherine Earnshaw and her adopted brother Heathcliff, per Britannica. Over the course of the novel, the pair is separated by circumstance, status, and, ultimately, death. With the West Yorkshire moors as its windswept backdrop, "Wuthering Heights" highlights a flawed man's quest for revenge and the literal ghosts that follow him along the way.
As explained by The Guardian, "Wuthering Heights" was controversial at the time of its publication, with many reviewers commenting on its "coarse" characters and, notably, Catherine's diversion from 19th century feminine standards. "It is wild, confused, disjointed, and improbable," commented one disappointed critic, with another noting how, "In 'Wuthering Heights' the reader is shocked, disgusted, almost sickened." This cult-classic is Emily Brontë's only published novel, though readers of her era might recognize the author exclusively under the pen name Ellis Bell.
Now, more than 175 years since the book's release, it's been adapted and readapted countless times on both stage and screen, per ScreenRant. It even inspired a suitably haunting Kate Bush song in 1978. Of the many memorable lines populating the story of Catherine and Heathcliff, one remains the most popular.
Wuthering Heights' most popular line isn't as romantic as it sounds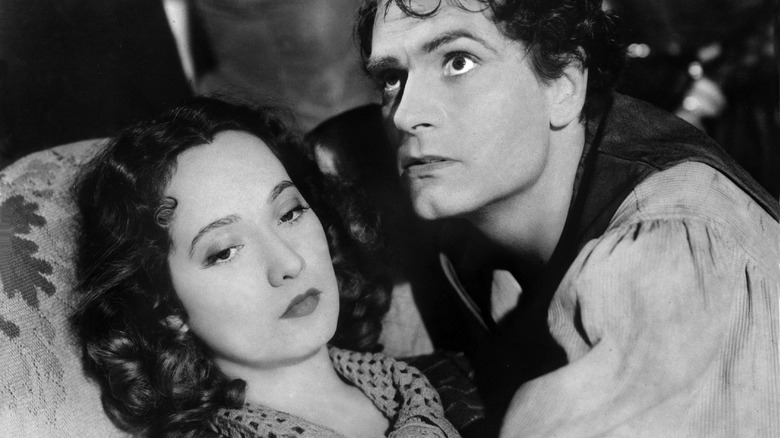 United Archives/Getty Images
Long before the Duke of Hastings said "I burn for you" on Netflix's "Bridgerton," Emily Brontë's Catherine Earnshaw shared a confession perhaps even more heart wrenching. In a particularly memorable scene, Catherine tells her housekeeper, Nelly Dean, that she has feelings for Heathcliff. 
"He shall never know I love him: and that, not because he's handsome, but because he's more myself than I am," Catherine says in "Wuthering Heights." "Whatever our souls are made out of, his and mine are the same." This line is by far the most popular from the novel, with some Brontë fans even going so far as to get the latter half ("Whatever our souls are made of...") tattooed on their bodies, per BuzzFeed.
In 2017, Medium noted the many problems associated with this particular quote, arguing that its toxic qualities surpass its romanic ones. Catherine and Heathcliff, according to the site, aren't soulmates. Rather, their connection is one based in obsession, codependence, and violence. Bustle, too, argues that "Wuthering Heights" is far from a love story, suggesting that the many romanticized film adaptations, including one starring the likes of Laurence Olivier and Merle Oberon, have contributed to the misconception.
So, next time you're thinking about getting a "Wuthering Heights" tattoo, consider the possible implications.
Emily Brontë's sisters were also accomplished authors
Whereas "Wuthering Heights" lacked critical approval, Emily Brontë's older sister, Charlotte, achieved mainstream success after her 1847 novel, "Jane Eyre." Like her sister, Charlotte published under a pseudonym, using Currer Bell (via British Library). The novel follows Jane Eyre, a young governess who, much like Catherine, doesn't quite fit the gendered expectations of the time. Though some critics scoffed at Jane's independence, others praised the book for its realism. The 19th century author and critic George Henry Lewes encouraged readers to "lose not a day in sending for it." As Lewes notes in an 1847 review for Fraser's Magazine (later published by British library), "Almost all that we require in a novelist [Charlotte Brontë] has: perception of character, and power of delineating it; picturesqueness; passion; and knowledge of life."
According to The Guardian, the eldest Brontë worried that Emily's reputation would somehow mar her own success. She "did not know what she had done," wrote Charlotte in 1850, the year following her sister's death. She argued that "Wuthering Heights" was far more accidental in its coarseness than it was intentional. Charlotte and Emily's younger sister, Anne, was also an accomplished writer, publishing "Agnes Grey" in 1847 (via Britannica).