What Can You Wear When The Dress Code Is Semi-Formal?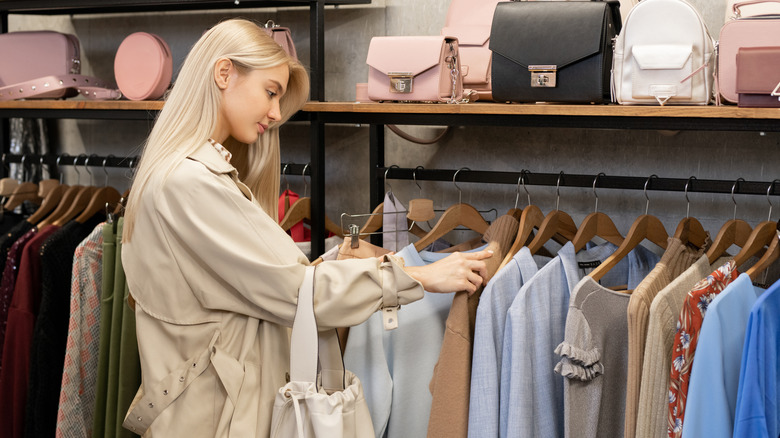 Pressmaster/Shutterstock
Figuring out what to wear to abide by certain dress codes can be a real pain. That's not because you don't have an impeccable fashion sense, but because the range from casual to black tie can be pretty substantial, not to mention subjective. What you might consider to be a casual look may be another's version of downright extravagant. And when entering a semi-formal event, the last thing you want is for people to compare your fashion choices to the lavish outfits worn by Queen Elizabeth. So, what does one wear when the dress code is semi-formal, anyway?
A semi-formal dress code involves an ensemble that is more dressed up than you'd wear to work but not quite as fancy as if you were going to an awards gala (via Emily Post Etiquette). That being said, if the event takes place in the evening or at night, you'll want to lean more toward the side of formal wear. If that answer confused you even more, don't worry. Here are some outfit ideas for those who are going to a semi-formal event and have absolutely no idea what to wear.
Feminine semi-formal outfit ideas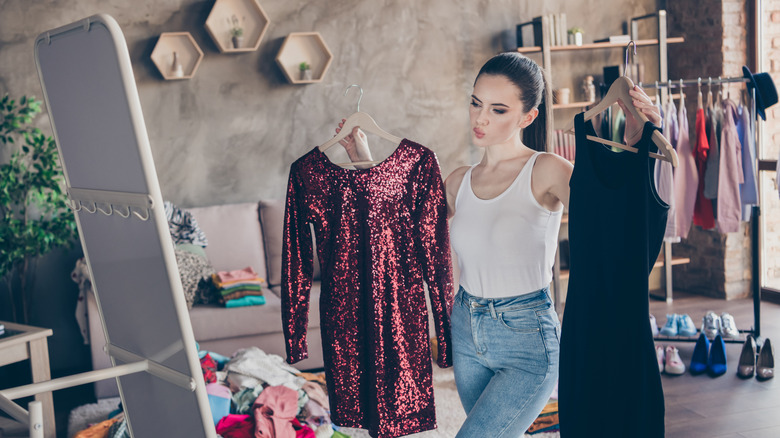 Roman Samborskyi/Shutterstock
For those who love classic pantsuits and dresses, you'll enjoy a semi-formal dress code. The Spruce recommends choosing garments made of a slightly more lavish material, such as cashmere or silk. A cocktail dress is usually always appropriate, as well as the classic little black dress (so long as you're not going to a wedding, of course). You can't go wrong with a dressy maxi skirt and blouse if you want to opt for something longer. However, you should leave the floor-length ball gowns at home, as those should be saved for more formal events, per MasterClass. Traditional tailored blazers and slacks also work, especially when paired with a sleek pair of high heels.
When accessorizing your semi-formal outfit, strappy sandals, flats, dress shoes, and heels are the way to go. You can dress up the look with earrings, necklaces, and bracelets, as well. However, it's easy to overdo it with the jewelry, so take the "less is more" approach. Otherwise, your look can easily go from semi-formal to a child playing dress-up.
Masculine semi-formal outfit ideas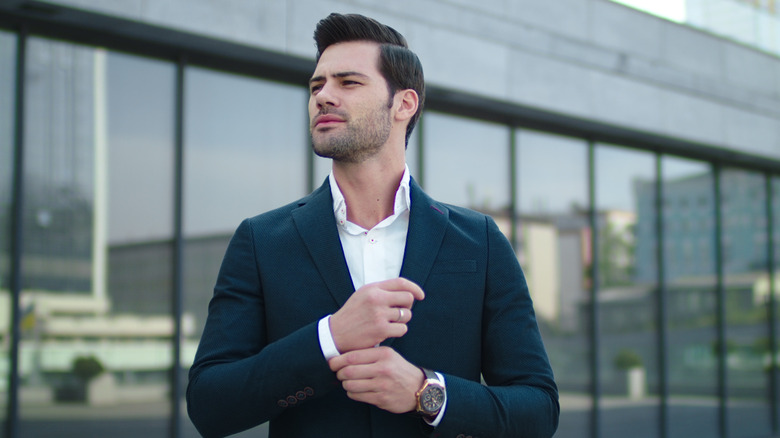 Stockbusters/Shutterstock
You can't go wrong with a dark-colored suit when it comes to masculine semi-formal attire (via Emily Post Etiquette). Whether or not you wear a matching vest under the jacket is totally optional. As for the cummerbund and tuxedo, leave those in the closet. A masculine semi-formal dress code typically consists of dress pants, a nice button-down dress shirt, dark socks, and dress shoes. A tie can be worn, but it's not always necessary. (When in doubt, wear it. It can always be removed later.) Avoid casual dress articles like sneakers, t-shirts, and khakis (per MasterClass).
In terms of accessorizing, skip the pocket square and cufflinks. Instead, opt for subtle jewelry like a watch. Throw on a belt that goes with the dress shoes — loafers or Oxfords are a good choice here — and wear dark-colored socks. We know it's tempting to pull out those cartoon character-covered neon green socks, but save those for a casual dinner party instead. When all else fails, err on the side of minimalism when it comes to semi-formal attire, as you can never go wrong with a classic, simple look.