Derick Dillard Responds To Accusations That Anna Duggar Hasn't Forgiven Jill
Trigger warning: The following article contains language regarding the sexual abuse of children.
The happy family life of the "19 Kids & Counting" reality show was too good to be true. In 2015, it was revealed that Josh Duggar, the oldest of the children, had molested several of his younger sisters (via The Washington Post). Parents Jim Bob and Michelle along with two of the sisters, Jessa and Jill, tried to downplay his crimes in a 2015 Fox News interview, insisting that Josh had changed his ways, but that too was eventually found false. Just six years later, Josh was arrested on counts of receiving and possessing child sexual abuse material (via Us Weekly). 
Now, the Duggars seem to be divided into pro- and anti-Josh factions. While Jim Bob, Michelle, and Josh's wife, Anna, have all stayed loyal to the disgraced son, other siblings feel that justice was served when Josh received a 12-year prison sentence. Jill Duggar Dillard and her husband, Derick, responded to the sentencing in a statement on their blog, "God has carried out his vengeance today for [Josh's] unspeakable behavior. Until now, he has yet to be held accountable to the extent necessary to cause change in his dangerous pattern of behavior." Sisters Jinger Duggar Vuolo and Joy-Anna Duggar Forsyth also condemned their brother's actions.
This sisterly show of force reportedly has Anna Duggar outraged, and a healing of the rift seems unlikely to happen any time soon. 
Jill and Derick Dillard aren't looking for forgiveness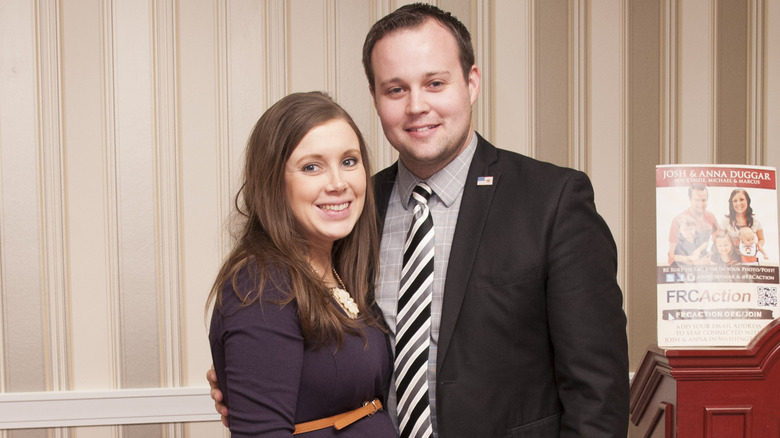 Kris Connor/Getty Images
Anna Duggar's life has been thrown into upheaval following husband Josh's prison sentence, and while Jim Bob and Michelle Duggar are supporting her all the way, the same can't be said for her relationship with other in-laws. A source recently told In Touch Weekly, "It started after some family members spoke out about Josh's arrest. It was a nightmare navigating all that. Yes, it was horrible what Josh was accused of, but she needed unconditional support. Anna took it as a betrayal and she's still not ready to fully forgive some family members." The source added that Anna has been keeping her distance from those people. Names weren't named, but it's no secret that sisters-in-law Jill Duggar Dillard, Jinger Duggar Vuolo, and Joy-Anna Duggar Forsyth have little sympathy for their brother's situation.
Katie Joy, who runs the Without a Crystal Ball vlog, reports on the Duggars often and has a good rapport with the Dillards. Following the In Touch report on Anna Duggar, Joy reached out to Derick Dillard for comment and posted his reply. It was short and to the point: "I didn't know we had done anything against Anna that needed forgiveness." The message was clear — Jill and Derick stand by their belief that Josh's sentence was fair. Nor did they say anything hurtful about Anna; the public statement also said, "We continue to love Josh and his family and will be there for them however we can."