The Affordable Hair Detangler That Is Part Of Selena Gomez's Morning Routine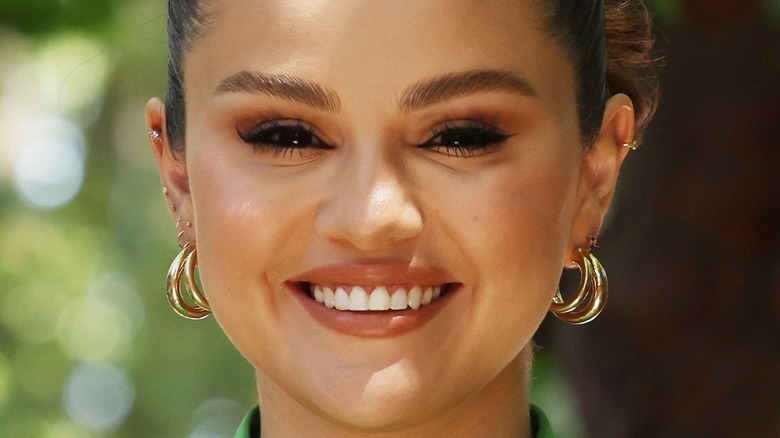 Stefania D'alessandro/Getty Images
With over 40 million followers on TikTok, Selena Gomez regularly uses the platform to share her work. The singer is very open with her fans often posting insights into her day-to-day life, like makeup and hair routines, and the inner workings of her beauty brand Rare Beauty. She regularly uses products from the brand, sharing in July 2022 that the With Gratitude Dewy Lip Balm in the shade Honor (via Glamour) is a staple in her morning routine.
Gomez usually leans towards a natural, "no makeup makeup" look (via YouTube), taking advantage of her cosmetic line's Light Tinted Moisturizer and its Universal Volumizing Mascara. In addition to being minimalist, Gomez's brand is also very affordable. As are the hair products she uses, opting for Unite – a brand that has taken the internet by storm. The two products Gomez uses, in particular, give the singer's signature style, which you can achieve too.
The detangling spray Selena Gomez uses smooths her hair in seconds
Selena Gomez's secret weapon to her smooth, shiny hair is Unite's 7Seconds Detangler. Retailing for $32.50 from the brand's site, it's described as a "lightweight, leave-in spray designed to detangle, strengthen and protect all hair types." Unite's 7Seconds Detangler can be used daily on all hair types and is safe for extensions and chemically treated hair. In addition, it doesn't contain parabens and is vegan and cruelty-free. According to People, the star ingredient is hydrolyzed rice protein which has amino acids to repair and strengthen the hair "while adding shine, moisture, and volume."
The detangler is certainly a favorite among customers, with over 450 reviews rating it 5 out of 5 stars. One customer said they "could cry" because "this stuff is so good," adding that it detangled their hair in 7 seconds. Another wrote that they "can't live without it," while someone else said it leaves their hair "feeling so smooth and luxurious."
Unite's Smooth & Shine Styling Cream locks in Gomez's look
In addition to Unite's 7Seconds Detangler, Selena Gomez uses the brand's Smooth & Shine Styling Cream before styling her hair into a tight bun (via People). Priced a little cheaper at $28.50 on the brand's site, the Smooth & Shine Styling Cream is designed to "nourish and repair" your hair "as it softens, shines and tames frizz and flyaways." This is thanks to its magic set of ingredients, including argan oil, crushed pearls, coconut, and organic Hawaiian honey, which smooths dry and damaged ends and reduces blow-dry time.
For use on medium and thick hair, the styling cream can be used on wet or dry hair. Like the 7 Seconds Detangler, the Smooth & Shine Styling Cream is paraben-free, vegan, and cruelty-free. Customers have also ranked this 5 out of 5 stars, with one saying it made their hair "smooth and shiny but not greasy," with another adding that it's "not too heavy and really is a great finish in styling."